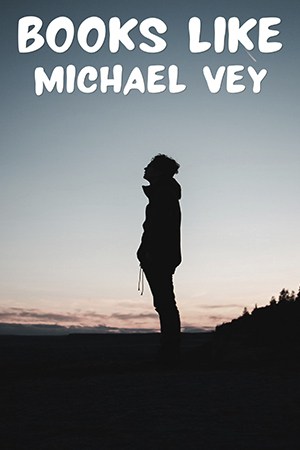 Michael Vey has electric powers, and he finds out that a girl at his school, Meriden High, also has powers. Michael can surge, as he calls it. The electricity comes from inside him, turning on a vacuum cleaner. You flip the switch, and suddenly it works like the energy is coming from inside of him and going out.
Another character in the book shows up in the middle towards the end. His energy is the exact opposite. It comes from outside of him, but he can control it. The main character, Taylor, can reboot people's brains. Michael's best friend, Austin, is entirely normal. But he knows about Michael's power, so he's trying to help Michael figure out his powers.
Taylor is getting manipulated by a guy named Hatch to kill people. Then Michael gets kidnapped and tortured towards the end of the book, middle-end area. But it's not physical torture. It's more mental and emotional torture. So I would suggest it for anyone over the age of 13. If you want to read books like Michael Vey, be my guest.
10 Books Like Michael Vey (YA Fantasy Adventure)
The series, Michael Vey by Richard Paul Evans, talks about Michael going through the stages of adolescence, but he has extraordinary and strange abilities. Think of it as Thor if you're a comic fan or like superhero movies. But mainly, he can shoot electricity out of his hands, like a pulse or a surge in his case. He's still trying to figure things out and hide the secret from everyone, the only chosen few he has.
There's an organization that wants to use people like Michael and other electric kids to create a new human race based on the ideology of the master race. So Michael and his friends should stop it. The leader and his army create a dictatorship based on the concept. The science fiction and paranormal aspects are unique. After reading this series, I read more sci-fi fantasy and found similarities. Now I will review 10 books similar to Michael Vey. Let's begin!
1. Strange the Dreamer
This whole duology gives me life. Also, it was the most magical experience I have ever had reading a book because this book is told so beautifully and lyrically. But this feels like Atlantis, the Lost Empire. If you've ever seen that movie, the main character is very similar to Milo and also the situation that he's in. But it was so enchanting, and I remember ripping through the pages and wanting to know what happens next. Even though it's not a fast-paced book, it is slower-paced. But you are getting to know so many characters, and they all have rich backstories and complex emotions.
The story follows our main character, Lazlo Strange, an orphan. He has grown up in the libraries with monks. In addition, he's always grown up on these stories of this lost city called Weep, and Weep isn't the real name. It had a different name, but the name was stolen away by a curse. So Weep is all that's left. Lazlo was always read stories about this Lost City and wanted to know more about it.
The book jumps to when he's grown up, and a delegation from that city comes to his town, and they're looking for a different expert. So Lazlo jumps on this chance, goes off with the delegation, and heads to the lost city of Weep. Like Michael Vey, this is a book that you need to jump into without knowing anything, and you will love it.
One of the things that I love about this book is that the magical powers in this series are so specific to each character. No one has the same ability, which plays into who that character is. You will love how the world of this book is constructed and the power dynamics. Once you get to the parts in Weep, you are starting to learn so many things, and it was mind-blowing. They're like gods and magical babies. Also, so many secrets are going around. So it's an incredible book, and I recommend it.
Author: Laini Taylor
Average Customer Review: (4.7 out of 5, on Amazon)
Category: Friendship Fiction & Family Issues
Number Of Pages: 545
Available: Audiobook | Paperback | Hardcover | Kindle | Audio CD
---
2. The Kingdom of Back
Marie Lu is the author of The Legend, Warcross, and The Young Elites trilogy. She's one of my favorite authors. The first book that she wrote and intended to publish. But the book never sold! So she ended up writing The Legend, and that's the book that she debuted with it. But she ended up coming back to the story, reworking it, and finally publishing it. It is a fantastical take on a historical figure, which is Mozart and his sister, Nannerl.
So it is an untold story of Nannerl, Mozart's sister. Nannerl's a musician, and she's always composed music. Her brother was a child prodigy. So this book follows the animal's journey and her growing up with her brother and being in his shadow. But in the middle of all of that, there are these stories that Nannerl and her brother make up about the Kingdom of Back. Also, they tell these stories as they're traveling, and those stories start to come to life.
What if that world was real? Because those were stories that the real Mozart, in general, were telling each other. So author stumbled upon this fact and wanted to write a book about it. The whole world of looking back is so exciting and magical. Moreover, there are some terrible characters and some good ones. The paranormal superpower and worldbuilding are similar to Michael Vey. Overall, It's literary that I enjoyed it.
Author: Marie Lu
Average Customer Review: (4.3 out of 5, on Amazon)
Category: Historical Fantasy, Siblings Fiction (Teacher's Pick)
Number Of Pages: 336
Available: Audiobook | Paperback | Hardcover | Kindle
---
3. An Ember in the Ashes Series
This is a hard-hitting series. It has some dark moments, but it also has characters trying their best and fighting against so many odds and still trying to be triumphant at the end. These are characters who go through so much character growth and many hardships. But you see them get back up again every time. It has complex characters as well.
There are villains in this series who you want to hate. Then you learn things about them and realize that they are way more complicated than you think. They're so three-dimensional. There's such a rich backstory to the world and magic in it. We have two main characters. When you get to the second one, you get POV chapters from them all.
Laia is the main character who starts off thinking she's fragile, and you can relate to her with Michael Vey. So she is trying her best to become strong and fight for the people she loves. Then we have Elias, who wants to run away from his duty. The fact that he comes from a nation of armed and very horrible people. So it's these two characters trying to run away from who they are and then finding themselves again.
Author: Sabaa Tahir
Average Customer Review: (4.6 out of 5, on Amazon)
Category: Dystopian Fiction, Action & Adventure Fiction
Number Of Pages: 446
Available: Audiobook | Paperback | Hardcover | Kindle | Audio CD
---
4. The Six of Crows Duology
Many people love this series on BookTube, and I am also one of them. It is a series after the trilogy, but it is entirely separate from it. Also, it's six different people from different walks of life coming together to pull off a magical heist. They're trying to steal this magical drug that creates some horrible and powerful people.
I love the series mainly because of the characters, getting to know their backstories, and seeing how they interact with each other. Like Michael Vey, there are many characters and couples in this series, and they are learning to be with each other and get what they want. Moreover, there's so much angst, but I also love how cutthroat some of these characters are, especially Kaz.
Kaz's a straight-up criminal, but he has a sad backstory as someone who is the pillar amongst the group, and she holds everyone together. Overall, it's fun, has great dialogue, and unique characters are coming together. By the end of the book, you will care for them so much that you need to know what happens.
Author: Leigh Bardugo
Average Customer Review: (4.7 out of 5, on Amazon)
Category: Mystery & Thriller Action & Adventure, Crime Thrillers & Suspense (Best Seller)
Number Of Pages: 465
Available: Audiobook | Paperback | Hardcover | Kindle | Audio CD
---
5. Shadow and Bone (The Shadow and Bone Trilogy)
In this book, we're in Ravka, one of the nations in the universe, and we're following Alina. She is one of these soldiers in the army of Ravka. She has always had this crush on her best friend, Mal. The two of them have always been together since they were young. But in this world, there are people called Grisha who have these magical abilities.
There's one part of Ravka, which is called the Shadow Fold, which is a stretch of darkness within the country. It cuts off the east and west side of the country. So her army section is tasked with taking some stuff across the Fold. When that happens, the leader of the Grisha Army, the Darkling, joins, and he has the power to control darkness. So he enters, and they go across this Fold.
Like Michael, Alina shows these magical powers that she never knew before. She's whisked away to become a Grisha, even though usually Grisha are tested when they're children, and then they are trained as these soldiers. For some reason, Alina missed the original test. So here she is now. But this story goes in a completely different direction, similar to Michael Vey. I love how the book was crafted with some of the reveals.
Author: Leigh Bardugo
Average Customer Review: (4.5 out of 5, on Amazon)
Category: Young Adult Fantasy
Number Of Pages: 358
Available: Audiobook | Paperback | Hardcover | Kindle | Audio CD
---
6. Graceling (Graceling Realm)
It's an old-school fantasy story like Michael Vey. Certain people in this world are Graceling, who have Graces, these magical powers. So a Grace can be super specific, like giving someone dreams or being strong in combat. It makes for some magical powers. So our main character, Katsa, is an assassin for the king. She's mercenary because her Grace is killing, and she's good at it. Since she was a young child, this is what she's been doing.
A prince from a neighboring kingdom visits her kingdom, and he has the ability for combat skills. Then the two of them start to get close. Katsa starts to change her worldview because she realizes that what she believes about herself might not necessarily be true. So it's one of those books that you need to experience. This book is a little bit more on the literary side, which is why I love it so much and still, to this day, love it so much.
Author: Kristin Cashore
Average Customer Review: (4.5 out of 5, on Amazon)
Category: Paranormal Adventure & Romance
Number Of Pages: 481
Available: Paperback | Hardcover | Kindle | Audio CD
---
7. The Gilded Wolves
Many readers assumed it to be like Six of Crows because it's also a heist book. But it's not! It has so many more layers to it. There are so many more nuances to it, and this is a book set in Paris. Also, it feels like a larger cast of characters who are coming together to try and steal this artifact that holds immense power. In this world, there's a magic system that relies on artifacts and things that belong to culture having been imbued with power.
So our main characters all have some back story, and things to them where they have had something stolen from them, or the effects of colonization have strongly affected them. As it is set in the 1800s, it has a historical aspect. You see how colonization has deeply influenced the world and these people because most characters are people of color or marginalized somehow. So seeing them come together is magnificent. This book has some interesting twists as well. You will love this book if you're a secret fan of Michael Vey and National Treasure.
Author: Roshani Chokshi
Average Customer Review: (4.4 out of 5, on Amazon)
Category: Epic Fantasy
Number Of Pages: 416
Available: Audiobook | Paperback | Hardcover | Kindle | Audio CD
---
8. Monsters of Verity
The first book of this series is 'This Savage Song,' and the second one is called 'Our Dark Duet.' It is more of a paranormal ish, more urban fantasy type. So this is set in the near-future version of our world where violence has created these monsters. Every time a human commits an act of violence, these monsters spring from that act. So depending on the level of violence, you get a different monster strength.
The high strength is the Sunai, who can steal souls. The middle is Malachi, who can steal blood or drink blood. Then the bottom one is Corsai, who eat flesh. So the series falls to the main characters Kate Harker, who is the daughter of a big crime boss in one of the bigger cities called Verity. She has always wanted to be a monster hunter. That's the vibe that she's trying to channel.
Then our other main character is August Flynn, a monster who doesn't want to be one. He is one of the Sunai, and he was spontaneously born from one of these violent acts. But he's never wanted to be a monster. He can play his violin and magic people into following his will. Then he steals their souls if they are someone who has committed a crime. So it's these two characters who are different, people who want the opposite thing. The pace of this book is fun and exciting as Michael Vey.
Author: Victoria Schwab
Average Customer Review: (4.5 out of 5, on Amazon)
Category: Supernatural Mysteries & Thrillers (Teacher's Pick)
Number Of Pages: 480
Available: Audiobook | Paperback | Hardcover | Kindle | Audio CD
---
9. The Winner's Curse (The Winner's Trilogy)
It is a unique fantasy series that doesn't have magic in it! Also, it's so focused on the political aspects and the power dynamics that are going on within this book that it makes it so interesting, like Michael Vey. The story follows a young girl (Kestrel) from a kingdom that has taken over this other one. So it's Valeria has taken over Heron, and she's a ballerina. So she's the daughter of the most influential general of the Valerian Army. She has a high status, but she also has a lot of limitations. As a girl in high society, she has to choose to become a soldier or get married.
Kestrel is more strategic and thinks she could be good with battle strategy, but she's not allowed to do that. The book opens up with Kestrel, the main character going to this auction for slaves from her aunt. She goes to this auction and experiences. This thing is called the Winner's curse. It's where you pay a lot more for something than you originally intended.
Then that thing is worth it because the auction drives the price up. That is a metaphor for the entire book because she wins the slave, but he is secretly a spy for the Haran people. They're trying to take down the evil orient occupying army and get rid of the general.
It is a book that takes something that might be slightly problematic with the whole slave's thing but does it tastefully. Some power dynamics flip because Kestrel doesn't know what she's getting into. Also, it has cool romance in it as well. Overall, the series has three books, and it expands as the conflict grows and takes the story to different locations in the world.
Author: Marie Rutkoski
Average Customer Review: (4.4 out of 5, on Amazon)
Category: Paranormal & Urban Fantasy Romance
Number Of Pages: 369
Available: Audiobook | Paperback | Hardcover | Kindle | Audio CD
---
10. The Cruel Prince (The Folk of the Air)
It's a fun series that has some hilarious and complex characters. Our main character, Jude, is so cutthroat, but she's also someone trying her hardest to survive in a world that doesn't want her there. So in this series, the Faerie World is adjacent to our own, and you can travel to it. Jude has an older sister and a twin. Her mother was in love with a fairy and was with him. But then she leaves him and marries someone else and has these four kids.
So that guy she was with comes back and murders her with her husband. Jude is left without her parents. Then he takes Jude and her sisters back to fairy and raises them as his children. So she's grown up in fairy as a human and has faced their manipulation. She's always felt powerless, and she gets this opportunity to become a spy for one of the fairy princes and get her revenge. Then you see her rise in the ranks. Overall, the series was enjoyable and had some fantastic twists similar to Michael Vey.
Author: Holly Black
Average Customer Review: (4.5 out of 5, on Amazon)
Category: Fiction on Prejudice & Racism, Dark Fantasy
Number Of Pages: 416
Available: Audiobook | Paperback | Hardcover | Kindle | Audio CD
---
Read More Similar Fantasy Books:
5 Young Adult Fantasy Books Like The False Prince
10 High Fantasy Books Like Caraval