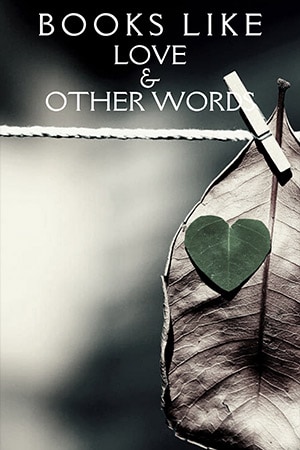 Love And Other Words by Christina Lauren is a YA contemporary romance with friends-to-loves, second-chance, and love triangle tropes. So, books like Love and Other Words are about romance and friendship. We saw how Macy loses her mom when she's young. So her dad decides to buy a weekend house so they can escape the bustle of the city. The neighbor or the house next door to their weekend house belongs to Elliot's parents. Elliot is our hero who is the same age as her. They meet when she's looking at the house, and he's hiding in her closet.
The book is told out of duel perspective. So we have chapters when they are younger, where they first meet, and it's about them meeting each other and going through development stages. Then something happened in the past that forced them apart and forced them to hate each other. We find out what happened, and it goes from there. If you are waiting to read more similar books, follow me!
7 Books Like Love And Other Words
Friends-to-lovers is simple, and it's when two people are friends and somehow a relationship forms. Sometimes it was an unrequited love where one person always liked the other but thought the other wouldn't reciprocate their feeling.
So they never spoke up, or sometimes something specifically happens that makes them develop feelings for one another. Then this story happens. Readers are fans of this and want to read like Love And Other Words. Now, I will talk about 7 books similar to Love And Other Words. Let's go!
| Name | Key Focus | Review (Goodreads) |
| --- | --- | --- |
| Josh and Hazel's Guide to Not Dating | Two best friends make promises, not to date, but a forced proximity situation breaks it. | 4.0 |
| Addicted to You | A sex addict girl and alcoholic boy are dealing with the past, and they form a friendship that turns into love. | 3.8 |
| My Favorite Half-Night Stand | The hero and heroine meet through online dating, and after their one-night stand, they again feel each other. | 3.7 |
| Not So Nice Guy | Two school teachers build a friendship, and very soon, they feel a taboo romantic attraction. | 3.8 |
| Not Pretending Anymore | Two roommates start fake dates with others but discover their love for each other. | 4.0 |
| Teardrop Shot | A basketball player makes a friendship with his fan, and their friendship turns into romance. | 4.3 |
| Playing with Fire | A burn victim ugly girl finally finds her true love. | 4.2 |
Books Like Love And Other Words
1. Josh And Hazel's Guide to Not Dating
Josh and Hazel's Guide to Not Dating is the first adult contemporary romance I have ever read and read twice. It's a brother's best friend's romance and a friend's lover that won Goodreads Choice Award Nominee. The story follows Josh and Hazel. These two people knew each other in college, but they were never friends. Hazel is quirky, and she one time tried hitting on a guy.
Years later, Hazel is at a party at her best friend's house, and Josh shows up at this party. She decides that he is now going to be her best friend. So she attaches herself to him. They become good friends and move in with each other for a little bit because Hazel's apartment ended up getting flooded, and she needed a place to stay.
Then once they're living together, they both realize that they're single, and they start finding somebody to have a relationship with. So they begin to go on these double dates together, but they enjoy each other's company more. Then a romance will bloom there, and you will see many plots and thematic similarities with Love And Other Words.
Author: Christina Lauren
Publisher: Gallery Books
Tropes: Multiculture, Humor, Smut, Friends-to-lovers
Number Of Pages: 320
Available: Audiobook | Paperback | Kindle | Audio CD
2. Addicted to You (Addicted)
Addicted to You is my all-time favorite romance book in the Addicted series. The Addicted Series is a collection of five books where you're following Lily and Lo's perspectives. These two people have been friends their entire lives. Nobody can pull them apart. When they were seniors in high school, they started fake relationships because they were both addicts.
Lily is a sex addict, and Lo is an alcoholic. So, they want to hide their addictions from their families and have something to cover their vibes in any way. They've been best friends forever, and this fake dating best friends scenario will turn it into a real full-fledged romance. Like Love And Other Words, this book also has second-chance and romance tropes.
Author: Krista Ritchie
Publisher: K.B. Ritchie
Tropes: Billionaire, Grumpy hero, Fake-relationship, Childhood-loves, Dark
Number Of Pages: 335
Available: Audiobook | Paperback | Kindle | Audio CD
3. My Favorite Half-Night Stand
My Favorite Half-Night Stand is my favorite half-nightstand. In this book, you're following a group of friends that are all professors in a college. They're all hanging out one night, and they decided to start going on online dating sites because they need all find dates for an event that their college is throwing in a couple of months. So they all agree on this, which somehow happens to be that night.
The two main people we follow in the book make a one-night stand. Then after the fact, they decide that even though it was a great time, they're going to stay platonic because they don't want to ruin their friendship as well as their friend group.
So they're all going to start their online dating, and the two get matched online. But the guy doesn't realize who the girl is, even though the girl realizes who the guy is. Then she continued to talk to him, but she didn't tell him in real life that she was the person online.
You can assume where it will go, but a romance between the two of them will happen by the end of the book. We saw Christina Lauren's writing style in Love and Other Words. She did a great job again by writing this book. The narration, plot, and character development were good for me, but I expected more twists and chemistry. I recommend it if you like fun, friendship, and women's fiction.
Author: Christina Lauren
Publisher: Gallery Book
Tropes: Arc, Rom-com
Number Of Pages: 385
Available: Audiobook | Paperback | Kindle | Audio CD
4. Not So Nice Guy
Not So Nice Guy is a cute and quick romcom. The story is about two best friends who work together. They're both elementary school teachers and have been best friends since orientation when they met, and they knew they clicked. Both liked each other, but they didn't think the other felt the same way because of random things they said over the years. One of them was always dating somebody, and one was single.
At the beginning of this book, something happened! One of them broke up with their old girlfriend, and now they have decided to make a move on each other. Then you get to follow their romance. The book's first half was boring, and the second half was exciting, but the ending was very simple. I loved the heroine, but the hero was unlikeable to me. Overall, I enjoyed the friendship and romantic tension between them. If you like Love And Other Words, you must read it.
Author: R.S. Grey
Narrator: Teddy Hamilton, Luci Christian Bell
Publisher: Audible Studios
Tropes: Unlikable-hero, Weak-heroine, Workplace-romance, Comedy
Number Of Pages: 264
Available: Audiobook | Paperback | Kindle | Audio CD
5. Not Pretending Anymore
Not Pretending Anymore is a mental-health, roommate-to-lover, fake dating book. Our two main characters, Declan and Molly, become roommates. They didn't think it would be a problem because both have crushes on other people. So once they become roommates, they fake date each other so they can make their crush jealous. While that's happening, they become good friends.
Once it works and their crushes now like them, they realize that they like their roommate more than the crushes that they were using their roommate to try and get vibes. The romance will happen in some way. I liked their friendship in the book and how it all developed. If you're a fan of fake dating and friends-to-lovers, I recommend this one after Love And Other Words. The hardcover has some negative issues, so avoid it, but the paperback is good for font size, color, binding, and cover.
Author: Penelope Ward
Narrator: Erin Mallon, Sebastian York
Publisher: Scott Publishing
Tropes: Mental Health, Slow-burn, Family-friendship, Cheating,
Number Of Pages: 350
Available: Audiobook | Paperback | Kindle
6. Teardrop Shot
Teardrop Shot is a sports romance that is a stranger-to-friends, friends-to-lovers book. The story is about a pro basketball player going to a pre-season training camp. When he gets to the camp, he meets a girl who happens to be on staff there. She is a big fan of his, and she freaks out, and they somehow form a very unlikely friendship. That friendship is slowly going to turn into a romance which is very similar to Love And Other Words.
So much stuff is happening, and both have much baggage from their past. Those pasts come into this book and their relationship a lot. The dialogues and fun were a little bit dull for me. Also, the annoying heroine made me angry sometimes. If you're down for something slightly more serious, I recommend this one because it was a solid read.
Author: Tijan
Narrator: Savannah Peachwood
Publisher: Audible Studios
Tropes: Slow-burn, Celebrity-hero, High-angst
Number Of Pages: 422
Available: Audiobook | Paperback | Hardcover | Kindle | Audio CD
7. Playing with Fire
Playing with Fire is another book where both characters come with a lot of baggage. In this story, you're following a girl who is a burn victim. She has scars all over her face because she was in a fire a couple of years ago, and before that, she used to be beautiful. Because of that, she is extremely self-conscious about it. Therefore, that is her baggage. She's in college, and she's working at a food truck.
One day, a popular guy in her college walks up to the food truck and asks for a job. Then they're working together, and they're in closed-proximity relation. After some days, they are slowly going to form a friendship. The guy is an underground fighter, and he's keeping a lot of secrets. Once their friendship develops, they will break out of their shells and the funks they're in and form a relationship slowly. So it was a very sweet romance like Love And Other Words. I have no complaint about the famous author, LJ Shen.
Author: L.J. Shen
Narrator: Christian Fox
Tropes: Fighters, Broken-heroine, Steamy, Small-town
Number Of Pages: 436
Available: Audiobook | Paperback | Hardcover | Kindle | Audio CD
Those are my book's recommendations for you. If you have any novels or stories like Love And Other Words, share them with me in the comment section. Happy romance reading!