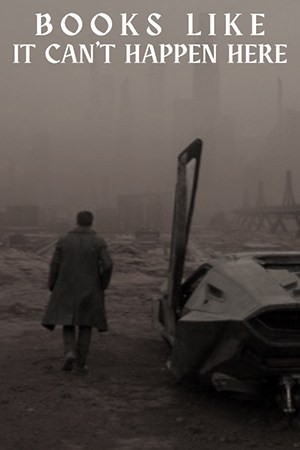 It Can't Happen Here by Sinclair Lewis is a dystopian novel, although it differs from the slightly more sci-fi dystopian like Brave New World or The Handmaid's Tale. It is a political drama written in 1935 while Franklin D. Roosevelt was in his first of several terms of presidency. At the time, Mussolini and Hitler had risen to power in Europe, Italy, and Germany, respectively, but World War II hadn't erupted.
This book tells the story of a United States in which a similar fascist leader (or dictator, autocrat, whatever you want to call him) rises to power in the 1936 election. Everyone's insistence, including at times the insistence of the uprising fascist leader himself, that fascism "Can't Happen Here."
The book isn't packed with many feelings or sentimentality, and most of the characters are more by their political ideologies, societal roles, and identity. So, Books like It Can't Happen Here are packed with politics from the get-go, and you'd better buckle up for tons of names, organizations, and affiliations.
5 Books Like It Can't Happen Here
What was more interesting to me, though, were the precise political process and the state of the nation that allowed this to happen in the first place despite everyone's insistence that it "Can't Happen Here." In the United States, this book, there is a Communist movement that almost certainly does deserve a fair level of scrutiny and skepticism.
However, when this reaches the level of paranoia and fear-mongering and is used to justify the rise of fascist-like elements in the opposition, it's fuel in the fire for creating the suppressive measures. That will not only be used to stifle the Communists but anyone who opposes the new regime.
There's a nice excerpt where the protagonist Doremus reflects plaintively on how Buzz is for the unions but against all strikes, banks, and disloyalty. Overall, I enjoyed the book and read some similar books. Now, I will review 5 books similar to It Can't Happen Here. Let's go!
| Name | Key Focus | Review (Goodreads) |
| --- | --- | --- |
| The Iron Heel | A socialist shows the socialism, politics, poverty, and culture of the past and future. | 3.7 |
| The Plot Against America | A Jewish boy describes the war situation of 1940 with fascism, humor, and politics. | 3.7 |
| U.S.A.: The 42nd Parallel | The author talks about his childhood with communism and represents the American culture. | 4.1 |
| The Jungle | A Lithuanian man struggles with his family for work and wages through a hard situation. | 3.7 |
| 1984 | A middle-aged man is trapped in a totalitarian society trying to free himself and deal with difficulties. | 4.1 |
Books Like It Can't Happen Here
1. The Iron Heel
The Iron Heel was published in 1907 and describes a change from the present 1907 society to a dystopia as the socialists try to revolt against the capitalists. The capitalists are much stronger and more vicious than the social staff. The main character's name is Everhard, and he is a socialist. The narrator is a woman who becomes his fiancee and then-wife.
Also, the book is seen from 700 years in the future. The footnotes are by a socialist society looking back and describing and sometimes finding humorous many of the events in the books mixed up. So while people call it a dystopia at the time, it would have been future history. Many of us will get it as alternate history because many events didn't happen.
Most of the book is a lecture about socialism. Jack London was born in poverty, but he became quite rich. But before that, he saw the poor and the lower class all around him. He worked in the factories for pennies a day and felt things needed to be changed. The problem is that why he's a great writer in some respects when it comes to The Iron Heel, it comes out especially the first part as a document, a political pamphlet given out on the streets.
While he does quote a lot of information about the labor conditions, poverty, and prostitution. Even though he experienced and saw much of it firsthand, it becomes a little boring. The book's second part is about the revolt, the fact that the socialists tried to overthrow the capitalist system, which we would call fascist today. In doing so, they fail and give the capitalists a reason to strengthen their whole to the point where it does become a fascist state.
So, Everhard continuously looks at the socialists with him and keeps talking about the next election. While Everhard doesn't believe in violence, he sees the class struggle as violent. The result is a feeling that Everhard and Jack London are leaning more towards communism than socialism. Also, the end of the book deals with one of the revolts, and it's a ruthless book like It Can't Happen Here. If you're interested in the history of philosophy or political thought, read it.
Author: Jack London
Tropes: Politics, Culture, Activism, Revolution, Utopic
Number Of Pages: 160
Available: Audiobook | Paperback | Hardcover | Mass Market Paperback
2. The Plot Against America
The Plot Against America was an exciting piece of alternate historical fiction. Philip Roth asks, What if FDR had been defeated in his presidential run for a third term by the charismatic anti-Semitic Charles Lindbergh. This main campaign promise was to keep the US out of World War Two while having a darker motive for acquiring great power. The war tells his story in a macro way, as well as going micro and showing the impact of Lindbergh's presidency through the eyes of a boy in a Jewish family living in Newark, New Jersey.
I decided to read this book upon learning that HBO is making a movie adaptation of it. Portions of it are being filmed in my neighborhood. I took the opportunity to visit the filming site when it was taking place a few blocks from my house. So, it was a very cool experience made cooler by getting to hang out with a few of the extras.
Parallels between the 1940s or Roth's imagination and our current political climate are striking. In the book, Germany has the idea of a man ascending to the presidency aided by a foreign government. In the case of Switch, a celebrity with no previous political experience, Russia has an improbable meteoric rise to the White House. With a celebrity with no previous political experience, having an improbable meteoric rise to the White House switch people being thrown into concentration camps because they're Jewish.
One is hypothetical, and one is hypothetical fiction. The deeper into the book is how Roth seems to be stealing from a reality that had not happened yet. The book won the Pulitzer prize for a great memorable story like It Can't Happen Here. I found some writing issues as a subject matter, but it's okay. If you are American or want to know American history, specifically 1940, you must read it.
Author: Philip Roth
Publisher: Blackstone Audio, Inc.
Tropes: Jewish Literature, Fascism, Humor, War
Number Of Pages: 391
Item Weight: 11 ounces
Narrator: Ron Silver
Available: Audiobook | Paperback | Hardcover | Mass Market Paperback | MP3 CD
3. U.S.A.: The 42nd Parallel / 1919 / The Big Money
The 42nd Parallel is the 20th Century of American Fiction. Author John Dos Passos was the illegitimate son of a Portuguese lawyer who later married Dos Passos's mother. But he had a chaotic childhood and chaotic life, too. He was fascinated by communism for a while. Then eventually, he completely dismissed that whole theory and became extremely conservative.
Also, John supported Goldwater and Nixon, which seriously damaged his literary career. But before that, he wrote this trilogy that is considered by a lot of people one of the best examples of study studying American culture ever written. We have twelve main characters throughout the trilogy, each beginning from their childhood and lives chronologically. They all struggle for security, comfort, and stability in that time.
As historical fiction, all the books have complexity. So you have to read slowly and give some time to understand properly. The author used a very different technique for the narrative of these novels and incorporated newspaper clippings and lyrics from songs. It's stream-of-consciousness writing, but I was blown away by all three books. If you like It Can't Happen Here, you will also love these books. The hardcover quality is average for font style, color, and binding/cover.
Author: John Dos Passos
Publisher: Library of America
Tropes: World war, American history, Self-help, Criminals & Lawyers
Number Of Pages: 1312
Available: Hardcover
4. The Jungle
The Jungle is a best-seller book that represents a story about a man (Jurgis ) and his Lithuanian family. They moved to America, seeking jobs and trying to make it. You see the harsh working conditions and wages people must accept because thousands of others will take that position. Jurgis wants American work, and he gets his job right away at this meat packing plant. The book shows the gruesomeness and horrific conditions that the people work in and the pathetic situation of the employees.
I don't want to ruin the story because it teleports you as It Can't Happen Here. This thing takes you there, and you are along for the ride. I love that because they give you perspective on people's harsh and horrible trials. So this book opens you up to the environment, and everybody should read it because it will give you perspective on how harsh people had it before there were some guidelines and regulations. Don't pick the hardcover because it has some issues, but the paperback is perfect for everyone.
Author: Upton Sinclair
Publisher: Chump Change
Tropes: Philosophy, History, Classic, Academic
Number Of Pages: 188
Available: Audiobook | Paperback | Hardcover | Spiral-bound | Mass Market Paperback
5. 1984
1984 is a dystopian best-seller political literature. We follow a man named Winston Smith, a middle-aged man living in a totalitarian society. There is one entity, the party called Big Brother, that oversees and controls everything. They control what you should and should not, what you can and cannot do, and even think. There are cameras and videos everywhere that you can't hide from the organization. They also control all information, all news.
Smith's not in a position where he's making decisions and has no authority in the party, but he works for the party specifically. So this is a story about him who is completely trapped. Many themes and things that we see happen in this book are even more relevant today than when it was written. You're going to wonder what will happen to Winston next.
Like It Can't Happen Here when you finish the book, you will feel drained and exhausted by it. It makes you think about where we are at as a whole society. George Orwell is a great author. So please read it if you want to know more about the political environment in 1984.
Author: George Orwell
Publisher: SNR Audio
Tropes: Satire, Dystopia, Thrillers
Number Of Pages: 298
Narrator: Hugh Kermode
Available: Audiobook | Paperback | Hardcover | Kindle | Mass Market Paperback
---
Read more similar books:
5 Classic Politics Books Like Atlas Shrugged
5 Dystopian Feminism Books Like The Grace Year
5 Literature Fiction Books Like Catch 22
5 American Literature Books Like East Of Eden