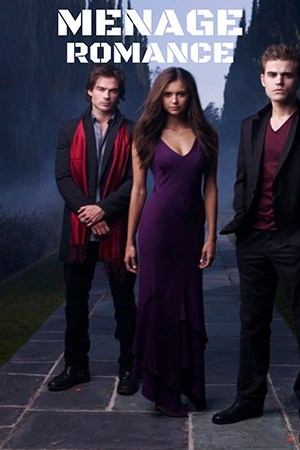 Credence by Penelope Douglas is about the spicy polyamorous and taboo relationship. The book falls under the category of reverse harem romance, where the female protagonist finds herself at the center of romantic or sexual relationships with multiple male characters. The taboo topic is getting involved physically with a family member, not a biologically related family member. It is a three-way love story that works with that other strong story. The main character of the story is Tiernan. It starts out setting up the life of Tiernan.
Her parents have died. They have some influence in the entertainment industry. They essentially commit suicide, leaving Tiernan alone, who is 17 years old, right on the cusp of turning 18. It's a sad situation. The most significant part of the vast and impressionable story is that her parents kill themselves, but they love each other more than they love their daughter. Books like "Credence" are chock-full plot twists that keep you on the edge of your seat. The unpredictability can make the reading experience more engaging. If you are waiting to read, keep scrolling.
10 Books Like Credence (Menage Romance)
In Credence, Tiernan is left empty, always searching for love and finding it in her memories. So, that's an essential part of the book that is consistent throughout because she has a problem connecting people. Ultimately, She goes to the mountains of Colorado to live with her uncle Jake.
Once the winter hits, they're stuck there for months at a time. She's got two cousins, Noah, who's adorable. They connect well. Caleb is mute at the very beginning of the book. Each character had a great connection with her and her uncle. He was supportive and wanted the best for her, but attracted her because she was young.
She also ends up losing her virginity to him. Still, when she's up in the mountains, she also builds all the sexual tension with her cousins. So, knowing that each person will offer something different, but in a valuable way, this story plays out. I am going to talk about ten books similar to Credence. These books feature multi-layered characters with flaws, strengths, and intricate backstories. This depth can make for a much richer reading experience. Let's go!
1. The Spanish Love Deception
This book is about enemies to lovers, forced proximity, and fake dating tropes. It follows Catalina, and she is an engineer from Spain. She went to the U.S. to escape something that happened in the past. Also, there's a guy called Aaron who leads a different team than hers, but they have to work together, and they are rivals. So Catalina hates Aaron because she heard Aaron speaking negatively about her behind her back, and she's never forgotten that.
One day, she is invited to her sister's wedding, and she needs a date because her ex will be there, and he's moved on. So she decides to tell her family she has a date. She will bring someone, and she doesn't have a date like she has no one to get to this wedding in Spain.
So she has to find someone who will fly with her from New York to Spain for a wedding, for a weekend. No one's going to do that. Aaron overhears this conversation with her, and he shows his interest. So Catalina goes to an event with Aaron. Aaron's love language was physical touch, which persisted throughout the book like Credence.
Author: Elena Armas
Average Rating: 4.5/5
Category: Multicultural Romances & Comedy
Available: Paperback | Kindle
2. Heart Bones
Heart Bones follows Beyah, a girl who has grown up in a trailer park with her mother, a drug addict. Beyah was always someone who went her path. She worked for everything she did, which was always 100 percent her work. Then, one day, she comes home and finds that her mother has overdosed.
So she tries to call her dad, who she is estranged from, and she's 18 when the book takes off. She flies to Texas, where he lives, and finds him with a new wife and a daughter.
Beyah meets a boy (Samson) on the way, and she knows the boy is rich. She instantly doesn't like him. He tries to give her money, and she thinks he wants to sleep with her, and it's not very cool. Then, she also discovers that that boy, his best friend, is dating her new stepsister.
So, if she wants it or not, she's forced to spend time with him. This is where stuff gets interesting because Samson is also a cold, closed-off person with a very troubling past, and she carries a lot of secrets with him. The plot and characters are very similar to Credence.
Author: Colleen Hoover
Average Rating: 4.7/5
Category: New Adult & College Romance
Available: Audiobook | Paperback | Kindle | Audio CD
3. The Play (Briar U Series)
The Play is the third book in the Briar U series. It follows a boy named Hunter. He is interested in a girl, Summer. It doesn't reciprocate the feelings that he has for her. He goes around and sleeps with every girl on campus, and he accidentally sleeps with a teammate's girlfriend.
Then there's a massive fight on the ice, and he breaks his wrist, so his team loses the Hockey championship. So he has sworn a celibacy vow to himself and his team and says he won't sleep with anybody during the hockey season.
There is Demi, and Demi has a boyfriend called Niko, and they've been together since they were 13. So they're childhood sweethearts. She hasn't been with anybody else, but Niko, and they are good with their relationship. Then, Demi and Hunter get paired together for a project in their psychology class. It's like abnormal psychology, and they have to be patients. One night, Hunter sees something go down at a party, and everything gets complicated.
Author: Elle Kennedy
Average Rating: 4.6/5
Category: Sports & Menage Romance
Available: Audiobook | Paperback | Kindle | Audio CD
4. The Kiss Thief
This book follows Francesca Rossi, a girl who is the daughter of a mafia boss in America. Francesca knew that she would marry the son of the other mafia boss. So the mafia could join forces, and she likes a boy. He's her first true love. She's into him. Then she gets a chest, and she's only supposed to open it on her 19th birthday, but she opens it anyway. It's the box passed down through the women in her family and tells her the future. So she opens the box and finds a little note that says, You'll marry the love of your life.
So she takes the note and can't pack it to take to the ball. She meets Angelo at that ball, and he's the boy she's supposed to marry. He's only kissed her on the nose. So she's hoping that he will kiss her tonight so that she knows he is the love of her life and that she will marry him due to the note. Then she meets someone who's called Wolf Keaton. He's a senator and super young for a senator, but he's also unfriendly. Francesca meets him, and he's super rude to her as well.
Wolf Keaton kisses her, and due to the note, that would be the love of her life. Then she's super angry. The next day, her father tells her she should marry Wolf Keaton, even though she was promised someone else. So, she does not know what's going on. She knows that Wolf must have something against her family in his hand, but she is sent off to marry him.
So before she marries him, she has to live with him. It was a fascinating read. This is an arranged marriage, and it does put a girly romantic twist on it, similar to Credence.
Author: L. J. Shen
Average Rating: 4.4/5
Category: Menage Romance
Available: Audiobook | Paperback | Kindle | MP3 CD
5. It Happened One Summer
This is about a girl named Piper from Los Angeles. Her stepdad is a movie producer, so she gets everything handed to her, and she's a total party girl. She gets into trouble, and her stepdad says, Try to prove to me that you can survive without my money. He sends her to the fishing town, where her biological father lived with her mother before he died. So he was a shipping captain who captained a crab boat and had the bar, and he left the bar to his daughters.
So Piper and her sister decided to go with her and try to make something of the bar. As it would happen, she meets the grumpy captain of a crabbing boat. Like Credence, it's a romance, and they fall in love. What's going on here? The author used her eloquence with words to describe things in her books. She also loves writing alpha males. So, if you like books with alpha males and protective males, check it out.
Author: Tessa Bailey
Average Rating: 4.5/5
Category: Romantic Comedy (Best Seller)
Available: Audiobook | Paperback | Kindle | Audio CD
6. Vicious by L.J. Shen
Vicious covers the world's emotional intricacy and moral ambiguity, presenting characters you love to hate or hate to love. L.J. Shen creates an enthralling romance narrative within a high-stakes environment. The story focuses on Vicious and Emilia, who share a complicated history and a more complicated present.
Shen's writing is evocative, drawing you into the character's internal struggles and making you question conventional love stories. The book explores revenge, redemption, and the gray areas that define human emotions. If you liked "Credence," "Vicious" will captivate you with its character complexities and emotional nuance.
7. Corrupt by Penelope Douglas
Corrupt introduces us to darkness, dangerous liaisons, and moral complications. The story is set in Thunder Bay, where reputations are everything and secrets are currency. Erika is the protagonist who finds herself entangled with Michael Crist, morally ambiguous.
This book is not just about romance; it's about revenge, power dynamics, and grappling with the past. The pacing is relentless, and Douglas's writing ensures you're on the edge of your seat. Similar to "Credence," this book features emotional and psychological states, making it an intense read.
8. It Ends with Us by Colleen Hoover
While not a dark romance in the traditional sense, "It Ends with Us" contains layers of complexity that fans of "Credence" may appreciate. This book is a poignant look at love and the cycles of abuse. Colleen Hoover skillfully shows the emotional terrain of her characters, especially the protagonist, Lily Bloom.
She finds herself torn between two men and her burgeoning self-awareness. The book doesn't shy away from the painful aspects of love and offers a compelling, heartbreaking, and hopeful narrative. The writing is elegant, and Hoover's storytelling prowess will deeply invest you in the outcome.
9. King by T.M. Frazier
King is a story of crime, love, and redemption. It focuses on the characters of King, a man released from prison with a mission, and Doe, a woman with no memories and nowhere to go. The romance that blossoms between them is anything but typical.
T.M. Frazier does an excellent job of fleshing out flawed but deeply compelling characters. The story has high emotional and physical stakes, and the narrative holds nothing back in terms of action or intensity. Like "Credence," this book explores the darker aspects of love and life, making it a gripping read from start to finish.
10. Punk 57 by Penelope Douglas
Punk 57 revolves around Misha and Ryen, pen pals who have never met but share a deep connection. When they eventually cross paths under unexpected circumstances, the chemistry is undeniable but complicated by secrets and insecurities.
Penelope Douglas once again delivers a story that's intense, emotionally charged, and filled with twists. The characters are layered, and their relationship develops in a way that's both raw and poignant. The book explores identity, belonging, and the masks people wear. If you enjoyed the emotional complexity and intense relationships in "Credence," "Punk 57" should be on your reading list.
---
These books offer intricate characters, high emotional stakes, and sometimes uncomfortable but always compelling explorations of love and morality. Remember that these books contain mature or sensitive themes, so they're best suited for an adult audience.
More Dramatic Romance Books:
College Romance Books Like Punk 57
Contemporary Reverse Harem Books
Reverse Harem Bully Romance Books