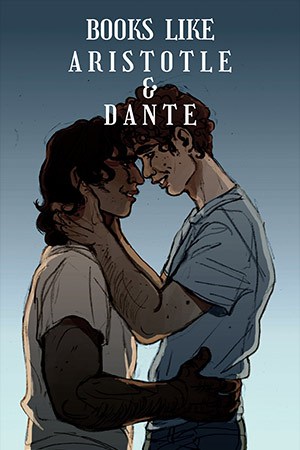 Aristotle And Dante Discover The Secrets of The Universe by Benjamin Alire Saenz is a contemporary gay romance novel. We followed two characters, but the main character, Arie Aristotle Mendoza, is a 15-year-old boy. It's a first-person book, so it's written from his point of view. He lives in El Paso, Texas, in the eighties, so it has a fun feel because it's in the eighties. When the book starts, he is trying to figure himself out. So, it's very much a coming-of-age story.
Aristotle has trouble making friends, and he meets Dante, and their friendship develops. This is not a platonic relationship. It is a love story. But even more than a love story, this book surprised me with how much it was about family, being yourself, and being kind to others. Aristotle's father struggles with PTSD because he was a marine in the war, which affects Arie in his relationship with his parents.
Many teenagers experience that when they start to move toward adulthood and see parents as people trying to understand them. I enjoyed the relationships between Aristotle and Dante and their parents. The narrative holds cupped hands full of love and patiently waits for them to take it. It makes my heart ache so much. Such books like Aristotle And Dante inspire me to be a kinder person. The way that the author treats his characters with such gentleness reminded me that I need to treat others that way and that I need to treat myself that way.
7 Books Like Aristotle And Dante Discover The Secrets Of The Universe (MM/Gay Romance Story)
I love reading Queer/LGBTQ+ romance, everything across the spectrum. It's so impossible to overstate how important when we see those love stories being told across all mediums. Aristotle And Dante made me so emotional. One thing I want to mention quickly is that there are a couple of triggers that are not disturbing.
The book reminded me a lot of The Outsiders by S.E. Hinton, one of my favorite classic books. I marked so many pages for quotes. Throughout the book, the protagonist has to learn to be gentle with himself. That was one of my favorite things about it. I have some romance books similar to Aristotle And Dante for you. Let's talk about them!
| Name | Key Focus | Review (Goodreads) |
| --- | --- | --- |
| The Gentle Art of Fortune Hunting | Some siblings are on a trip, and they bond in dynamic relationships. | 4.2 |
| Caught Looking | Two childhood friends recover their feelings again. | 3.7 |
| The 5th Gender | With many mysteries, the aliens narrate the relationship with a human detective. | 4.1 |
| The Alpha's Warlock | A magician and a werewolf discover themselves as a fated mate. | 3.8 |
| Tell Me It's Real | A boy feels insecure and has mental issues, but his boyfriend supports him nicely. | 4.2 |
| Over and Over Again | A boy loves his father's best friend. | 4.2 |
| Exhale | Couples struggle to find their missing daughter. | 4.1 |
Books Like Aristotle And Dante List
1. The Gentle Art of Fortune Hunting
The Gentle Art of Fortune Hunting is a standalone regency gay romance. I was excited when I picked it up because I love Charles's historical novels. She writes in a lot of different time periods. Also, she's covered Victorian Edwardian 1920s pulp. But there's something about her regency that I particularly love because she's taken the worlds of Jane Austen or Georgette Heyer and cast a gaze over them. That highlights the lives of queer people.
It's such a beautiful thing to see and read because it reflects the lives of people we don't hear about in history books. The story has fun scenes because it follows a fascinating concept of fortune hunters. So people who pursue bachelors or bachelorettes intend to marry them and trap them for their money. At the novel's start, we have some sibling fortune hunters, Robin and Marianne. They have joined the London season to find a rich bride or groom for each one to drain them dry.
They quickly recognized that a young, intelligent wallflower named Violet was probably their best bet. But Violet's overprotective uncle, Hart, is immediately suspicious of the two of them. So he tries to prove that Robin is only after Violet for her money.
Robin and Hart are going head to head as they try to trip each other up and reveal they're true agendas. This book has such a fantastic cast of characters. Everyone is so distinct, and the dialogue reflects those clever personalities that inhabit these pages. I love the relationship between our two heroes, Hart and Robin, and between every side character with the main characters like Aristotle and Dante.
So Robin and Marianne have a very complex esque relationship. Violet isn't a throwaway character in this, despite her being a plot tool. Fundamentally, she is still given her whole story. Her full growth and the friendships she develops with the characters are also wonderful to witness.
Despite being set in the London season, it's a delightful book, a big-class parade of wealth. It does undercut a lot of very classist or capitalist ideas in the characters' conversations. In this way, they reflect on the world around them. I recommend it after Aristotle And Dante Discover The Secrets Of The Universe.
Author: KJ Charles
Publisher: KJC Books
Tropes: Regency, MLM, Friends, Family, Historical, Enemies-to-lovers, Arc
Number Of Pages: 288
Available: Audiobook | Paperback | Kindle | Audio CD
2. Caught Looking
Caught Looking is a sports MM romance. The story follows two childhood best friends, Yariel and Hatuey. Yariel is a major League Baseball player, and Hatuey is his best friend from childhood. They met when Yariel was studying in the Dominican Republic.
The novella opens by throwing you into the action because it starts when Yariel wakes up and realizes that he has spent the night with Hatuey. Hatuey has fled the area, immediately panics, and is convinced that it will ruin their relationship. He has secretly repressed these feelings for his friend for years because he doesn't want their friendship to change.
Hatuey is not only fine with the direction their relationship is taking, but he is also in favor of it. He wants to be with the ideal and spends the rest of the novella convincing the Major League Baseball player to give a guy a chance. The author is a beloved and well-respected romance novelist. She's very well known for writing diverse romances across the spectrum.
This book is a great toe dip into her works because it's easy to read in one setting, but it doesn't sacrifice any gorgeous romance and excellent angsty character dynamics that her books feature. So, if you are looking for a short, sexy friends-to-lovers romance story like Dante and Aristotle, read it. You can read in one sitting and smile for about 775 hours afterward.
Author: Adriana Herrera
Tropes: Sports, Friends-to-lovers
Number Of Pages: 112
3. The 5th Gender (Tinkered Stars)
The 5th Gender is a sci-fi alien romance with LGBT characters. We have a lovely, sweet-natured lavender alien named Tristol, who has to work with the gruff human Detective Hastion to uncover the mystery behind the death of one of his species. This book is the epitome of the grumpy and sunshine one trope.
Tristol is a little ray of sunshine, a glorious beam of light. I wanted to squeeze him so tight from page one. The dynamic he develops with Hastion is lovely, and I loved seeing how this very gruff man tries to maintain professionalism. Gail Carriger does a great job of presenting an alien's point of view. Tristol is both relatable and very clearly comes from a different context.
So it was fun to read those two different perspectives and see how they bounced off one another. The world-building was also great, and I recommend it who love gay alien romance similar to Aristotle And Dante. Avoid the hardcover because it has negative issues, but the paperback is good enough for font size, color, cover, binding, and paper quality.
Author: G. L. Carriger
Publisher: GAIL CARRIGER LLC (1st edition)
Tropes: Interracial, Mystery, Aliens, Science Fiction, Suspense
Number Of Pages: 223
Available: Audiobook | Paperback | Kindle
4. The Alpha's Warlock (Mismatched Mates)
Mismatched Mate is a paranormal male-male romance series. The entire series revolves around what the title says. So it's based around the fated mate's trope. But we see every mated pair you wouldn't expect to work out because they're from two magical species, perspectives, or agendas.
The first book, The Alpha's Warlock, follows Nate, a magician who has to meet with alpha werewolf Ian. Ian and his older brother Matthew are suspicious of whether Nate betrayed their pact several years earlier. Nate is my favorite type of protagonist. He's very sassy and got a very sharp tongue.
On the other hand, Ian is so funny. So, it's a solid, well-written, well-constructed paranormal series. Although the series focuses on wolves more than vampires, werewolves are way more fun than vampires. I'm so excited to be able to recommend it to you because many of you are massive Twilight fans and want to read like Aristotle And Dante.
Author: Eliot Grayson
Narrator: Chris Chambers
Publisher: Tantor Audio
Tropes: Paranormal, Werewolf, Shifter, Vampires, Arc, Enemies-to-lovers, Humor
Number Of Pages: 202
Available: Audiobook | Paperback | Kindle | Audio CD
5. Tell Me It's Real (At First Sight)
Tell Me It's Real is the first book in one of TJ Klune's contemporary romance series. The rom-com film genre inspired author TJ. When creating this book, he wanted to find a queer version of those brightly colored, exciting, vibrant romance films he'd grown up with. That represented his romantic experiences and the stories he wanted to see being told.
It's one of the few books that genuinely had me laughing out loud throughout it. If you go and Google the reviews, you will see that so many people also have that reaction. It's impossible not to crack up at the awkward and outlandish situations the author creates on the page. The characters have such heart and authenticity to them.
Paul Auster is very quick to tell you as he tries to understand why Vince is a beautiful man. Paul suffers from many body image issues and hasn't been lucky in love before. So he's utterly bewildered as to why this super attractive, very much sought-after man is suddenly paying attention to him. Despite that being the dynamic at its core, it's also not one that Vince or the author ever exploits.
Paul's insecurity isn't overplayed for laughs or tears. It's that I'm watching him work through that as he forms the relationship with Vince is so beautiful. Their love reminds me of Aristotle And Dante. Vince is also one of the most charming heroes who has ever been committed to paper. I highly recommend the book if you want to laugh all day long.
Author: TJ Klune
Narrator: Michael Lesley
Publisher: Dreamspinner Press LLC
Tropes: Friendship, Fun, Insta-love
Number Of Pages: 350
Available: Audiobook | Paperback | Kindle
6. Over and Over Again
Over and Over Again is a gently romantic contemporary. It has steam, but it's a very slow-moving book. This book follows a young man called Luca Ward, who is sent to live on a farm with his father's best friend, Imre. Luca had a real hero-worship infatuation with Imre when he was a child, but it was a child's crush on a much older figure. So he's surprised when he shows up at the farm, and he still feels all of the affection and desire for Imre all of those years later.
As time goes on, the two men get to know each other as men and as individuals with their own complex lives and backstories. Their relationship begins to develop in ways that it never had previously. The book is so sweet, gentle, and delicate with its characters. Luca and Imre have gone through pain, loss, challenge, and comic aid, giving them a space within the narrative to overcome their trauma and help others through theirs.
From the start, Imre does what no other person in Luca's life does, and he recognizes him as his valid person in control of his own life in his future. So we still got all that wonderful conflict from an age gap, three months without any uncomfortable power dynamics. The romance and mental theme are similar to Aristotle And Dante's Discover The Secrets Of The Universe. The plot, storyline, writing style, narration, and dialogue are excellent. I enjoyed it and would recommend it to you.
Author: Cole McCade
Narrator: Philip Alces
Publisher: Tantor Audio
Tropes: Age-gap, Slow-burn, Queer
Number Of Pages: 596
Available: Audiobook | Paperback | Hardcover | Kindle | Audio CD
7. Exhale (Flesh and Bone)
Exhale is another dark paranormal romance. The story follows Jack, a former miner trying to take care of his teenage daughter after the death of his wife. Jack and his wife had a very fraught and difficult relationship. She was unfaithful to him multiple times. He once found a letter from a former lover named Nicolae, which she kept on her even 16 years after the birth of their daughter.
One day Jack's daughter is taken, and he is shocked when the man that wrote his wife the letter. Nicolae shows up on his doorstep, claiming to be a werewolf and also claiming to know who has taken his daughter and where they have taken her too.
This book was so gripping from the start. Also, it's twisted, sexy, and unpredictable. We see lovely enemies-to-love as the romance that develops into a genuine bond running through it. I liked how gradually the feelings Nicolae and Jack developed for one another were explored. It still takes a long time for them to trust one another. If you're looking for a slightly darker paranormal than your usual fare, I recommend Exhale.
Author: Joel Abernathy
Narrator: Kirt Graves
Publisher: Joel Abernathy
Tropes: Paranormal, Dark, Shapeshifters, Protective-hero, Arc
Number Of Pages: 254
Available: Audiobook | Paperback | Kindle
Those are my MM romance novels like Aristotle and Dante. I hope you love to read them. Let me know if you read any of them and what you think. As always, I would love to get your recommendations. So please do leave them below.
Read more similar books:
5 LGBT Books Like They Both Die At The End
5 LGBT Romance Books Like I Will Give You The Sun