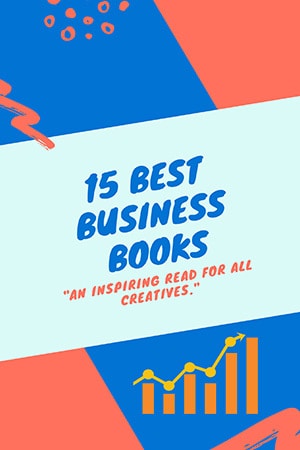 The thing about being an entrepreneur is this is all to you. Many people like to make excuses. They don't have connections and money. If you find something you want to do or love to do, be great at it and see if you can turn it into a business. Everybody has an opportunity to go forth.
Bill Gates, Warren Buffet, Jack Welch, Larry Page, Mark Zuckerberg are always optimistic for the future. They always tried to solve the problems of the others. Where is the opportunity? The opportunity always lies in the zone where we complain. So if you want to grow your business or startup, you have some questions and problems. I will review the top 15 best business books that help you answer your questions and make you a problem solver.
15 Best Business Books Everyone Should Read
Starting a business without any financial backing is easy to slip the wrong side. Most entrepreneurs do slip the wrong side and are poor. The important thing is then to pick yourself up and start again. If it doesn't work at that time, keep going until success. But what are the strategy and guidelines to do smart work?
Most people fail because they make common mistakes. So before starting a business or doing business, you need to know and learn what to do and what not to do.
Here are the best 15 books that everyone should read.
1. The Millionaire Next Door
The book's premise is that they've done the largest survey at the time among millionaire households in the USA. Based on their data, they aggregated it and found seven traits that most millionaires share. That's what you need to do from a statistical perspective to become a millionaire.
The book is filled with gold nuggets and harsh truths from empirical data. The first of the seven is that millionaires live way below their means, and they go into how that impacts your life. The book recently resurfaced as a must-read, and the principles you will learn from this book are timeless.
This book analyzes who the wealthy in America are, what they drive, and what they were. It's an exciting book, and it provides insight for those looking to become wealthy.
Author: Thomas J. Stanley
Average Customer Review: (4.6 out of 5, on Amazon)
Category: Wealth Management, Business
---
2. The Richest Man in Babylon
It is interesting because you might learn different things from this book depending on your life stage. That's why it's such a great investment. A couple of years down the road, you can go through it once more and find new, valuable things you missed the first time.
The story is about a man who starts in the same place with luck and education as everyone else. But the man follows two simple fundamental rules, which made him the richest man in Babylon over time. You're struggling financially and need to understand in the simplest form. You need to do this immediately to start your journey to financial success by this book strategy.
Each chapter of the book has many different sub-chapters that keep things moving and break the book down into digestible, actionable pieces of information. You can apply it to your life. These aren't some overnight secrets to success. This book has stood the test of time.
It illustrates how human nature and psychology principles apply to wealth and the aspiration to obtain wealth for thousands of years. This book is also cool because it shows that people were still aspiring to succeed even thousands of years ago. Many of the common mistakes that people have made and continue to make today. So if you want to learn from the ancient Babylonians, this is a best-seller business book to check out for a much more in-depth review.
Author: George Samuel Clason.
Average Customer Review: (4.7 out of 5, on Amazon)
Category: Success
---
3. The Art of War
This book is a guide to winning. No matter what challenge lies ahead of you in this book, you'll find the objective answers to how to overcome and conquer it. Incredibly, a book written over 2500 years ago is still very much in line with today's world.
Business is modern-day warfare. This book is tailored to people with a business mindset. You'll learn how to get ready for battles and know when and where to strike and become victorious. Although the book is designed as a military book, it's easy to see how this translates to business. Based on everything you'll learn from this, you can have an advantage in your company and workplace.
The Art of War uses adages and the formal poetic nature to explain the essential points in war tactics. Also, it explains the role of the general, the anticipation of enemy tactics, and the provision of one's army to lead to victory. What I liked about this book was the emphasis that it played on the role of the general as the focal point in the army.
No matter the size, this emphasis can apply across many areas in life and serve as tactics to lead. This is a short book, which means that it's accessible to all and can teach us strategically and leadership qualities to focus on most fields.
Author: Sun Tzu
Average Customer Review: (4.5 out of 5, on Amazon)
Category: History of Education, Management, Leadership
---
4. Start with Why
We remember discovering Simon a few years ago watching his TED talks. We thought to ourselves, why didn't we figure this out before him? This book flips the way you think about life, business, and relationships entirely upside down in an almost revolutionary way. Today, every modern company is running like this.
This book will show you how people in the past have built big businesses and big brands based on their vision and why they're doing it. Often that means making something with real value. This book will show you real examples of people who have built something with meaning because they've asked themselves why they're doing it.
This book is perfect for anyone wanting to build a business or build a brand for themselves to create a sustained amount of value for a long time. Get the book if you don't start with why you stand a chance in the new environment.
Author: Simon Sinek
Average Customer Review: (4.6 out of 5, on Amazon)
Category: Business, Computers & Technology Industry
---
5. Losing My Virginity
It is the first biography book we recommend on the list. Richard Branson's story taught me more about life in business than all the courses we've had all that semester. The truth is, to reach your true potential, you need to be inspired.
We've always said that the easiest way to become a millionaire is to hang out with a billionaire. In this book, you'll go through a complete journey from childhood to building one of the biggest and coolest brands in the world, owning over 200 companies in multiple industries, and pushing your mindset further than you already have.
By the end of this book, you'll feel like Richard Branson is your mentor, and some might even say Spirit Animal. I recommend this to my clients who are entrepreneurs themselves. It's got a good mix. So you're having a good time reading it.
Author: Richard Branson
Average Customer Review: (4.6 out of 5, on Amazon)
Category: Business, Entrepreneur
---
6. Tools of Titans
Bringing a new perspective to what business could look like in the modern-day tools of titans is a beast of a book. You'll learn the tactics, routines, and habits of billionaires, icons, and world-class performers in it. After conducting interviews for his podcast with billionaires, generals, etc., he took notes on the common traits. After reading it, these people share the tools and practices that help them get where they are.
Tim himself said that the tribe of mentors takes all things that made tools of Titans a bestseller and 10x them. The book is like a buffet with short, easy to follow and implement advice for the most exciting people in the world.
Tim Ferriss is a renowned author, investor, entrepreneur, and self-improvement master. It is not a self-help book but an introduction into the minds of individuals who can perform their best consistently. This book is a perfect read for anyone trying to implement new strategies to perform better weather routines, tactics, or habits to take them to the next level. I highly recommend picking up this best business book if you fit into this category.
Author: Tim Ferriss
Average Customer Review: (4.7 out of 5, on Amazon)
Category: Total Quality Management, Self-improvement, Startup
Read: 10 Best Lessons From Tools Of Titans
---
7. Life and Work
Not every day, you have the most prolific hedge fund manager globally, who shares some of his secrets with the world. For those who don't know Ray Dalio, he's the founder of the largest hedge fund in the world. The man is a legend.
In this book, he shares a systematic approach to overcoming and making the best of any difficulties in business and life. It's written in outline form so that you can hit the highest level headings conceivably.
The strategy is focused on a method of analyzing situations to get yourself the best possible outcome. Repeat this over extended periods, and you're off to the races.
Author: Ray Dalio
Average Customer Review: (4.6 out of 5, on Amazon)
Category: Business & Organizational Learning
---
8. The Internet of Money
If you're a cryptocurrency investor, then you must read this book. Andreas says he's been the most vocal advocate of the technology ever since it got traction in this book. You'll not only go over the basics,
What bitcoin and cryptocurrency are? What a decentralized network is, or how peer to peer transactions work?
Cryptocurrency, somehow valuations have skyrocketed in the twenty seventeen. The Internet of money book talks specifically about bitcoin. But you will learn what cryptocurrency is a peer-to-peer network, decentralization, the transmission of money at the speed of light from one part of the world to another.
You also get a glimpse into what the future holds. In our humble opinion, the blockchain technology behind cryptocurrencies is the biggest technological breakthrough since the Internet. Also, it has the potential to change the world. The best thing you can do is get yourself educated. Get the book, read it, watch some of his talks, get yourself a wallet, and learn about the process.
Author: Andreas M. Antonopoulos
Average Customer Review: (4.6 out of 5, on Amazon)
Category: Cryptocurrency, Engineering
---
9. The 7 Habits of Highly Effective People
Steven breaks down how to be a successful person into seven core messages or habits that they can dramatically change if they implement in their lives. Not only is the method straightforward, but the fact that it's paired with real-life examples is also what made it such a success. While you're reading the book, you can relate it to your current reality so well that the gears in your mind start spinning. Follow the seven habits, and you're on the right path to success.
'The Seven Habits of Highly Effective People book is one of the most influential business books of the 20th century. The seven habits range from proactiveness to thinking when creating synergy flowing from one to another. However, the overarching theme of this book is the InsideOut approach. It explains how obvious perceived problems can usually be solved by changing our internal perceptions of the question itself. This internal approach is the most rational, uncontrollable way to deal with any problem.
There's no doubt why this book has been so impactful over the past couple of decades. A well-written message at its foundation, alongside a simple layout, gives this book the potential to impact the life of anyone.
Author: Stephen Covey
Average Customer Review: (4.6 out of 5, on Amazon)
Category: Business Culture, Motivation & Self-Improvement
---
10. Crushing It
If you've never heard of Gary Vaynerchuk, you're about to have your mind blown. He's one of the most influential entrepreneurs of today. Especially if you're young, you'll love Gary's style.
In 2009, he wrote a book called Crush It, where he showcased how people could leverage their passions and create a business via social media. In the nine years since Gary's built a 150 million dollar media empire by applying the principles in that book. If you're passionate about the Internet, Instagram, Facebook, YouTube, Snapchat, or social media in general, this is the book to get.
It'll help you realize what you need to do to turn your posts into actual businesses and how to grow from there. This book is best for you if you are into social media marketing, like Twitter, Facebook, Instagram, influencers, or whatnot. Gary Vaynerchuk describes every chapter to chapter about a market on Facebook, how to market on Instagram, what to do, what not to do, it will work? Will it not work?
Author: Gary Vaynerchuk
Average Customer Review: (4.7 out of 5, on Amazon)
Category: Social Media Marketing, Motivation & Self-Improvement
---
11. Outliers: The Story of Success
Gladwell has a way of looking at the world around us completely different from what we had ever encountered. It was fascinating to realize that being born toward the end of the year gives you a slight advantage in life. The saying is that it takes 10000 hours to master anything.
Here's the guy who discovered it based on his research. It gives a solid explanation of why Asians are better at math than the rest of the world. It's not filled with business advice but with real-life observation based on statistical data. If you're going on a holiday and want to pick up a book, definitely go for one of Gladwell's. It'll blow your mind.
What makes people successful or have talent, and how talent is not necessarily enough. You need to put in the 10000 hours, or so that will make you competent in something. So it talks about talent. Also, It talks about people with high IQ. Then the different backgrounds that they are from and how that impacts the level of success that they do or don't have in their lives.
This book is essentially about success. It's a fascinating read cover, some fascinating topics. But the way they're presented is digestible, and you want to keep reading. You want to keep reading once you've gotten past the first few pages.
Author: Malcolm Gladwell
Average Customer Review: (4.7 out of 5, on Amazon)
Category: Statistics, Motivation
Read: 10 Main Points From Outliers Book
---
12. Elon Musk
Elon Musk is the most beloved entrepreneur and visionary in the world. Not only is he a modern-day Henry Ford, but he's actively pushing humanity forward. In this book, you'll learn his story. You'll follow along his journey and understand how this man looks at the world and how he thinks. What were his bets, and how did he get to where he is today.
If you followed Ireland's progress in the last couple of months, colonizing Mars is now a very attainable goal. He's such a fascinating guy that the book should be updated once every six months.
Many books about Elon Musk, but Ashley Vance's biography of the Tesla CEO are excellent. The book starts with his childhood, obsession with books, and journey from South Africa to USC. He began his startup Zippel with his brother and made his fortune with people while working on site. If you want to balance your personal and professional life at the same time successfully, you cannot afford to miss this book.
Author: Ashley Vance
Average Customer Review: (4.7 out of 5, on Amazon)
Category: Biography, Engineering Patents & Inventions
---
13. The Hard Thing About Hard Things
Ben, as an entrepreneur turned venture capitalist. He's the co-founder of a two-point seven billion-dollar investment fund in the U.S. They're making a lot of money. I recommend you get this book if you already have an established business that is not going well. While for some time, most management books out there tell you how to screw up your company, we haven't found a better book to guide you through what to do if your company is already screwed up.
This book puts you in the perspective of a CEO. So you can understand the difficulties and obstacles they face and how they have to see the evolution of an organization. He tackles some tough questions in his book, such as what happens when you hire a good friend, and you have to fire them?
What do you do when you have an executive who is a great fit a few months ago but now not anymore? What do you do when you sell your company? If your company is struggling, this is the book you should get.
Author: Ben Horowitz
Average Customer Review: (4.7 out of 5, on Amazon)
Category: Decision-Making & Problem Solving
---
14. How to Build a Billion Dollar App
You might not have heard the name George Perkowski before, but you've undoubtedly heard about Candy Crush. Everyone was playing that crazy addictive game a couple of years back in their prime. Candy Crush was generating three point five million dollars per day. In case you didn't get it, let me repeat that three-point five million dollar every day.
George is the founder of King, the software company that developed the app and other incredibly successful ones. A few years ago, he sold King for 5.9 billion dollars to Activision Blizzard. Also, He breaks down the business model and strategy of all the apps worth at least one billion dollars in the world right now.
This book is a must-read to understand how apps work or build a successful app. It will give you a lot of insight into what you will need to launch your app.
In a single book, something to consider before purchasing, though, the book was revised in twenty seventeen to include even newer apps. So make sure to get the latest edition. I highly recommend that you pick up this book and discover it yourself.
Author: George Borkowski
Average Customer Review: (4.6 out of 5, on Amazon)
Category: Marketing, Commerce
---
15. Solve For Happy
It's not a book about getting rich or increasing your sales, but we believe it's at least as important, if not more. The author is the chief business officer for Google X. This is their division for moonshot projects to create projects for the future. Self-driving cars, the research balloons, Google Glass, and more are some of the projects from Google X. He's a brilliant guy. But the book is not about that. It's about what it means to be happy.
After his twenty-one-year-old son, Ali, died unexpectedly during a routine appendectomy, the world came crashing down on him. He is an engineer, so he decided to find a way to solve happiness like any other problem he had encountered in life. He goes about a very systematic and logical process of explaining some of the most complex concepts and problems out there, like your idea of time, death, and many more. You'll be left speechless at the end of the book and appreciate life even more.
Author: Mo Gawdat
Average Customer Review: (4.5 out of 5, on Amazon)
Category: Cognitive Psychology
---
Conclusion
These books give you more certainty and the ability to operate with more speed. Every entrepreneur or business person needs the data, power tools and starts getting it. Part of getting it is to recognize what a great source of information is for you in making decisions and capturing it along the way.
By reading these books, you can operate with complete confidence and remove friction. It makes you able to do faster and think better. I want you to keep your eyes open and be aware that new opportunities will be. So read the books, collect knowledge and become a success.