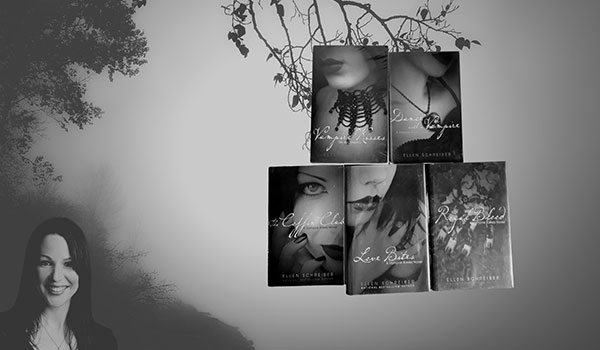 The Vampire Kisses by Ellen Schreiber is a young adult vampire romance series. The series consists of nine books that follow the story of a teenage girl named Raven Madison and her vampire boyfriend, Alexander Sterling. Raven is a likable protagonist, and her relationship with Alexander is sweet. Following the reading, the order is essential for the Vampire Kisses series. So, I will show you the reading order with the main theme. Stay with me!
Vampire Kisses Series In Order (Books Reading Guide)
The author recommends reading the Vampire Kisses series to understand the plot progression fully. Each book connects the previous ones, and reading them out of order may lead to confusion or a lack of context. Here are Vampire Kisses books in order:
Vampire Kisses (2003).
Kissing Coffins (2005).
Vampireville (2006).
Dance with a Vampire (2007).
The Coffin Club (2008).
Royal Blood (2009).
Love Bites (2010).
Cryptic Cravings (2011).
Immortal Hearts (2012).
Spin-off series:
Vampire Kisses: Blood Relatives.
Vampire Kisses: Graveyard Games.
You should read the Vampire Kisses spin-off series after you have finished reading the main Vampire Kisses series. The spin-off series continues the story of Raven and Alexander and their relationship and introduces new characters and plotlines.
Checkout my list: Vampire Kisses Books List
1. Vampire Kisses
This is the first book that introduces us to Raven Madison. She longs for something more exciting to happen in her dull suburban town of Dullsville. Raven's world is turned upside down when a mysterious family moves into the creepy mansion on the outskirts of town, sparking rumors of vampires.
The book is fun and engaging, with a good balance of romance, humor, and mystery. The characters are relatable, and the setting of Dullsville is described in detail, giving the reader a clear sense of the town's atmosphere.
One of the book's strengths is the relationship between Raven and Alexander, the mysterious new boy in town who Raven is convinced is a vampire. Their interactions are both sweet and intense, and their chemistry is fantastic. The writing style is easy to read and flows well, making the book enjoyable. However, some may sometimes find the dialogue and narrative a bit simplistic.
2. Kissing Coffins
This book focuses on Raven's relationship with Alexander Sterling, a vampire who lives in the mysterious mansion on the outskirts of town. Raven realizes that love has complications, especially when Alexander has a secret to guard. I found binge-reading rather than reading alone more enjoyable, and I appreciated the series as a fun escape into YA vampire romance.
3. Vampireville
The book is filled with twists, turns, and adventures. Raven, Alexander, and their friends are in town. The romance between Alexander and Raven is described as epic and one of the best in young adult literature. Also, the side characters, Becky, Matt, Ruby, and Jameson, could have had a more significant role in the story.
4. Dance with a Vampire
In the fourth book of the Vampire Kisses series, Raven faces a new threat in the form of Valentine Maxwell, the younger sibling of two dangerous vampires who befriends Raven's brother, Billy. Raven protects Billy from Valentine, who is a different kind of vampire than Alexander. The series is aimed at younger readers, but they still find it enjoyable, possibly due to the cute relationship between Raven and Alexander.
5. The Coffin Club
This book provides the required information and introduces new characters who become important later on. Raven discovers a secret vampire club called The Dungeon and learns that Jagger Maxwell is trying to take over Hipsterville with his vampire clan.
A new vampire named Phoenix challenges Jagger for control of the Coffin Club, and Raven becomes entranced by the hypnotic vampire culture of the Underworld. However, Alexander is unaware of Raven's involvement in the vampire conflict, and things become even more complicated when Raven's friend Becky gets involved.
6. Royal Blood
There's a lot of drama and tension in this book, with Alexander's parents coming to town and the potential sale of the mansion. It's interesting to see that external factors test Raven and Alexander's relationship. Raven is determined to help Alexander keep his home.
This book has a lot of drama and tension, with Alexander's parents causing a strain on Raven and Alexander's relationship. Raven is becoming more self-centered, and it's negatively affecting the series. Overall, Gothic romance and adventure lovers will enjoy it more.
7. Love Bites
This book is about Alexander and Raven's life after the twins and Valentine leave for Romania. Alexander's best friend, Sebastian, comes to town, and love is in the air. The book is a quick and fun read with more time spent on Becky. Sebastian is a cool vampire with wit and tries to control his urges. Raven remains faithful to her friends but becomes jealous when other girls get attention from boys.
8. Cryptic Cravings
Raven and Alexander discover that their vampire friends plan to open a club in town. The storyline is confusing, and the characters sound the same and have poor dialogue. Also, the characters' quick changes of mind are unbelievable. Although I enjoyed the book, it's not their favorite one.
9. Immortal Hearts
In this final book, Raven and Alexander are a cute couple. It's refreshing to see a protagonist who stays true to themselves and doesn't change their mind in the end, instead growing through understanding. Stormy is an incredible character who I admire for her strength and personality. However, the book was deemed too childish and immature for the reader's taste. If one has read the previous eight books, read this and finish the series.
Overall, readers have had mixed opinions about the series. Some readers enjoyed the series for its unique take on the vampire genre and its relatable characters. Others found the series to be too juvenile and lacking in depth. Many readers praise Raven's character development throughout the series, noting that she remains true to herself while growing and learning from her experiences. Raven's rejection of societal norms and her desire to be true to herself is also praised by many readers.
Vampire Kisses Adaptation
There is a manga adaptation of the "Vampire Kisses." The manga was illustrated by rem and was published in English by TOKYOPOP. It consists of two volumes:
Vampire Kisses: Blood Relatives.
Vampire Kisses: Graveyard Games.
The manga adaptation closely follows the plot of the book series, with some changes and adaptations made to fit the format of a graphic novel. It features the same characters, setting, and storylines as the original books. The manga adaptation is an excellent way for fans of the book series to experience the story in a new and visual way.
As far as I know, there is no official movie or TV series adaptation of "Vampire Kisses." There have been rumors and reports of a possible movie adaptation in development over the years, but the author or any major movie studios have confirmed nothing.
Read more similar:
Morganville Vampires Books In Order
From Blood And Ash Series Order
Black Dagger Brotherhood Reading Guide
7 Vampire Books Like Black Dagger Brotherhood