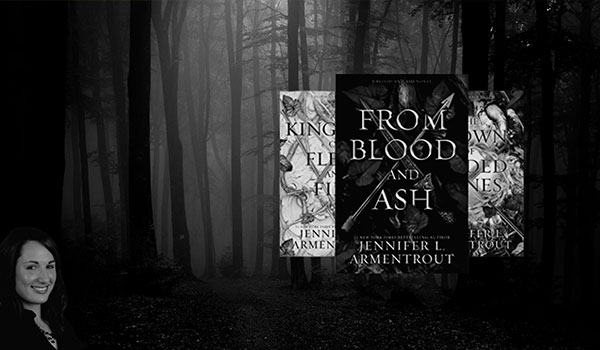 "From Blood and Ash" series by Jennifer L. Armentrout has received many positive reviews and won Goodreads Choice Awards Nominee for Best Fantasy. It has been compared to popular young adult fantasy series such as "Throne of Glass" and "A Court of Thorns and Roses." The series covers themes of power, control, love, and betrayal. I found it to be a captivating and enjoyable read.
There is a spin-off series called A Shadow in the Ember, which is in the same world it's related to From Blood and Ash. Is there a specific order in which you should read the books in the From Blood And Ash Universe? I'm constantly asking whether I should read From Blood And Ash first. Is it going to be confusing? So that's one of the things that I want to talk about in this reading guide. Stay with me!
From Blood And Ash Series Order (Reading Guide)
I read the series of books in the order they were released. Firstly, I read "From Blood and Ash and "Kingdom of Flesh and Fire" second. Then I read "Crown of Gilded Bones" third. I want to point out that the Flesh and Fire series doesn't have to be read to continue reading the Blood and Ash series. However, if you read it, you will be on the inside of many things that happen in From Blood and Ash, and Flesh and Fire will make more sense. All the stories are being told in the Blood and Ash series.
A Crown of Gilded Bones is the first time we have mentioned the characters in this book, which is why sometimes reading it in publication order is essential. But it is also arguable that this is entirely standalone. Yes, they connect. They're in it's in the same world. Some prophecies connect to this one, but you could read this and get a full view of the world, understand all the dynamics and the characters, and not have read any of the From Blood and Ash series.
So, you can read the four books of the From Blood and Ash series in order and then read A Shadow in the Ember. If you're entirely new and want to start with the prequel, start with the prequel. The Crown of Gilded Bones is a little longer than promoting From Blood and Ash and a little longer than A King of Flesh and Fire. Also, this is the longest book that Jennifer Armentrout has ever written. Another thing you should know is that the Blood and Ash series will consist of a total of six books.
From Blood and Ash World reading order:
From Blood and Ash.
A Soul of Ash and Blood.
A Kingdom of Flesh and Fire.
The Crown of Gilded Bones.
A Shadow in the Ember.
The War of Two Queens.
A Light in the Flame.
From Blood And Ash series order:
From Blood and Ash.
A Kingdom of Flesh and Fire.
The Crown of Gilded Bones.
The War of Two Queens.
A Soul of Ash and Blood.
Checkout my list: From Blood And Ash Books List
1. From Blood and Ash
This first book follows Poppy, which is short for either Penelope. I will say Penelope because that is what the audiobook narrator uses. She lives in Calzedonia, which is a place that is ruled by the ascended. The ascended are these godlike beings. They have immortal lives and black eyes and don't get sick! So, they have long lifespans and don't go out during the day because they want to honor their gods.
The gods have chosen Penelope to be the Maiden. So she will go through the Rite or the Ascension, where she is given over to the gods. Before doing that, she has to be veiled at all times. Tawny is her companion, and Ryland and Victor are her guards. So she lives this isolated life and other things you should know about Poppy. Craven attacked her when she was younger, who are zombie-type monsters created at the story's beginning. They're being led by the Dark One or Prince Castiel.
Poppy can feel people's pain, both emotional and physical. However, when she meets Hawke, a mysterious and alluring guard, her world is turned upside down. She begins to fall for Hawke and discovers that there may be more to her role as the Maiden than she ever could have imagined. They embark on a dangerous journey to uncover the truth about their kingdom and destinies.
2. A Kingdom of Flesh and Fire
This book starts exactly where the first one left with Hawke saying, We go home to marry Princess. Poppy is a little concerned about this. Hawke explains that for two Atlanteans to marry, they must get married on Atlantean soil. We know that Poppy is half Atlantean after Hawke has drunk her blood. So Poppy is very concerned.
She has been lied to by Hawke for the entire last book, so she doesn't trust him. Also, the people that follow Hawke slash Castiel, the dissenters, and Wolven, who don't trust Poppy. The Ascended has raised her for a long time, and they know nothing about her. Besides, she's the Queen's favorite, so they have much to overcome here.
We're also introduced to Aleister, one of the head wolves. He's not the top Wolven, but he is second in command. He is very close with King Castiel's father and kind of acts as a guide for him. We also get to know a little bit more about Kieran. We get to know about how he is Hawke's bonded Wolven. So they are in a close relationship, and it goes from there. Poppy is still trying to figure out: What's real and fake. The second part is very chaotic, and some other stuff happens that's not relevant to the plot.
3. The ​Crown of Gilded Bones
In this book, Poppy and Casteel are dealing with the aftermath of their decisions in the previous book. Poppy struggles with the revelation of her true identity and responsibilities. The book is full of action, romance, and political intrigue, with higher stakes than ever. The world-building continues to be immersive, with new details and mythology added to the series Lore.
One of the strengths is how it deepens and develops the characters, particularly Poppy and Casteel. Their relationship is explored further, with both characters dealing with their own internal conflicts and struggles. The author also introduces new characters who add to the story and create further tension and conflict. However, the middle and tension were not good enough.
4. The War of Two Queens
The first chapter of the book is from the perspective of Cas. Poppy raises an army to win a war against The Blood Queen and save her imprisoned husband, Casteel. The Gods and Primals' history are essential in this book, and it recommends reading the previous book in the series first. The book is described as filled with heartache, rage, sorrow, angst, and love. The readers particularly enjoyed the depth of Poppy's character and the beautiful relationship between her and Cas.
5. A Soul of Ash and Blood
This book retells the first book but focuses on Cas telling Poppy stories about his life before they met and their time together. Cas was advised to do so because of Poppy's current state, and the advisor's identity is implied. So many things are left open, and I can't wait for the next one.
6. Flesh and Fire (Spin-Off)
The " From Blood and Ash" and the "Flesh and Fire" are interconnected. Flesh and Fire is a novella in the "Blood and Ash" series, which follows the story of Poppy and Casteel. They navigate their relationship and the dangerous world around them.
The novella has received generally positive reviews, with readers enjoying the continuation of Poppy and Casteel's story and the expansion of the world-building. But the novella is not as action-packed as the main novels in the series. Still, it provides essential insights into the characters and their motivations. If you enjoy the "Blood and Ash" series, "Flesh and Fire" is worth checking out. Flesh and Fire books in order:
A Shadow in the Ember (2021).
A Light in the Flame (2022).
A Fire in the Flesh (2023).
---
"From Blood and Ash" includes some steamy scenes and significant sexual tension between the main characters. So it could be considered spicy in that sense. Overall, if you enjoy fantasy, romance, and well-developed characters, the From Blood and Ash series is worth checking out. If you have any questions, please let me know below in the comment section or message me on Instagram or Twitter. I love making new friends and would love to be your friend.
Read more similar:
10 Books Like From Blood And Ash
Black Dagger Brotherhood Serien In Order