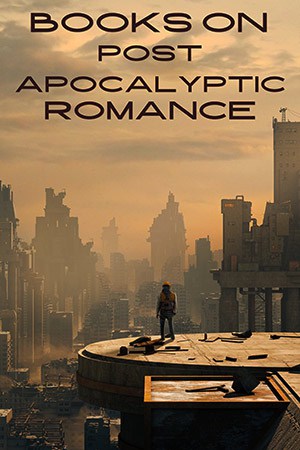 The post-apocalypse plot is the setting of the characters' situations and futures, which are uncertain and trending bleak. If the world falls apart, the pre-existing system will stop working. Every people will try to figure out how to survive in the new paradigm without the previous constant of civilization. The post-apocalyptic storytelling is intended to send an overt message to the reader.
Paranormal and alien apocalypses talk about the Lovecraftian message of fearing the unknown. Alien apocalypses talk about the zombie apocalypse's habit of throwing a ray of hope into an otherwise dangerous situation. Many post-apocalypse is based on the story's emotional center around a tense yet ultimately loving relationship. It can be family, friendship, or sexual relationship. If you want to read post apocalyptic romance books, you are in the right place. Follow me!
10 Post Apocalyptic Romance Books
Recently I have been getting into post-apocalyptic romances. When I read the Hunger Game series, I was excited to read more like it. As a thriller and suspense lover, I find the same excitement and situation in post-apocalyptic books. Also, I love the romance genre, so I have a list of romance with post-apocalyptic plots. Now, I will review 10 post apocalyptic romance books for you. Let's go!
1. Pestilence (The Four Horsemen)
Pestilence is based on The Four Horsemen of the Apocalypse. It is a biblical story where the Four Horsemen of the Apocalypse come down to earth. Each of them does something that triggers the end of the world until the last horsemen's death kills everyone off. The first person is Pestilence, who comes down to earth and spreads disease. This disease is the first step of the apocalypse.
Pestilence spreads it from town to town. He rides on his white horse and spreads it. Now he comes down, going to our main heroine's (Sarah) town. She is in this town, and all of her family have left. So she's a first responder or a firefighter. She signed up, and she is the last one of the last people to leave.
Sarah's group are firefighters, and their goal is to kill Pestilence. They believe if they kill him, that all of this will stop. Sarah sees him on his white horse galloping into town, and she kills him. But what she finds out is that Pestilence cannot be killed. So she burns him alive and kills his horse. But Pestilence cannot die! The Pestilence takes her as a hostage. So this whole book is her being hostage to him and him going from town to town and their love story evolves. It's a beautiful story, and I recommend it.
Author: Laura Thalassa
Publisher: Lavabrook Publishing, LLC
Narrator: Susannah Jones
Average Rating: (4.3 /5)
Tropes: Fairy Tale Fantasy, Paranormal Romance (Goodreads Choice)
Number Of Pages: 381
Available: Audiobook | Paperback | Kindle
---
2. Demon Ember (Resurrection Chronicles)
It follows our main heroine, Mya, who is at university. Suddenly, all these earthquakes and trembles start happening all over the country, all over Europe. They create holes in the earth and unleash these demon-like beasts. These demons kill and bite people, and they turn into zombies. So it's a zombie apocalypse.
Mya leaves her university, and she is running away from these beasts. Then she comes across a gray creature who kills these zombies and beasts. She has no idea what's going on! So she is rescued by this creature that she doesn't know. Then Mya goes on a journey with him where she wants to reach her family. But he is holding onto her so tight, and he has this fascination with her.
Over time, he learns English, and she discovers that not all is as it seems, and they form a bond. They fall in love and try to save from the bests and zombies. Also, it goes on for three books, and then afterward, we follow different characters in the same world. I loved the series. I'd fully recommend it because it was so adventurous post apocalyptic romance.
Author: M.J. Haag
Publisher: Tantor Audio
Narrator: Dara Rosenberg
Average Rating: (4.5 /5)
Tropes: Fantasy Romance, Dystopia, Zombies & Aliens
Listening Length: 5 hours and 49 minutes
Available: Audiobook | Paperback | Kindle | Audio CD
---
3. Surviving Passion (The Shattered World)
This book follows Selena, and we're in a world where it's post-apocalyptic. The whole society has crumbled, and we're in this post-apocalyptic world. Selena has been on the run since her father's brutal murder, and she's been alone. So she hides away from a group of guys chasing after her. She meets a guy called Dan, who resonates with a military man. He kidnaps her and takes her to a safe community.
Selena lives in a safe community, and she meets many new people. She's learning and discovering her romance with Dan. It's a lovely story of how they're in this post-apocalyptic world. She is finding love along the way, and I loved this. So I would fairly recommend it as the best post apocalyptic romance ever.
Author: Maia Under
Average Rating: (4.3 /5)
Tropes: Science Fiction Erotica
Number Of Pages: 274
Available: Paperback | Kindle
---
4. Fire & Flood
The series follows Tella Holloway. Her brother is seriously ill, and she gets an invitation to something called the Brimstone Bleed. It is a competition where she has to go through treacherous jungle and scorching desert. She has to go through these challenges. Also, she has to reach the end goal. If she gets the ultimate end, she will win a cure to any disease.
Tella jumps on it because her brother is seriously ill, and she wants to get a cure for him. They have to go through all these challenges to meet the endpoint. Along the way, she meets many different people and falls in love. So you will get the Hunger Game vibe. The post-apocalyptic world-building and romance are unique and enjoyable.
Author: Victoria Scott
Publisher: Scholastic Inc.
Average Rating: (4.6 /5)
Tropes: Science Fiction Action & Adventure, Dystopian Romance (Teachers' pick)
Number Of Pages: 320
Dimensions: 5.3 x 0.5 x 8 inches
Available: Paperback | Hardcover | Kindle
---
5. Praying for Rain (The Rain Trilogy)
This is the first book of the Rain Trilogy series about Rain. Rain is trying to survive the world's chaos because they've known for about a year. The world is going to end on April 23rd. So you can imagine how the world is. Everybody is convinced the world's going to end. So mass chaos ensues, and Rain runs into Wes Parker, and it's their story of surviving together. It's a romance, but they're falling for each other during the apocalypse about to happen.
Wes is determined to survive the apocalypse. So he has this plan, and Rain throws it for a loop. Wes is not happy when he runs into Rain, and he's trying to use her to his advantage. Then he's not happy when he starts to feel things for her. Rain is a very caring person, and she's not afraid to put Wes in her place. So their romance was a slow burn, and there was a cliffhanger.
Author: BB Easton
Publisher: Art by Easton
Average Rating: (4.4 /5)
Tropes: College Romance, Sci-Fi
Number Of Pages: 224
Available: Audiobook | Paperback | Kindle
---
6. Angelfall (Penryn & the End of Days)
Angelfall is a post-apocalyptic romance novel set six weeks after the angels have destroyed the world. Angels Penryn, our 17-year-old heroine, is trying to survive in this world. Along with her schizophrenic mother and paraplegic sister Paige, she's struggling continuously. Penryn witnesses and the losing angel gets his wings cut off. However, one of the winning angels notices Penryn and her family watching them. That angel snatched Paige out of her wheelchair and kidnapped her.
Penryn then helps the angel whose wings are cut off, called Raffe. She makes a deal with him that would help her find the area, which is the Angel headquarters based in San Francisco. This was an Angel book that made me a bit hesitant to read it. But I found the premise of this book very original and compelling.
There are also some biblical references in the beginning. Moreover, there was a lot of action in this one. Some sword scenes and the angel romance were my favorite. Though, I got a little confused in the end. What are they trying to accomplish by turning children into cannibals? Why didn't Raffe know about all of this? But I got all the answers slowly, which was suspenseful for me.
Author: Susan Ee
Publisher: Skyscape
Average Rating: (4.5 /5)
Tropes: Paranormal & Urban Fantasy, Science Fiction, Romance
Number Of Pages: 288
Reading age: 12 – 18 years
Item Weight: 11.2 ounces
Dimensions: 5.5 x 1 x 8.25 inches
Available: Audiobook | Paperback | Kindle | Audio CD
---
7. Shatter Me
It is the first book in the trilogy, extended into a complete series. It's a post-apocalyptic romance. We follow Juliette, who's about 17 years old. At the start of the book, she has been in a terrible asylum for almost a year. Her whole life, she has been mistreated and hated. That is because she has the power to hurt and kill people by touching them. You don't know why she can't control it.
One day, she's offered a dealio with the corrupt government called The Reestablishment. They offer to take her out and make her into a weapon for them. The thing about this series is that the plot at the beginning of the first book is very different from later in the series. My favorite thing about this series is Juliette's progression and how she changes throughout all three books.
So for that to be the case, She has to start as a very flawed character to get to where she is. Also, It's written in the first person from Juliette's point of view. As Juliet matures, the writing style also changes throughout the books. Moreover, the romance with an uninteresting person was funny.
Author: Tahereh Mafi
Publisher: HarperCollins
Average Rating: (4.5 /5)
Tropes: Adventure, Young Adult Dystopian, Love
Number Of Pages: 368
Item Weight: 10.6 ounces
Dimensions: 0.9 x 5.2 x 7.9 inches
Available: Audiobook | Paperback | Hardcover | Kindle | Audio CD
---
8. The Forest of Hands and Teeth
It is the shortest book in the series, from Mary's point of view. She lives in this town in a forest, and a giant fence surrounds the town. Then there are these zombies that are constantly clawing at the fences, trying to get to the humans that are inside. Instead of calling the monsters zombies, they call them Unconsecrated because the town bases its livelihood around religion. If you don't enjoy reading about religions, that's okay because it isn't necessarily based upon it.
The main character, Mary, doesn't believe in it. She's stuck in this world, and she wants to escape out to the ocean that she doesn't even know if they exist or not. The second book is from the point of view of a girl named Gabourey. This book is still set in the same world. There are still the zombies, but in their township, they call it Mudo. The covers are stunning.
The only problem I have with this cover, even though it's gorgeous, the makeup on the girl isn't my point of view of what Mary would look like. Overall this series is amazing in my point of view because it makes you think about life as a human and post apocalyptic love.
Author: Carrie Ryan
Publisher: Ember
Average Rating: (4.5 /5)
Tropes: Fiction about Death & Dying, Girls' & Women's Issues (Goodreads Choice, Award nominee)
Number Of Pages: 336
Item Weight: 9.1 ounces
Dimensions: 5.44 x 0.67 x 8.5 inches
Available: Audiobook | Paperback | Library Binding | Kindle | Audio CD
---
9. Warm Bodies
This book is focused on a zombie (R) and Julie. It is set in a post-apocalyptic world. Also, It's dystopian with significant differences. We start by meeting R, who lives in an abandoned airport. But when you become a zombie, you don't remember your past life. When zombies feed on human brains, they get flashbacks from that person's life and images of what that person did.
When R eats on Perry's brain, he gets flashes of this girl, Julie, and all the things they've been through together. When he turns around, he sees Julie cowering in a corner and falls for her. He wants to protect her, stops his friend from eating her, and disguises her as a zombie. The whole book focuses on changing and the consequences of him bringing Julie back to the airport and changing her feelings.
The book starts with Isaac married, describing the zombies as their face is falling off and their skin peeling down. He is a fantastic character in himself, and his personality is great. Overall, it is a post-apocalyptic, dystopian, philosophical zombie love story.
Author: Isaac Marion
Publisher: Atria/Emily Bestler Books
Average Rating: (4.6 /5)
Tropes: Espionage Thrillers, Horror Literature & Fiction
Number Of Pages: 256
Item Weight: 7.2 ounces
Dimensions: 5.31 x 0.7 x 8.25 inches
Available: Audiobook | Paperback | Hardcover | Kindle
---
10. The Book of Ivy
This book takes place 50 years after a vast nuclear war in the United States and decimated everyone. These two families have their group of people, their government, and they combine. One of the families took over and became the president, while the other was called The Founder. The two sides were the West Falls and the Vladimir. In the end, the latter years one and have all the power in this government. Due to this, all West Falls people live in the more poverty-stricken side of town. They're not given the same amenities that the Vladimir people are given.
The Vladimir people live in lush houses, and they get great food and a great education. In contrast, the West Wall people are given the bare bones and the scraps. Every year there is a ritual where the daughters of the losing side get married off to the sons of the winning side. You don't know the person that you're marrying. They read your name off and who you're going to marry, and within minutes you marry that person.
The main character is Ivy Westfall, the granddaughter of the founder. The book starts with it being her turn to go to the marriage ceremony and marry somebody. The person that she ends up marrying is Bishop Vladimir, who is the president's son. So it's a Romeo and Juliet type thing where their families are enemies, and they have to come together and marry each other. However, Ivy has been being trained her entire life to marry Bishop. This is going to be my new favorite dystopian romance series. I hope you'll read it and love it as much as I do.
Author: Amy Engel
Publisher: Entangled: Teen
Average Rating: (4.5 /5)
Tropes: Science Fiction & Dystopian, Fantasy, Romance
Number Of Pages: 304
Available: Audiobook | Paperback | Kindle
---
Read More Similar Books: 7 Dystopian Romance Books Like Uglies