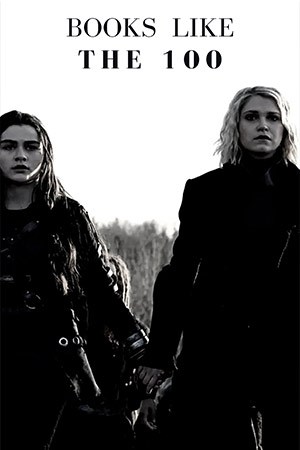 Books like The 100 by Kass Morgan represent dystopia, adventure, sci-fi, consequences of survival, and post-apocalyptic romance. We follow four main characters Clarke, Glass, Wells, and Bellamy. Bellamy is obsessed with making sure that his sister stays safe. Clarke is hiding some secrets of her own and trying to avoid certain people. Wells is obsessed with Clarke and wants to ensure everyone stays alive. Glass is trying to figure out her love issues. All of them are kids in the distant future where a nuclear war has happened.
The only way for the human race to survive was to put themselves on spaceships and send them into space to live in space until the radiation had gone away from Earth. It has been hundreds of years, and they still cannot send people to the ground and don't know what's happening. At the beginning of the book, we find out that 100 juvenile delinquents from the spaceship are spaceships. They call it the colony in the book. The theme explores how survival can bring out the best and worst in people and how it can impact the choices they make.
In the TV show, they send 100 kids down to earth in a shuttle-like way to see if the earth is survivable. All four get a narrative arc in the story and their voice. It's quite different from the TV show. If you have watched the TV show, you will still love the book because it's different. If you're a fan of "The 100," you're likely looking for more books with similar themes and storylines. Keep scrolling!
7 Books Like The 100 (Dystopian Romance)
The 100 unfolds very well. Every single character is hiding something and going through internal struggles. The author made every single character both redeemable, tragic, and terrible. The story shows that heroes/main characters can do bad things but still redeem themselves.
That's the essential central part of the novel. It should be decently well-written, well-plotted, and engaging. This was all three of those things. If you're looking for good dystopian sci-fi, here are 7 more books to read. These books are sure to captivate your imagination, from dystopian societies to young adults struggling to survive, which keep you on the edge of your seat. Let's talk!
| Name | Key Focus | Review (Goodreads) |
| --- | --- | --- |
| The Maze Runner | Some boys are unwillingly trying to solve mazes by taking many risks. | 4.0 |
| Angelfall | A girl is on a mission to find her sister and falls in love with a fallen angel who kidnaps her sister. | 4.1 |
| Noughts & Crosses | With many social boundaries and racism, the two main fights for their love and dignity. | 4.2 |
| Divergent | A teenage girl has a unique power and must fight for it. | 4.1 |
| Fallen Academy | An angel and demon love story. | 4.0 |
| Delirium | A girl fights for her love where love counts as forbidden. | 3.9 |
| Shatter Me | A girl is captured in a dystopian world and tries to escape. | 3.9 |
Books Like The 100 List
1. The Maze Runner
The Maze Runner is a dystopian romance like The 100 tv show. There are three books in the series. The story is about Thomas, who is put into a maze. I found it hard to get into, but once I was in chapter five, I couldn't put the book down until I finished it. The characterization is good. Something that confused me at the beginning was Thomas getting introduced to many boys who lived in the Glade already, and there were a lot of names.
So it reflects Thomas's confusion. I rewatched the films, which are good adaptations of these books. The story, twisting plot, characters, narration, world-building, and characters are good enough to make a story thrill and mystery. The whole series is for you if you want a fast-paced, exciting, scary story.
Author: James Dashner
Narrator: Mark Deakins
Publisher: Listening Library
Tropes: Supernatural, Mysteries, Post Apocalyptic, Monsters, Slaves
Number Of Pages: 384
Available: Audiobook | Paperback | Hardcover | Kindle | Audio CD
2. Angelfall (Penryn & the End of Days)
Angelfall is a post-apocalyptic supernatural romance with angel-human. This book is about a future where angels have taken over the earth and are not good guys. So it follows the main character (Penryn), and angels take her sister at the beginning. Then she's on a mission to get them back, and she meets the fallen angel, and they go on a journey together.
It's a bit darker than Hunger Games, but the theme is similar to The 100. There's a bit of romance in that as well. As a strong female heroine, you quickly fall in love with Penryn. She is fearless and can take any risk to save her sister at any cost. I enjoyed the series, which won the CYBILS Award Nominee for fantasy and sci-fi.
Author: Susan Ee
Narrator: Caitlin Davies
Publisher: Brilliance Audio
Tropes: Survival, Demons, Urban-fantasy, Forbidden-love, End-of-the-world
Number Of Pages: 288
Available: Audiobook | Paperback | Kindle | Audio CD
3. Noughts & Crosses
Noughts & Crosses is a sci-fi fantasy romance with racism. This isn't a world where the black community is superior to the white community and there is a huge racial divide. The two main characters, Sephy and Callum, have forbidden love. They also have to fight the boundaries that society has put upon them. The characterization is strong, and I remember the excellent description of their world. The description of Callum's house versus Sephy's house was very contrasted.
There was a good subplot with Callum's brother Jude. Overall, it's a good series. They also adapted it into a TV show in the UK. It was so slow, and I didn't enjoy it. But the book version is impressive enough. The struggling vibe of the characters reminds me of Clarke and Bellamy, the protagonists of The 100.
Author: Malorie Blackman
Narrator: Syan Blake, Paul Chequer
Publisher: Random House AudioBooks
Tropes: Contemporary, Pop culture, Drama, Psychological, Feminine
Number Of Pages: 479
Available: Audiobook | Paperback | Hardcover
4. Divergent
Divergent is a dystopian adventure romance that achieved Georgia Peach Book Award and South Carolina Book Award. I was so obsessed with the series that I read the second book, Insurgent, and was less keen. Then I read Allegiant with less excitement. By the end of Allegiant, I enjoy it, and it's worth a read for opinions. The story follows the main character, Tris, who lives in a world where you are split into factories. Each factory has a different trait, and Tris is divergent. So she doesn't fit into one, and she fits into all of them.
This book has romantic elements. The relationship between the four and Tris is fantastic, and the tension between them is excellent. Whenever your favorite book gets adapted, you will have expectations, and Divergent was one of my favorite books at one point.
Then when they made the film, the first film was pretty good and was very true to the book. Then the second film was different from what I had hoped. If you are a fan of The Maze Runner and The 100, then you must read them, and you'll love them. Avoid the hardcover because of the quality issues, but the paperback is fantastic for color, font size, cover, binding, and paper quality.
Author: Veronica Roth
Narrator: Emma Galvin
Publisher: HarperAudio
Tropes: Unicorn, Teen-world, Apocalyptic
Number Of Pages: 487
Available: Audiobook | Paperback | Kindle
5. Fallen Academy: Year One
Fallen Academy is an angel-demon romance. It's about a futuristic world where one side of LA is Angel City, and one side of LA is Demon City. The main character lives in Demon City. Her mom is enslaved to a demon, so she goes to the academy to train. It has a lot of romance in it with her instructor. There are good subplots in the series, and I enjoyed it.
Author: Leia Stone
Narrator: Vanessa Moyen
Publisher: Leia Stone LLC
Tropes: Dark Fantasy, Magic, Vamps, Wolves, Bully, Bad-boy, Enemies-to-lover, Bodyguard
Number Of Pages: 350
Available: Audiobook | Paperback | Hardcover | Kindle
6. Delirium
Delirium is apocalyptic science fiction with action-packed plots. The first book is in a society where love is bad, and the main character (Lena) falls in love. The romance is going to be heightened, and the stakes are high. I felt the tension, and I liked the idea that the most one of the most powerful emotions, love, is considered a disease. Society counts love as a sickness.
So the characters need to fight against society to win their love. I loved Lena because she helped me think and count love as a new angel and unique point of view. The storyline was average, and the characters needed to be developed nicely, which made the story dull. But when I read the book, I found many dialogues and themes similar to The Hundred.
Author: Lauren Oliver
Narrator: Sarah Drew
Publisher: HarperAudio
Tropes: Action-packed, Love-triangle, Sci-fi
Number Of Pages: 441
Available: Audiobook | Paperback | Hardcover | Kindle | Audio CD
7. Shatter Me
Shatter Me is written in diary format, and it's about the main character with special powers. Because of her special touch, she is captured by the authority in the dystopian world, and she will be used as a weapon unless she escapes. Also, there is good romance in the book.
This book is so excellent because the spine is colored. It gave me much of The 100 vibes but in a more current and unique concept. The writing was unique but could have been more engaging, and many readers needed clarification on the author and the series. Overall you can enjoy this best-seller book if you love supernatural things with science fiction.
Author: Tahereh Mafi
Narrator: Kate Simses
Publisher: HarperAudio
Tropes: Asian characters, Dystopia, Love-geometry
Number Of Pages: 338
Available: Audiobook | Paperback | Hardcover | Kindle | Audio CD | Mass Market Paperback
Those are my selected Dystopian YA novels like The 100. Let me know your opinions on these books. I hope you enjoyed them.
Here are more books to read if you like the 100 and you should add to your reading list:
The Hunger Games by Suzanne Collins: A young girl named must navigate a televised battle to the death in a dystopian world.
Legend by Marie Lu: A young prodigy criminal must work together to bring down a corrupt government.
Ender's Game by Orson Scott Card: A young boy is trained to lead a war against an alien race.
Matched by Ally Condie: A young girl meets a boy who challenges her beliefs, and she begins to question the world around her.
Red Rising by Pierce Brown: A young man rises against a powerful and oppressive society to lead a revolution.
The Giver by Lois Lowry: A young boy learns the truth about his world.
Uglies by Scott Westerfeld: A young girl lives in a world where everyone must undergo surgery at 16 to become "pretty."
The 5th Wave by Rick Yancey: A young girl must survive in a world where aliens have attacked and nearly wiped out humanity.
Note: These books will satisfy your cravings after reading The 100.
Read more similar books:
7 Dystopian Romance Books Like Uglies
5 Dystopian Feminism Books Like The Grace Year
10 Post-Apocalyptic Romance Books