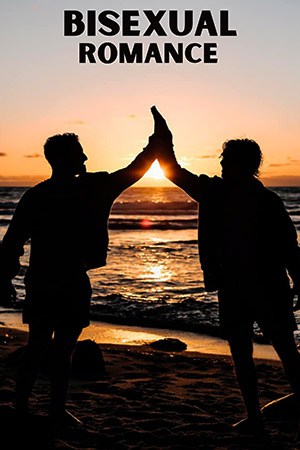 Boyfriend Material by Alexis Hall is a male-male romance with fake dating. The story is about Luc and Oliver. Luc is the son of a washed-up ex-rock star, and Oliver is an American barrister. Luc needs someone who will help clean up his image because his dad's making a comeback, and Oliver happens to be in the right place at the right time.
Oliver is also someone Luc has been attracted to from the beginning, so they decided to fake date. During this fake dating, they have a lot of ups and downs. But they also learn a lot about each other. In fake dating, true feelings try and creep their way in. That is where this book gets interesting.
5 Books Like Boyfriend Material (Bisexual Romance)
In Boyfriend Material, you get to see a gay couple not pictured with the backdrop of persecution and denial, but to see a gay couple openly living together and being accepted for who they are. It is lovely to see this couple existing in such a harmonious society. If you are interested in gay and LGBT romance, you will love this book review. So I will review 5 romance books like Boyfriend Material. Let's go!
1. Surrender Your Sons
Connor lives in Illinois, and he used to live in Florida. It was nice in Florida, but his dad left, and his parents divorced. His mom packed them all up and moved them to Illinois. The town they move to is very religious. The Pastor there is idolized practically. Everybody in town loves him and knows him.
He immediately enthralls Connor's mom, which isn't a problem at first. But it does become a problem eventually. Connor is now 17 years old, and his SAT scores have been bombed. The guy he's been delivering meals to just died, and he came out to his mom.
Now he's been kidnapped and taken to an island to be retrained. It hasn't been a good week. But on this island, everything isn't as it seems. There are mysteries to be unfolded among the "campers," the counselors, and even the island itself.
Something is going on here, and it's bigger than what the camp is supposed to be. Connor is on a mission to find out what it is and save everybody else, to get them off the island and back to everyday life where they belong. But can he do it? Even if he can, can he make it out alive? It's a hard one to describe like without giving away spoilers. Things that happen in this book are based on things that have happened in the past. Also, it's heartbreaking to me. This book is exciting, thrilling, and engaging, similar to Boyfriend Material.
Author: Adam Sass
Average Customer Review: (4.6 out of 5, on Amazon)
Category: Thrillers & Suspense, LGBTQ+ Fiction
Number Of Pages: 392
Available: Audiobook | Hardcover | Kindle | Audio CD
---
2. Here's to Us
The story is about Arthur and Ben. Ben is trying to figure out his life, and Arthur has a new opportunity opening up doors for him. So it's going great when it comes to these characters. Many more fleshed out than the first one, which is not common. You get to see a cringy character named Dylan, who's Ben's best friend.
Like Boyfriend Material, the author did a lot of the heavy lifting, especially with Arthur's very emotionally driven parts. Also, you can tell she pours her heart out every scene as she writes something funny about this because it's her redemption. The first half was very much what I expected when it came to the story, and it hooked me. The middle was a little slow when things started to fizzle out, and it was not boring.
Author: Becky Albertalli
Average Customer Review: (4.7 out of 5, on Amazon)
Category: Romantic Comedy
Number Of Pages: 480
Available: Audiobook | Paperback | Hardcover | Kindle
---
3. The Gentleman's Guide to Vice and Virtue (Montague Siblings)
This book is about the beautiful relationship between Monty and Percy. Monty is quite wealthy. He's the son of a Lord, and Percy is the illegitimate child of a neighboring lord. They've grown up together. Monty has always had a big crush and love for Percy since he realized his sexual awareness. But he's never been able quite to do something about it.
Monty is a very sexual person, but he cannot approach his true feelings for Percy. So it is a wonderful relationship with secret love but is also very authentic as Boyfriend Material. The author herself gives great authenticity to Monty's view and sexuality.
Author: Mackenzi Lee
Average Customer Review: (4.5 out of 5, on Amazon)
Category: Historical Fantasy, Romantic Humor
Number Of Pages: 513
Available: Audiobook | Paperback | Hardcover | Kindle | Audio CD
---
4. A Place Called Winter
It is a historical fiction where a man (Harry Cane) in the late Edwardian period in England. He is married, and he does everything suitable for his family. By the expectations of the time, he discovers that he is gay and has a relationship with a man. But unfortunately, the man turns against him and threatens to blackmail him. So he comes out to his wife and family. They shun him and send him off to Canada.
The story follows his life through the Edwardian period, which is very dreamy and nostalgic, almost going into the harsh grittiness of the Canadian claims outside of Winnipeg. But even though Harry Kane goes through all this struggle, he does have this excellent relationship. Luc and Oliver face much criticism and mental depression that we saw in Boyfriend Material.
Towards the end of the book, I won't say with who because he'll give all away too much. But it is a relationship that has to ensure the hardship of isolated living. So it is a very affirming relationship after everything that Harry has struggled with.
Author: Patrick Gale
Average Customer Review: (4.5 out of 5, on Amazon)
Category: LGBTQ+ Family Life Fiction
Number Of Pages: 352
Available: Audiobook | Paperback | Hardcover | Kindle
---
5. An Unsuitable Heir (Sins of the Cities)
It is set in Victorian England. So you get to see very strict views on gay relationships. But there's a little bit of an acceptance in an underclass, and Mark is one of the side characters of the first two books. He has his own story coming into this one, and he becomes entangled in the heir to a great estate. But the heir himself has never realized he was wealthy and has lived with his twin sister, mainly traveling with a circus.
The heir himself doesn't identify himself as a gender. He likes to transition between genders one day, feeling more feminine than masculine the next. Mark loves him for who he is. He still associates with the pronoun him, but it is a fantastic representation of loving someone for who they are and accepting their idea of themselves. So that was that by itself was a fantastic representation of a pen sexual relationship similar to Boyfriend Material.
Author: KJ Charles
Average Customer Review: (4.4 out of 5, on Amazon)
Category: Victorian Romance
Number Of Pages: 211
Available: Audiobook | Kindle | Audio CD
---
Read More Similar Romance Books: 15 Best MM Romance Books