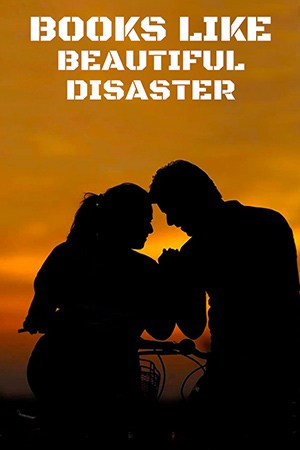 Beautiful Disaster is a contemporary romance with many tropes like chasing/bullying, friends to lovers, one-night stands, and fake relationships. The main characters are Abby Abernathy and Travis Maddox. Abby and her best friend America go to school at Eastern. America's boyfriend is Shipley, and then he has his cousin, Travis Maddox. He is a walking one-night stand tattoo, but he's smart. We start to grow and understand him as a character. Then we see the change in him, and it's great to see his growth.
Travis and Abby get to have an amazing friendship at first. Abby was so reluctant to have anything to do with him, and she didn't want a relationship with this guy. So she didn't want to be another one-night stand. Then their friendship grows, and it's so witty the conversation. Travis calls her pigeon, and we figure out what the name means.
One day Abby makes a bet with Travis and loses that bet. So she has to stay in his apartment with him and Shipley. This is the beginning of a beautiful friendship. Abby is the only person that can put Travis in his place. They grew together, and it was so beautiful. If you want to read books similar to Beautiful Disaster, you are right.
10 Books Like Beautiful Disaster (Chasing/Bullying Romance)
Beautiful Disaster is one of the most emotional and funny books that I have ever read in my life. I like both Abby and Travis through they are the opposite character. Travis watches out for Abby, and he stands up for Abby. He won't let her wear low-cut things out unless he's with her to protect her.
So there aren't words for him. Then you don't want to make that move because you don't want it to mess up or disaster. But it happens all the way, and we can not stop it. If you love this book, then you will also love my list. So I am going to review the top 10 Books like Beautiful Disaster. Let's begin!
1. The Hating Game
Lucy is playing the main character, and she is funny. It's a workplace romance, and Lucy and Josh are both assistants to the co-CEOs of a company. So they're working together in the same office. Also, they have had a weird rivalry tension since the first day she started working there. Josh's a serious businessman, but Lucy is a chill type of girl.
They have banter throughout the book where they don't get along and hate each other. But Josh teaches her how to be more assertive with her employees, and she teaches them how to lighten up. It's such a cute dynamic.
Author: Sally Thorne
Average Customer Review: (4.5 out of 5, on Amazon)
Category: Self-Help & Psychology Humor
Number Of Pages: 384
Available: Audiobook | Paperback | Mass Market Paperback | Kindle | Audio CD
---
2. Bully (Fall Away)
It is childhood friends and enemies to lovers book. Penelope Douglas is a good writer, and most of her books are about chasing. The story follows Tate and Jared. I like how they used to be friends. Jared moved away, and when he came back, he acted completely different to Tate. He started tormenting her and bullying her at school.
One day Tate decides she's done with it. So she stands up for herself, and she goes and talks to him. Then they have this competitive relationship. It's a whole series after that, but you can read the first book, and if you like it, you continue the series. Beautiful Disaster's character Abby is similar to our Tate, where both have a tough life.
Author: Penelope Douglas
Average Customer Review: (4.5 out of 5, on Amazon)
Category: Contemporary Romance Fiction
Number Of Pages: 333
Available: Audiobook | Paperback | Kindle | Audio CD
---
3. Punk 57
This book is about Misha and Ryen. Since they were young, these two kids have been pen-pals, and they both have unisex names. So they got paired together thinking that they were both boys. But they're not. They decide to have this dynamic where they will send letters to each other for the rest of their lives. But they promised that they never meet up in real life.
They talk about their problems, get unbiased advice and open up to each other. But they've never met until Misha from the letters transfers to Ryen's school and finds out who she is. Ryen doesn't know who he is. Misha realizes he doesn't like her at all in person. She's completely different than how she came across in her letter. So they start to chase each other and build a strong connection. There are many secrets, plot twists, crazy stuff in book two.
Author: Penelope Douglas
Average Customer Review: (4.5 out of 5, on Amazon)
Category: College Romance
Number Of Pages: 341
Available: Audiobook | Paperback | Kindle | Audio CD
---
4. Sweet Temptation
It's a mafia romance, where all the roles and stuff within the mafia. There was an arranged marriage or marriage of convenience that is the story's main twist. Our heroine, Giulia, is turned 18, and she gets arranged to marry an older man whose wife died and who has two kids. She's supposed to be caretaker of the kids while he's (Cassio) out doing his mafia job.
Cassio is super cold towards her and seems like he has no attraction to her. But over time, he realizes how good she is with the kids, and everything is so adorable. If you like mafia romances with a slow-burn theme, then try this book.
Author: Cora Reilly
Average Customer Review: (4.5 out of 5, on Amazon)
Category: Coming of Age Fiction & Billionaire Romance
Number Of Pages: 292
Available: Paperback | Kindle
---
5. Room Hate
This is also childhood friends to lovers. Justin and Ameli have been friends since they were kids. Something happens where they're no longer friends. They fall out of touch with each other. Then they inherit a house from her grandma. Also, they both end up moving into this house for the same summer. Justin has a girlfriend or fiancee.
So there's a lot of tension with that because she hates her. Justin acts as he hates her, and he's so mean for what happened in the past. Slowly but surely, a romance unfolds, and it's super cute. There are also many tropes and crazy plot twists, like Beautiful Disaster. If you like the dynamic when they're forced to be together, then this book is a good choice for you.
Author: Penelope Ward
Average Customer Review: (4.4 out of 5, on Amazon)
Category: Contemporary Romance Fiction
Number Of Pages: 281
Available: Audiobook | Paperback | Kindle
---
6. Shameless King (Kings of Rittenhouse)
It is a second chance romance, brother's best friend, and accidental pregnancy trope. The main character, Declan and Makenna, met in high school. They were rivals in high school. Makenna did not like him. She's a strong personality who is not afraid to say anything. Also, she's super smart and ends up helping him to stay on the hockey team.
It's a great first book in the series. You should read the whole series, though I recommend the Kings of Rittenhouse series as a whole. But if you like chasing or playing, you'll love the first book. So check out that series and book.
Author: Maya Hughes
Average Customer Review: (4.3 out of 5, on Amazon)
Category: Sports Romance
Number Of Pages: 308
Available: Audiobook | Paperback | Kindle
---
7. Vicious (Sinners of Saint)
Each book in the series is a different version. Also, each book again is about a different boy in a friend group. Vicious is very much friends to lovers. Our hero, Vicious, has a tragic past. He loves Emilia, but he's so mean to her. Though she dates his best friend, there's tension. Then it shows them ten years later when they're adults meeting again.
So after high school, it turns into an office romance. When they first meet, they act like strangers, but both have the same feelings that are timely. It's also the first book in a whole series that is so good.
Author: L.J. Shen
Average Customer Review: (4.5 out of 5, on Amazon)
Category: Action & Adventure Romance Fiction
Number Of Pages: 340
Available: Audiobook | Paperback | Kindle | Audio CD
---
8. The Wall of Winnipeg and Me
Mariana Zapata is one of my favorite authors who only write slow burns and second chance romance. This book is about a woman named Vanessa. She is the assistant to a pro football player named Aiden Graves. He treats her very badly and doesn't pay attention to her. One day she quits, then he comes to her, asking her to return and proposition her for something new.
That's a plot twist. Does that make sense? Vanessa agrees with his proposal but gives him some conditions/rules. But they are secretly competing with each other. Both are the same as Abby and Travis, like Beautiful Disaster. So, the book is so worth it, and it is very long. But if you have patience for slow burns, this is everything.
Author: Mariana Zapata
Average Customer Review: (4.6 out of 5, on Amazon)
Category: Contemporary Sports Romance
Number Of Pages: 672
Available: Audiobook | Paperback | Kindle | Audio CD
---
9. The Shadows Between Us
This one is about Alessandra, who is the ego woman. Also, it is about how feminism is portrayed through her because she lives in a time when women weren't allowed to be anything but wives. So she challenges that. It's about her wanting to kill the Shadow King to get into the kingdom.
She plans to marry the Shadow King then kill him. Is her plan going to work? Do they fall in love or kill each other? If you want to know these answers, then read this book. Every book in the series makes exciting questions/moments to forward you into the whole series.
Author: Tricia Levenseller
Average Customer Review: (4.4 out of 5, on Amazon)
Category: Wizards & Witches Fantasy
Number Of Pages: 336
Available: Audiobook | Hardcover | Kindle | Audio CD
---
10. You Deserve Each Other
This book follows Naomi and Nicholas. They are engaged, and they're going to be married in a couple of months. However, they have fallen out of love with each other, but neither one wants to be the one to call off this wedding for pride reasons. It is because they don't want to pay the wedding bills.
So since neither one wants to call it off, they start doing pranks and sabotaging each other to see which one will give in first. In the midst of all of this, they find the couple that they were meant to be in the first place. The book is not talked about enough, and that's a crime upon society. It is told from Naomi's point of view that it is hilarious. There are so many plot twists, and I don't know how to explain them. Also, you will feel so much emotion, toxicity, but funny similar to Beautiful Disaster.
Author: Sarah Hogle
Average Customer Review: (4.3 out of 5, on Amazon)
Category: Women's Humorous Fiction
Number Of Pages: 367
Available: Audiobook | Paperback | Kindle
---
Read More Similar Books: 15 Bad Boy Romance Books