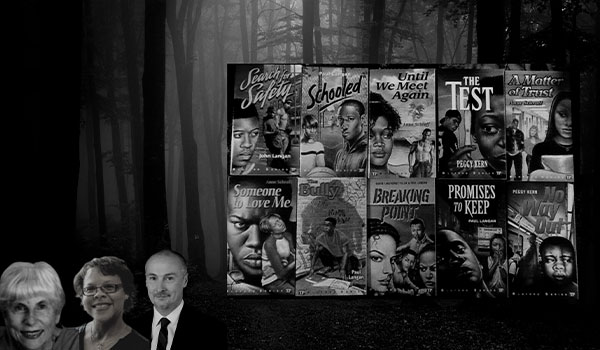 The Bluford High is a popular young adult realistic fiction series that represents the lives of students at Bluford High School. This is a fictional inner-city school located in southern California. The series was created by a group of writers and published by Townsend Press. It consists of 22 books, each focusing on different characters and their experiences at Bluford High.
The books deal with various issues teenagers face, including bullying, peer pressure, relationships, family problems, academic struggles, and more. Stay with me if you are waiting for a reading guide or the Bluford series. I'll provide you with all the books serially with their central theme. Let's begin!
Bluford Series In Order (Bluford High Reading Guide)
The Bluford Series is generally recommended for middle and high school students with a reading level around grades 6-9. However, younger or older readers can enjoy the series depending on their interests. While it's not necessary to read the Bluford High Series in order because each book can be read as a standalone story.
So it ultimately depends on your personal preference. Reading the books in order may enhance your reading experience because the books follow a chronological order, and there are some overlapping storylines and characters throughout the series.
Checkout my list: Bluford Series Books List
Here is Bluford series in order by publication:
1. Lost and Found by Anne Schraff: This book introduces Bluford High and follows the story of Darcy Wills, a new student who struggles to fit in and find her place at the school.
2. A Matter of Trust by Anne Schraff: The book centers around the friendship between Darcy and her classmate, Brisana Meeks. They face the challenges of high school and family drama.
3. Secrets in the Shadows by Anne Schraff: This book explores the complicated relationships between Bluford High students as they deal with secrets and betrayal.
4. Someone to Love Me by Anne Schraff: We follow the story of Cindy Gibson, a popular student who struggles with the pressure to be perfect and the pain of a broken family.
5. The Bully by Paul Langan: This book follows the life of Darrell Mercer, a new student at Bluford High who is bullied by a fellow student and struggles to find the courage to stand up for himself.
6. The Gun by Paul Langan: We follow a high school student named Tyray who bullies other kids in school to get what he wants. After being beaten up by Darrel, Tyray loses his reputation and turns to get a gun to regain his power. The book explores the reality of bullying in schools and the dangerous consequences that can arise when someone turns to violence. The story teaches an important lesson about how our choices can have serious consequences and that treating others with respect and kindness is essential.
7. Until We Meet Again by Anne Schraff: This book follows the relationship between Darcy and her boyfriend, Hakeem Randall, and they face the challenges of long-distance love.
8. Blood is Thicker by Paul Langan: The story is about Hakeem, who moves to Detroit and breaks up with his girlfriend, Darcy. He thinks his cousin Savon is in a gang, and his parents suspect something is happening to him. Hakeem tries to find out what's happening with Savon, but he gets angry whenever Hakeem brings it up. The book is exciting and well-written, and the author keeps the reader engaged throughout the story. It's also connected to the previous book, which tells Darcy's story after she breaks up with Hakeem. Overall, the author's storytelling keeps readers hooked until the end.
9. Brothers in Arms by Paul Langan: This book continues Martin's story. He tries to protect his younger brother, Frankie, from the dangers of gang life.
10. Summer of Secrets by Paul Langan: The story follows the summer adventures of Darcy and her friends. They confront family secrets and unexpected challenges.
11. The Fallen by Paul Langan: A Bluford High student, Jerome Foxworth, faces tragedy and redemption after a deadly car accident.
12. Shattered by Paul Langan: In this book, I explored the effects of domestic violence. Darcy's friend, Remy Taft, struggles to escape her abusive boyfriend.
13. Search for Safety by Paul Langan: We follow the life of Ben McKee, who struggles with poverty and racism in his community.
14. No Way Out by Peggy Kern: This book tells the story of Harold Davis, who is wrongfully accused of a crime and fights to clear his name.
15. Schooled by Paul Langan: The story explores the challenges of single parenthood. Darcy's mother, Mrs. Wills, struggles to raise her family independently.
16. Breaking Point by Karyn Langhorne Folan: This book follows the life of Brandon Desean Brown, a talented athlete whose dreams are threatened by the pressures of gang life.
17. The Test by Peggy Kern: The author tells the story of Liselle Mason, a Bluford High student. She confronts the challenges of poverty and academic pressure.
18. Pretty Ugly by Karyn Langhorne Folan: We follow Jamee, who wants to be a cheerleader at Bluford High but struggles with her grades. She works hard to improve her grades while trying out for the cheerleading team. She decides to improve her grades but faces bullying and rumors throughout the story. The book deals with themes of self-improvement and dealing with drama in school.
19. Promises to Keep by Paul Langan: This is a continuation of the story of Tyray Hobbs in the Bluford series. The book starts with Tyray having a flashback of almost shooting a boy he was bullying named Darell. When he returns to school the next day, he is ridiculed for being a "punk." A girl he used to bully tries to befriend him. I recommend this book for seventh and eighth graders who relate to bullying.
20. Survivor by Paul Langan: The book is about a teenage girl named Tarah who has been keeping a secret for ten years. She fears the judgment she might face if she tells anyone and is trying to avoid her uncle at a family party. So she struggles with her traumatic past and tries to cope with it.
21. Girls Like Me by Tanya Savory: A story about a 14-year-old girl named Angel who struggles to make friends, date boys, and feels different from other girls. However, Angel learns to embrace who she is and makes new friends. The book has a real-life lesson for young readers to be themselves and not hide who they are to please anyone.
22. The Chosen by Karyn Langhorne Folan: In this story, Darcy Wills deals with pressure from various aspects of her life. Her best friend has become distant, and her family is going through a medical crisis, causing stress at home. Darcy realizes that she has some difficult decisions to make.
---
If you are a teacher, read it: Teacher's Guide to The Bluford Series by Eliza A. Comodromos: This guidebook contains practical activities for teachers to use alongside the first fifteen books of the Bluford High series. The guidebook is 438 pages long and is designed to be a helpful resource for teachers.
Overall, the Bluford High series deals with many important issues facing young students today, including bullying, family drama, poverty, and more. Each book focuses on a different character or set of characters, providing a unique perspective on the challenges of high school life. The series is a psychological read for teenagers and young adults. So don't miss it!
Read more similar:
7 Reverse Harem Bully Romance Books
15 High School Bully Romance Books