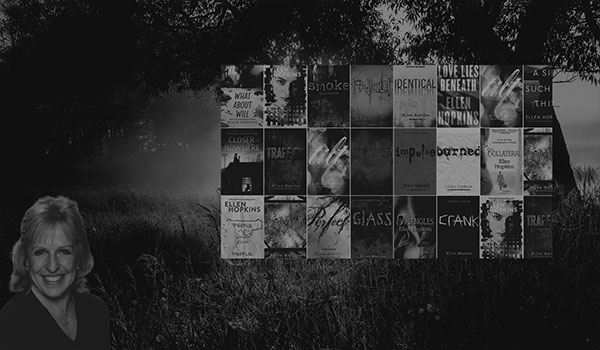 Ellen Hopkins is an American author best known for writing YA and adult fiction dealing with challenging and controversial topics such as drug addiction, abuse, and mental illness. Before becoming a full-time writer, she worked as a freelance journalist, poet, and advertising copywriter. In 2004, she published her first novel, Crank, based on her daughter's experience with drug addiction.
Then Hopkins published numerous other novels, including Identical, Tricks, Burned, and Perfect. Her books have won several awards, including the 2009 Margaret A. Edwards Award from the American Library Association for her "significant and lasting contribution to young adult literature."
Hopkins has become a leading voice in the "issue-driven" young adult fiction genre, inspiring other writers to tackle similar topics in their own work. As a big fan of her writing, I read her books. So, I have a reading order for the Ellen Hopkins series and books. Stay with me to learn more.
Ellen Hopkins Books In Order (Reading Guide)
Ellen Hopkins's books are generally standalone novels. So it's not necessary to read them in any particular order. However, a few books are loosely connected or share similar themes, such as Identical, Tricks, and Traffick. These books can be read in any order, but reading them in order may provide a deeper understanding of the themes and connections between the characters.
I recommend choosing a book based on your interests and the themes that appeal to you rather than trying to read them in order. Each of Hopkins' books stands on its own and can be enjoyed without prior knowledge of the author's other works.
Here is the list of Ellen Hopkins series in order:
Crank (2004).
Glass (2007).
Fallout (2010).
Impulse (2007).
Perfect (2011).
Burned (2006).
Smoke (2013).
Tricks (2009).
Traffick (2015).
Love Lies Beneath (2015).
A Sin Such as This (2018).
Standalone books:
Identical (2008).
Triangles (2011).
Tilt (2012).
Collateral (2012).
Rumble (2014).
The You I've Never Known (2017).
People Kill People (2018).
Closer to Nowhere (2020).
What About Will (2021).
Crank Series On Order
Crank: This book tells the story of a high school student, Kristina, who visits her estranged father and becomes addicted to crystal meth. The book explores the effects of addiction on Kristina's life, relationships, and mental health.
Glass: The sequel to "Crank," this book continues Kristina's story, where she struggles to quit drugs and deal with the consequences of her addiction. The book also introduces a new character, Kristina's alter ego Bree, who personifies her addiction.
Fallout: The final book in the Crank series explores the aftermath of Kristina's addiction to her children and her family. The book is written from multiple perspectives and covers several years, giving readers a complete picture of the effects of addiction on a family.
Impulse Series In Order
Impulse (2007): This book follows the lives of three teenagers, Vanessa, Tony, and Connor. They meet in a psychiatric hospital after attempting suicide. The book explores their struggles with mental illness, self-harm, and recovery.
Perfect: After leaving the psychiatric hospital, Vanessa, Tony, and Connor try to move on with their lives. The story explores the challenges of recovery and the consequences of past actions.
Burned Series In Order
Burned: This book covers the story of Pattyn Von Stratten, a teenage girl living in a strict religious household. She rebels against her family's expectations. The book explores themes of abuse, religion, and self-discovery.
Smoke: This book continues Pattyn's story. She tries to build a new life away from her abusive family.
Tricks Series In Order
Tricks: This first book follows the lives of five teenagers who become involved in prostitution. The story explores why each character is involved in the sex trade and their challenges as they try to escape it.
Traffick: This book continues the stories of the five teenagers. They struggle to overcome their past and build new lives for themselves. The story focuses on the long-lasting effects of trauma and the difficulty breaking free from the sex trade.
Love Lies Beneath Series In Order
Love Lies Beneath: This standalone novel follows the story of Tara, a middle-aged woman who falls in love with a younger man. We get to see love, lust, betrayal, and self-discovery.
A Sin Such as This: This second book continues Tara's story, where she tries to accept the consequences of her past decisions. The book explores themes of guilt, forgiveness, and redemption.
Standalone Books
Overview of Ellen Hopkins' standalone books:
Identical: The story follows the lives of twin sisters, Kaeleigh and Raeanne. They have a complicated relationship with each other and their father. The book deals with heavy themes such as sexual abuse, mental illness, and addiction.
Triangles: This book follows the lives of three women, Holly, Andrea, and Marissa. They are all struggling with various issues in their lives. It deals with themes such as infidelity, addiction, and the complexities of motherhood. I found this book well-written and engaging, with relatable characters and realistic struggles of adult life.
Tilt: Tilt is a YA novel that tells the story of three teenagers, Mikayla, Shane, and Harley. They face their way through high school and the challenges of growing up. The story covers sexuality, gender identity, and mental illness.
Collateral: This book follows the lives of three soldiers, Ashley, Cole, and Dara. They struggle to cope with the aftermath of serving in Iraq. The story focus on PTSD, addiction, and the toll that war can take on a person's mental health.
Rumble: Rumble is a YA novel focused on the story of Matthew Turner, a high school student. He struggles to come to terms with his brother's death and his crisis of faith.
The You I've Never Known: This book tells the story of a teenage girl, Ariel, who her abusive father raises. I found it to be a powerful and emotional read with a compelling storyline.
People Kill People: This book explores the issue of gun violence in America through the perspectives of various characters, including a teenage girl, a white supremacist, and a gun store owner. The story covers racism, violence, and the complexities of gun control.
Closer to Nowhere: This middle-grade novel tells the story of two girls, Hannah and Cali. They become friends despite their families' long-standing feud. So we get to see friendship, forgiveness, and the power of community. This book is a heartwarming and uplifting read with a positive message.
What About Will: This YA novel tells the story of a teenage boy, Will. He struggles to come to terms with his mother's death and identity.
---
Overall, Ellen Hopkins' books are famous for their realistic and honest portrayal of complex topics. Her use of free verse adds to the emotional intensity of her stories. However, her books deal with heavy themes that may trigger some readers and may not be suitable for younger or more sensitive readers.
Some readers may initially find the free verse style challenging to follow, but it quickly becomes immersive and adds to the story's emotional impact. So, Hopkins' books are a must-read for anyone who enjoys YA fiction that deals with heavy themes honestly.
Read more similar:
7 Mental Health Books Like My Year Of Rest And Relaxation
Carlos Castaneda Reading Guide