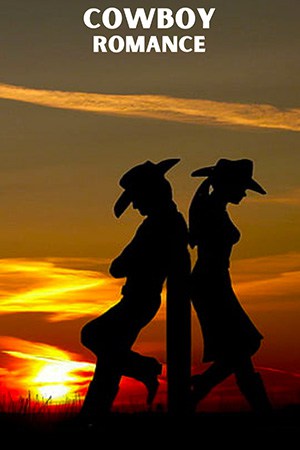 Being a cowboy has anything to do with a hat or dress-up. It's a spirit and attitude. The Spirit of a cowboy is what made a country independent or made it great. It's a spirit of sacrifice that has a great work ethic. Also, It dreams big, lives large, and accomplishes its vision. Cowboys wear the hat for a particular and profound reason. It's all determined by what you do to earn a living.
You've got to get on the back of a horse and drive livestock all day, or maybe compete in an arena called rodeo. The life of a cowboy in the 1800s was a full plate of hard work, danger, and monotony, with a heaping helping of dust, snakes, bugs, and beans on the side. But today, their lifestyle is so different and modern. Also, their love story or romance is different from other stories that give you a cultural view with professional details.
Top 10 Cowboy Romance Novels
Cowboy romance is set very well in the western romance category. There are many movies and books available on the internet for their popularity. If you want to know about historical western culture, you must read about cowboys. So it is popular among romance readers and the history and culture reader. You will love my top 10 cowboy romance novels if you like a cowboy. Let's start!
1. Second Chance Cowboy (Crossroads Ranch)
This book follows a series of brothers as they inherit a ranch from their family, and they each have different backgrounds. But I like how their ranch operates because they expand things out more than a ranch. So it's well done and well handled.
The first book is about Jack (Cowboy) and Ava and their second chance romance. They knew each other in high school, where they dealt with a lot. They ended up breaking up, dealing with things separately, and then they've been reacquainted and are coming back together.
Author: A.J. Pine
Average Rating: (4.6 /5)
Category: Small Town & Rural Fiction
Number Of Pages: 321
Available: Audiobook | Kindle | Mass Market Paperback
---
2. The Cowboy Next Door (Montana Strong)
This book takes place in Montana, and it is another fun, solid cowboy series in this book right here. The story follows a cowboy, Sam, and Penny. Penny is down on her luck, and she ends up working for the guy's family, and Sam's come back after a long time. So he notices her, and things escalate from there. It's a forced proximity situation.
If you want more in-depth details about western culture, try this one. It takes place in Hollow Creek, but this is the Montana Strong series, and I enjoyed it. So definitely give this one a try.
Author: R.C. Ryan
Average Rating: (4.7 /5)
Category: Women's Sagas
Number Of Pages: 349
Available: Kindle | Mass Market Paperback
---
3. Justified (Loveless, Texas)
We're following a family of siblings whose family dynamic is messed up in this one. Their mom dies when they're very young, and their dad is a corrupt cop. So they're dealing with Community expectations of their family and their family dynamic. Then the people that fit into this one, Unforgiven, is the second novel.
We follow Case (Cowboy) and Aspen. Aspen is on the run and scared for her life, while Case is the one who ends up taking care of her. So if you're looking for a good, smutty western cowboy romance, this one is for you.
Author: Jay Crownover
Average Rating: (4.5 /5)
Category: Southern Fiction
Number Of Pages: 433
Available: Audiobook | Paperback | Mass Market Paperback | Kindle | Audio CD
---
4. Cowboy Bold (Longhorn Canyon)
This is the first book of the Longhorn Canyon series that got me interested in Western romances. The story is about a handsome cowboy, Cade, and a beautiful Retta. Their family has this summer retreat for kids down on their luck. So Retta is hired to help with that. She and Cade end up in that forced proximity living thing. I love when cowboy romances do this.
So Retta slowly is indoctrinated into the family while they like a bloom in their relationship. Also, they find ways to pull each other apart, as is common in any romance, but this particular one was enjoyable.
Author: Carolyn Brown
Average Rating: (4.6 /5)
Category: Sibling Fiction, Women's Sagas
Number Of Pages: 237
Available: Audiobook | Kindle | Mass Market Paperback
---
5. Christmas with a Cowboy
Our hero is a popular cowboy, and his name is Maverick. He's an Irish guy, and he goes home to Ireland to stay with his grandmother. Here, the woman he had a one-night stand within Ireland ends up coming and staying with his grandmother. The girl's grandma and Maverick's grandma were best friends.
So these two had no clue that they were still connected. It's a different take on a single-parent romance. You will like how that one plays out, but all of them are good. The smut factor isn't super high in these, and it deals with Christmas fun.
Author: Carolyn Brown
Average Rating: (4.6 /5)
Category: Holiday Fiction
Number Of Pages: 449
Available: Audiobook | Kindle | Mass Market Paperback
---
6. Big Bad Cowboy (Once Upon a Time in Texas)
This one is a down and dirty, smutty western romance series. We're following different family dynamics, and this one, we're following Travis (Cowboy) and Maggie. There's a weird take on a single-parent romance as well. But the second book in the series I enjoyed better than this one. That one follows a couple that we see here and are hinted at.
But that one's a second chance romance and not forced living proximity love. You get to see the weird, crazy neighbor next door situation, and it's handled well. This book is for you if you like the enemy-to-lover romance with the angsty plot.
Author: Carly Bloom
Average Rating: (4.4 /5)
Category: Western Romances, Mythology & Folk Tales
Number Of Pages: 368
Available: Audiobook | Kindle | Mass Market Paperback
---
7. Rocky Mountain Heat (Wedding Veil Wishes)
This book is a very steamy, fated lovers-style romance, and it's more small-town than cowboy, but it does fit. There are cowboy-related things around it, but we're dealing with grief and loss of a loved one and moving on from that in this one. So it's heavier but still well done.
Our heroine Attorney doesn't believe in true love. On the other hand, our cowboy hero, Tuck Manning, cares for his dying wife. For their work purpose, they are roommates. At first, Attorney fights with Tuch for small reasons, but they slowly fall in love with each other.
Author: Lori Wilde
Average Rating: (4.7 /5)
Category: Humorous Erotica
Number Of Pages: 404
Available: Hardcover | Kindle | Mass Market Paperback
---
8. One Tough Cowboy (Moving Violations)
It's the beginning of a new series, the Moving Violation series, but it doesn't have the books that will be coming on. There's a trigger warning for sexual assault. The story is about a cowboy named Hunter. He was in the army, and he's sheriff now. There's some stuff going on, and his uncle was killed, and they made it look like an accident. So he's trying to figure out what's going on.
Our heroine, Sam, moves back to town from Detroit, and she's a cop. She ends up transferring there, and there's tons of mush and all of this. So you get to see the cop romance with a cowboy.
Author: Lora Leigh
Average Rating: (4.5 /5)
Category: American Literature
Number Of Pages: 304
Available: Audiobook | Kindle | Mass Market Paperback
---
9. A Cowboy to Remember (Cowboys of California)
This book starts with our main character, Evie. She is a rising star in the culinary field. So she's on a TV show, and she's at a party. Then an accident happens where she loses a lot of her memory. Because of that, she ends up going back to a place where she grew up in California, and she ends up spending time there to recover.
Some people come up from her past, and one of them is Zach, whom she had a huge crush on. The feeling was mutual, but they never acted on it for various reasons. Now it's their second chance to fall in love with each other. So that's the exciting premise of the story, then it goes from there.
Author: Rebekah Weatherspoon
Average Rating: (4.3 /5)
Category: Western Romances
Number Of Pages: 368
Available: Audiobook | Kindle | Mass Market Paperback
---
10. The Cowboy's Secret Baby
It's about cowboy romance, a secret baby interracial couple. The main female character is Maggie, and she is an ambitious environmentalist doing an internship in Jackson Hole, Wyoming. She meets an attractive cowboy one night, and they hook up, and his name is Jonathan. He's the small-town boy with all these ambitious things that he wants to do. But all of his family, friends, townspeople stop him from doing those things.
Maggie inspires him one night. Then he decides to take that inspiration that Maggie has given him during their one night and goes on an adventure. Then you come back to him coming back into town and, all of a sudden, they meet on the streets. But he has moved on with his life because of his adventure and has a fiancee that he brings back to town. So it's a quick story about what he will do with his life and how Maggie has been affected by this.
Author: Monica Castle
Average Rating: (4.1 /5)
Category: Multicultural & Interracial Romance
Number Of Pages: 146
Available: Paperback | Kindle
---
Read More Similar Books: 7 Amish Romance Books