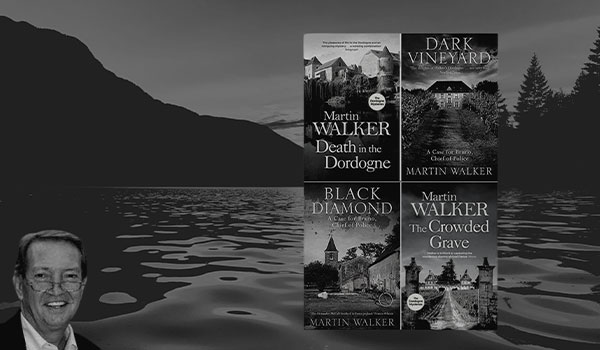 Bruno, Chief of Police by Martin Walker is a mystery-thriller series set in the idyllic French town of St. Denis. The series follows a former soldier/inspector Bruno Courreges, who has returned to his hometown to become the chief of police. The books are a mix of mystery, romance, and food. They provide an intimate portrait of life in a small French village.
Martin Walker's descriptions of the town, its people, and its surroundings are expressive, making the reader feel they are right there in St. Denis. Bruno is a lovable character who loves his town and is committed to keeping people safe. He is intelligent, resourceful, and has a strong sense of justice. Each series book introduces new and exciting people for Bruno to interact with.
One of the series highlights is the emphasis on food and wine. Bruno is a talented cook and prepares elaborate meals for his friends and colleagues. The descriptions of the food and wine are mouth-watering and add a delightful layer of sensory detail to the books. So, Bruno is a charming and enjoyable read, perfect for fans of mysteries and foodies. Now, It's time to read Bruno books in order. Let's do it!
Bruno Books In Order (Dordogne Mysteries series)
You should read Bruno books in order. Reading the sixteen books in order will allow you to follow the development of the characters and the storyline in depth. You will also avoid spoilers and understand the context of the story mentioned in later books.
However, each book can be read as a standalone novel because it contains self-contained mysteries and storylines. Nonetheless, it's still recommended to start with the first book, "Bruno, Chief of Police," to get introduced to the main character and his background story.
Checkout my list: Bruno Books List
Martin Walker Bruno books in order:
Bruno, Chief of Police.
The Dark Vineyard.
Black Diamond.
The Crowded Grave.
The Devil's Cave.
The Resistance Man.
The Children Return.
The Patriarch.
Fatal Pursuit.
The Templars' Last Secret.
A Taste for Vengeance.
The Body in the Castle Well.
The Shooting at Chateau Rock.
The Coldest Case.
To Kill a Troubadour.
A Chateau Under Siege.
Anthologies:
Bruno, Chief of Police: The Early Cases (2017).
A Birthday Lunch (2019).
Oystercatcher (2020).
Bruno's Challenge & Other Dordogne Tales (2021).
Mysteries of the French Countryside (2023).
The Dordogne Mysteries: Books 1-6 (2023).
1. Bruno, Chief of Police (2008): Bruno investigates the murder of an elderly North African man who fought for the French during the Algerian War. He uncovers the town's secrets and balances his personal life and local politics. The investigation unveils intriguing French/Algerian history aspects, creating a captivating and highly recommended read.
2. The Dark Vineyard (2009): A research station genetically modified crops and burned down. Bruno handles a web of deceit, old grudges, and powerful interests to solve the case and protect the town's winemaking tradition.
3. Black Diamond (2010): Bruno investigates a series of crimes linked to the truffle trade and uncovers a web of corruption and violence that stretches beyond the boundaries of his small town.
4. The Crowded Grave (2011): Bruno is a sensible policeman who seeks alternatives to arrest a group of terrorists. The story blends character development, engaging plotlines, and elements of politics, philosophy, food, and wine. Although not a mystery, it includes some romance and thought-provoking ideas. The audiobook's narration needs some improvement, but the book is enjoyable and can stand alone.
5. The Devil's Cave (2012): Bruno investigates the suspicious death of a woman found floating in a boat on the River Vézère. This leads him to satanic rituals, art forgery, and a possible connection to a legendary local treasure.
6. The Resistance Man (2013): Bruno goes through the past when a former resistance fighter is found murdered, dating back to World War II and a complex web of crimes and conspiracies.
7. The Children Return (2014) / Children of War (US title): A war-crimes investigator is murdered, and Bruno is called upon to solve the case.
8. The Patriarch (2015) / The Dying Season (UK title): Bruno finds himself involved in the world of Russian oligarchs, Cold War secrets, and dangerous international espionage when he investigates the death of a prominent figure at a family gathering.
9. Fatal Pursuit (2016): Bruno investigates a brutal murder connected to the disappearance of a legendary automobile, leading him into the heart of a dangerous criminal underworld.
10. The Templars' Last Secret (2017): Bruno is trying to solve a case involving a woman found dead at the foot of a cliff. This leads him to an ancient Templar mystery.
11. A Taste for Vengeance (2018): Bruno again involves in a missing British tourist case and a deadly web of international intrigue that threatens the safety of his town.
12. The Body in the Castle Well (2019): Bruno discovers an art historian's body in a well. This leads him to the world of art fraud, ancient history, and a secret that could change the course of his own life.
13. The Shooting at Château Rock (2020): Bruno investigates the death of a local man that may be connected to a powerful Russian oligarch.
14. The Coldest Case (2021): A gripping crime thriller set in the idyllic French village of St. Denis. The novel follows the investigation of a decades-old murder case. Bruno is the chief of police in St. Denis, and his studies take him on a journey that uncovers secrets buried deep in the village's past.
15. To Kill a Troubadour (2022): Bruno investigates a case involving a troubadour named Joel, whose song praising Catalonian separatists has gone viral, leading to threats against him. Along with this case, Bruno deals with Florence's violent ex-husband.
The story is set in the beautiful region of France and features plenty of food, wine, and camaraderie. Despite the multiple crises, Bruno handles everything with his usual skill and charm. The book offers a fascinating look at Occitan culture and is a highly recommended addition to the beloved Bruno series.
16. A Chateau Under Siege (2023): Bruno faces a risky situation in his town in this final book. A French general, Kerquelin, is nearly killed. So Bruno determined if it was an accident or intentional. The stakes increase when he discovers that a former Silicon Valley expert was running a secret French intelligence base. He is currently alive and negotiating a massive deal for France's semiconductor industry. Bruno's investigation takes a dangerous turn as a new player emerges, intent on sabotaging the agreement.
---
You should consider reading the series if you enjoy mysteries with a strong sense of place, engaging characters, and cultural elements. It has been praised for its unique plots, descriptions of the French countryside, and exploration of local culture and traditions. If these aspects align with your reading preferences, give "Bruno, Chief of Police" a try.
Read more similar: