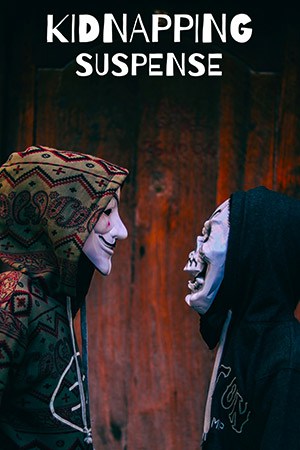 Books About Kidnapping refer to a genre or a category of literature that focuses on stories involving the act of kidnapping. This genre includes many books, from thrillers and crime novels to psychological dramas and sometimes even horror. The common thread in these books is the plot centering around the abduction of a person or persons, which drives the narrative forward.
They include the motives behind the kidnapping, the psychological and emotional impact on both the kidnapper and the victim, the investigation process to find the missing person, and the aftermath of such traumatic events. This genre shows the complexities of human behavior, societal issues, and the criminal mind. The kidnapping theme is set very well in the suspense or mystery trope. Though most authors use kidnapping as a fictional story, it is also based on true events.
You will find this part in real life if you read any psycho-thriller book. In the romance trope, kidnapping is famous, and you get to see the Stockholm syndrome, where the victim falls in love with the captor. So, the crime genre is unfulfilled without kidnapping and action. If you're looking for book recommendations about this genre, I can help with that as well. Keep scrolling!
15 Books About Kidnapping
In the kidnapping story, the hero/villain/psycho kidnaps women and keeps their secret place that seems hunted. You will find abuse, torture, and sometimes romantic situations. All of these situations create much hype or excitement for the reader. Kidnapping-themed books deliver gripping, fast-paced plots if you enjoy suspenseful, edge-of-your-seat narratives. They can be thrilling to read, keeping you hooked with twists and turns.
I also like thriller books as excitement, so I read many. I will discuss my top favorite 15 books with a kidnapping theme. These books frequently pose challenging moral questions, forcing characters (and readers) to confront difficult ethical decisions. This can lead to a deeper understanding of your values and beliefs. Let's begin!
| Name | Storyline | Tropes |
| --- | --- | --- |
| Little Secrets by Jennifer Hillier | A mother desperately searches for her missing son and the dark secrets she uncovers along the way. | Kidnapping, family secrets, psychological thriller, infidelity, moral ambiguity, obsession, detective investigation, plot twists, emotional turmoil, mystery, secrets and lies. |
| Thirteen by Steve Cavanagh | A thrilling legal drama where the real killer is on the jury, blending courtroom intrigue with a serial killer plot. | Legal thriller, serial killer, courtroom drama, dual perspectives, manipulation, murder mystery, plot twists, moral ambiguity, suspense, psychological manipulation, crime investigation. |
| 99 Red Balloons by Elisabeth Carpenter | A gripping psychological thriller about the disappearance of a little girl and the ensuing family secrets and lies that unravel. | Child abduction, family drama, multiple perspectives, secrets and lies, psychological thriller, missing person investigation, suspense, plot twists, intergenerational trauma, guilt and blame, unexpected revelations. |
| Long Way Down by Jason Reynolds | A poignant and powerful narrative about a young man's elevator journey, contemplating revenge and the cycle of violence. | Verse novel, urban setting, revenge theme, cycle of violence, ghostly visitations, moral dilemma, coming of age, family tragedy, introspection, social issues, brief temporal setting. |
| His by Aubrey Dark | A dark and intense romance novel exploring the complex and morally ambiguous relationship between a captive woman and her captor. | Dark romance, captivity, Stockholm syndrome, moral ambiguity, power dynamics, psychological complexity, intense relationships, emotional conflict, dominance and submission, danger and suspense, erotic elements. |
| Monster by Jessica Gadziala | An intense romance set in a dark world, where a woman finds love and redemption with a man perceived as a 'monster'. | Dark romance, redemption arc, bad boy hero, complex characters, emotional healing, underworld setting, opposites attract, moral ambiguity, personal growth, danger and suspense, transformative love. |
| Little Dove by Layla Frost | A romance novel centered on a young woman finding unexpected love and protection with a dominant, enigmatic man. | Alpha male, protective hero, age gap romance, damsel in distress, strong female lead, emotional growth, power dynamics, instant attraction, romantic suspense, danger and rescue, steamy encounters. |
| Captive of the Horde King by Zoey Draven | A sci-fi romance about a human woman captured and falling in love with the alien king of a warrior horde. | Alien romance, captivity theme, cultural differences, power dynamics, warrior hero, human-alien relationship, strong female protagonist, interspecies romance, conflict and resolution, steamy encounters, world-building. |
| A Heart of Blood and Ashes by Milla Vane | A fantasy romance entailing a vengeful warrior and a fierce heroine, facing political intrigue and forbidden love in a war-torn world. | High fantasy, enemies-to-lovers, revenge plot, political intrigue, warrior protagonist, strong female lead, epic world-building, forbidden love, power struggle, vengeance, dark romance elements. |
| Stolen Heir by Sophie Lark | A dark romance novel featuring a complex relationship between a kidnapped heir and his captor, set against a backdrop of mafia intrigue. | Mafia romance, kidnapping, captive-captor dynamics, dark romance, enemies-to-lovers, moral ambiguity, power play, psychological depth, forbidden love, suspense, complex character development. |
| Kidnapped by the Pirate by Keira Andrews | A swashbuckling high-seas romance where a young nobleman is kidnapped by a notorious pirate, leading to an unexpected love story. | Historical romance, pirates, kidnapping, age gap, enemies-to-lovers, adventure, LGBTQ+ romance, high seas setting, power dynamics, forbidden love, character transformation. |
| Ruthless King by Meghan March | A steamy contemporary romance about a powerful businessman and a woman entangled in a world of debt, desire, and secrets. | Billionaire romance, alpha male, debt repayment, dark past, power dynamics, steamy encounters, strong female protagonist, secrets and lies, New Orleans setting, romantic suspense, moral ambiguity. |
| The Bad Guy by Celia Aaron | A dark romance novel exploring the obsessive love of a villainous man for a woman who sees beyond his sinister facade. | Dark romance, obsession, anti-hero, moral ambiguity, kidnapping, psychological depth, Stockholm syndrome, complex characters, power dynamics, forbidden attraction, emotional conflict. |
| The Bratva's Baby by Jane Henry | A suspenseful romance involving a woman who falls for a powerful Bratva member, navigating danger and passion in a criminal underworld. | Mafia romance, Bratva (Russian mafia) setting, alpha male, kidnapping, dark romance, forced proximity, protective hero, strong female lead, suspense, moral complexity, steamy encounters. |
| Didn't I Warn You? by Amber Bardan | A dark and intense romance thriller where a woman finds herself caught in a web of deception, power, and dangerous attraction. | Dark romance, psychological thriller, power dynamics, captive-captor relationship, secrets and lies, intense attraction, emotional manipulation, danger and suspense, moral ambiguity, plot twists, complex characters. |
Books With Kidnapping List
1. Little Secrets
This thriller follows a woman (Marin) who goes out to the marketplace with her young son. She loses track of him and quickly discovers he has been kidnapped. She has video footage of him walking off with a man dressed as Santa Claus. Then the story fast-forwards a year, and he is still missing. There are no active leads. The police have put this on the back burner.
So, Marin has hired a private investigator to continue the investigation. She is in a tough spot herself, dealing with depression and even suicidal thoughts. However, she has hope when the private investigator contacts her, but it turns out it's not about her son. Instead, the investigator lets her know that she has discovered that her husband has an affair. She has given that information about that woman. The story spirals because she becomes obsessed with other women, decides to take her down, and wants to end her life.
Jennifer Hillier is an author who is a person of color, so she does include characters of different ethnic backgrounds in all of her stories, and that was present here. Although it wasn't so much as in her other books, you see different racial backgrounds. I found myself struggling to believe what was happening, that a character was struggling with depression and suicide over her son.
There were some twists and turns. Her stories are always told from multiple perspectives, so the reader does get more insight into what's happening.
Author: Jennifer Hillier
Average Rating: 4.5/5
Category: Crime Thrillers, Suspense
Available: Audiobook | Paperback | Library Binding | Kindle | Mass Market Paperback
2. Thirteen (Eddie Flynn)
This is a crime thriller in the Eddie Flynn series, but by no means do you need to have read any of the others to get this story. It is very good as a standalone law/crime story. The story follows the serial killer, an absolute genius mastermind. He plans everything with precision, and everything always goes right for him. He's not the criminal you would get in real life, at least not very often, but it makes for a fun little read.
So, he is a serial killer who kidnaps and kills people. Also, he frames other people for the murder, so he never gets caught up. Law enforcement doesn't realize they're even looking for a serial killer because all the methods of killing are so different. They're all in different places. There's nothing to link the victims, and there's been a conviction for every crime.
So, Eddie Flynn is the hero of the story. He is a lawyer who used to be a bit dodgy, a bit of a con man in his past. He is quite a cool little character, brilliant, clever, and not afraid to get his hands dirty. Eddie is left defending a famous client who has been framed for the murder of his wife and bodyguard. Also, he has to prove this guy's innocence. But in a massive twist, the actual serial killer is on the jury.
Author: Steve Cavanagh
Average Rating: 4.5/5
Category: Legal Thrillers
Available: Audiobook | Paperback | Hardcover | Kindle | Mass Market Paperback
3. 99 Red Balloons
This book tells the story of a little girl who was kidnapped and missing. Part of the story is told from the girl's perspective, and part from the family left behind. It's told in parallel with the story of a little girl who went missing about 30 years ago. It's very emotional in places, but it's very good.
The characters are very believable, and you get very invested in them. One character who wasn't even the main character died in it, but I cried. It's a nice little book with very deep characters that you get invested in and see develop over the plot. You get very invested in what happened to both little girls who went missing.
Author: Elisabeth Carpenter
Average Rating: 4.1/5
Category: Police Procedural Mysteries, Crime Fiction
Available: Audiobook | Paperback | Hardcover | Kindle | Audio CD
4. Long Way Down
This book is about a boy who is living in New York. There's a lot of gang crime in the area, and his older brother has been kidnapped and gun-shot. He gets his brother's old gun, and he's trying to kill the guy who shot his brother. But as he gets into the lift of his building, he's hit by a series of visitations from the ghosts who have been victims of gun crime.
This was such a little emotional roller coaster for me. It ends on a bit of a cliffhanger that makes you think about how gun crimes and gang crimes affect everyone. It is a damaging cycle of one person hurting a person who then hurts another person. How do so many innocent people get mixed up in it? Discover something amazing and unknown facts that you want to know.
Author: Jason Reynolds
Average Rating: 4.7/5
Category: Fiction on Family & Violence
Available: Audiobook | Paperback | Hardcover | Kindle | Audio CD
5. His (Dark Romance)
This is a serial killer romance. Kat is working at a university, and Gav is one of those serial killers who kidnaps and kills bad people. Somehow, Kat dares to kiss him, and then he drops a note. She decides to follow him to get to know him more. But under the pretense of giving him back this note, she sees him killing and torturing somebody in his basement.
So, in this basement, she gets caught, but Gav doesn't want to kill her. Then, he sexually brainwashes her not to report him. I find that to be very questionable. But it's locked up in the basement and sexually teased, and there is some violence in here. So if a dark serial killer non-consent things happen to brainwash, if that sounds good to you, give it a shot.
Author: Aubrey Dark
Average Rating: 4/5
Category: Action & Adventure Erotica
Available: Kindle | Audio CD
6. Monster (Savages)
Breaker is hired to kidnap Alex, which he does all the time, but never women. He can't get out of this one because of who hired him. So he's not happy that he has to kidnap a woman. Then he sees the woman, and he's not happy because he likes her and he's there to kidnap her. So she doesn't stay full on his prisoner very long because he's not cool with this.
It is romantic suspense, and Breaker is a criminal whom another criminal hires. They will work to try and take down criminals while still being criminals. Alex is a hacker. It takes place in Investment Bank, where the mafia, the motorcycle club, the loan sharks, and the hail storm are a bunch of crazy mercenaries. Other criminal enterprises live in the town, and the cops are dirty. I enjoyed the twists and the takes on this type of mafia captor romance.
Author: Jessica Gadziala
Average Rating: 4.5/5
Category: Romantic Suspense
Available: Paperback | Kindle
7. Little Dove
Nobody is surprised this is a captive captor. This is an age gap, daddy-kink romance, and Maximo is a casino owner. It starts with him taking her (Juliet) against her will because he murdered her dad and witnessed it. Juliet is 17. When Maximo takes her, and he is her captor, he does keep her. Now he has a lot of staff, and nobody abuses her. Juliet is a captive, and she does escape.
So, it goes from a captive captor to a good relationship. When Juliet turns 18, he makes it abundantly clear that he wants her relationship. There's no little play in this book. Maximo also clarifies that he will take care of her financially by being taken care of and having money, a place to live, and all the things she does not have to sleep with him to maintain. Juliet won't lose anything.
Author: Layla Frost
Average Rating: 4.5/5
Category: Crime Action Fiction, Billionaire Romance
Available: Audiobook | Paperback | Kindle
8. Captive of the Horde King (Horde Kings of Dakkar)
This is an alien romance about Khal Drogo and Khaleesi. It's the horde, and they're tribesmen. So they ride horses, and it's very Khal Drogo. Humans are sellers on this planet, but they are very restricted. One of the ways that they're restricted is they can't leave their villages, and they aren't allowed to hunt. Hunting is for the Dakkari.
So Luna trades her life for her brothers and becomes his concubine, except Arokan doesn't want her to be him. Arokan wanted her to be his queen. Luna is the captive and doesn't know their culture, but she knows of them because they rule the planet. As she tried to learn about it, did she try to understand? No, she goes around to find new people like Bubba. Wouldn't your life be easier if you shut your mouth and tried to learn about the people you will spend forever with? It happens a lot, and it gets on my nerves every time.
Author: Zoey Draven
Average Rating: 4.5/5
Category: Multicultural & Interracial Romance, Thrillers & Suspense
Available: Audiobook | Paperback | Kindle
9. A Heart of Blood and Ashes (A Gathering of Dragons)
Yvenne is captive, and she knows a ton about it. She changes her ways quickly to fit with a value out of respect. The hero (Maddek) will annoy you. He is the giant warrior. So she's been a captive of her father her whole life because the kingdom rightfully goes from mother to daughter, and her dad is a horrible person.
Yvenne is also very small and weak because of being kept in captivity her entire life. She is the smartest main character who is good at reading people. She has a ton to offer, and his need for revenge blinds Maddek because he believes that it is her fault that his parents were murdered. So he goes, kidnaps her, and wants to kill her. It's slow-burn without feeling slow-burn because there are so many interactions with them the entire way, and it's a travel story.
Author: Milla Vane
Average Rating: 4.4/5
Category: Action & Adventure Romance
Available: Audiobook | Mass Market Paperback | Kindle | Audio CD
10. Stolen Heir (Brutal Birthright)
This is a Beauty and the Beast retelling, and it's between Mikolaj and Nessa. Mikolaj is the boss of the Polish mob, and Nessa is the daughter of the Italian mafia. She is one of his children but the most naive one. She wants to work in ballet, but she's not a dancer. She does the choreography. The whole book is set in this very gothic mansion in there.
There's much to learn about the house and more about Mikolaj's history. It's tragic but doesn't have that much of a sad feeling. Also, It was a slow burn when Mikolaj kidnapped her, and they got together. Mikolaj was so crazy about her that he wanted to protect her. It was a grumpy sunshine trope like Nessa is so happy and ballet dancing.
Author: Sophie Lark
Average Rating: 4.5/5
Category: Kidnapping Crime Fiction
Available: Audiobook | Paperback | Kindle
11. Kidnapped by the Pirate
This is about Hawk and Nathaniel. Nathaniel has been promised to marry a girl and travels to see her. But pirates invade his beau, so he's kidnapped by the pirates. As for protection, he stays in the captain's quarters. I loved Hawk so much because he didn't want to be attracted to Nathaniel. He wanted to treat him as a nobody. But slowly, he starts to get feelings for him.
Nathaniel is a virgin, and Hawk is 40, so he's an experienced guy with his sexuality. The steamy scenes were so awesome. If you're looking for a pirate romance that's very light and steamy, then check out this one. It's a good kidnapping romance.
Author: Keira Andrews
Average Rating: 4.6/5
Category: Suspense & LGBT Romance
Available: Audiobook | Paperback | Hardcover | Kindle | Audio CD
12. Ruthless King (Mount Trilogy)
This book is about the mafia boss (Lachlan Mount) of New Orleans. He controls everything that happens in that city and has to go through him. He is obsessed with Kiera Kilgore, and her husband has died. Her husband left her with a huge debt, so he owes a lot of money to Lachlan.
Kiera works as the boss of the whiskey factory that her father left to her, but it's still a very new business, so she's not making a lot of profit from it. She doesn't come up with the money and has to go with Lachlan. In this bad situation, Lachlan kidnaps her. This is very steamy and angsty. In the beginning, their relationship is very angsty, and no one wants to admit their feelings. Lachlan likes to give people this version of him that makes people fear him.
You also have to have respect and fear from other people to rule and be at the place he's at right now. Lachlan thinks Kiera is going to be a toy to play with. She is very resistant, and she's not afraid of him. The second and the third books are not as good as the first one.
Author: Meghan March
Average Rating: 4.5/5
Category: Contemporary Women's Fiction & Abuse
Available: Audiobook | Paperback | Kindle | Audio CD
13. The Bad Guy
Camille is committed, but it's a very weak relationship. Sebastian is a very bad boyfriend. He wants to commit to her like he wants to live with her. But Camille thinks that he's going too fast. The first time the hero, Sebastian, sees her at a party, he is very attracted to her and a psychopath. They don't measure their effort to get what they want when they see something. Sebastian takes her to dinner and slowly seduces her to break up with her boyfriend.
Sebastian tricks her into thinking she will go to Amazonia to explore the plants. Camille is a science teacher, but the thing is, when she's going to the airport, she gets into a limo. He kidnaps her and takes her to his house in the middle of nowhere. He doesn't feel bad for what he's done because he's a psychopath. There's a little bit of angst, especially on her part.
Author: Celia Aaron
Average Rating: 4.5/5
Category: Psychological Literary Fiction, Kidnapping Crime Fiction
Available: Audiobook | Paperback | Kindle | Audio CD
14. The Bratva's Baby (Wicked Doms)
It's time for Kazimir to get a wife, and he finds Sadie. He'll marry her from the first time she sees him. She thinks there's nothing wrong about him, but a little editorialize about him. Kazimir has to kidnap and punish Sadie because he has no choice. If he doesn't do that, the other people from the mafia will.
When Sadie arrives in Russia, he must show that she respects him, or he will be disrespected. Sadie is his submissive, so she's in that type of phase that he has to discipline her. Some scenes were a little bit heavy. It was a short book that feels slightly longer for many things.
Author: Jane Henry
Average Rating: 4.3/5
Category: Multicultural & Interracial Romance
Available: Audiobook | Paperback | Kindle
15. Didn't I Warn You? (Bad for You)
This book is about Haithem and Angelina. Angelina saw this guy had a coffee shop, and he's cute. Then, she bumps into him again at her workplace and is confused. She thinks it's a sign of life and will not lose another one. It's dangerous to know more about him because Haithem is a dangerous guy who is part of the mafia.
Angelina finds out he's living on the boat, and it's not safe for her to know his location because there are some things he's hiding from this technology. Haithem has a bunch of enemies trying to get that thing. Angelina goes to his boat, bumps her head, and wakes up hours away from her Australian city.
In Sydney, this book starts, and Sadie tries to escape. But Haithem kidnaps her for his safety. Sometimes, they have a bunch of these games. Moreover, there was a lot of touching during these games.
Author: Amber Bardan
Average Rating: 4.3/5
Category: Erotic Thrillers
Available: Audiobook | Paperback | Kindle | Audio CD
5 Romance Books About Kidnapping
"Stolen" by Lucy Christopher – This novel is a unique mix of romance and psychological drama, telling the story of Gemma, a young woman kidnapped by a man named Ty and taken to the remote Australian outback. The story shows the complex emotions and Stockholm Syndrome-like dynamics that develop between the kidnapper and the victim.
"Captive in the Dark" by CJ Roberts – This dark romance novel is the first in the "Dark Duet" series. It follows the story of Olivia, whom Caleb kidnaps, a man intent on training her to be a slave as part of his revenge scheme. The book explores captivity, obsession, and the blurred lines between love and Stockholm Syndrome.
"Tears of Tess" by Pepper Winters – This is a dark romance that tells the story of Tess, a young woman who is kidnapped while on vacation with her boyfriend. She is sold into slavery and experiences a world of pain and pleasure. The story drives through Tess's emotional turmoil and complex relationship with her captor.
"On Dublin Street" by Samantha Young – While not entirely focused on kidnapping, this romance novel intertwines danger and suspense with a passionate love story. It follows Jocelyn, who moves to Edinburgh to start a new life, and her relationship with Braden, who has a dark past that includes dealing with kidnapping and loss.
"Knight" by Kristen Ashley – This novel combines romance with a darker underworld setting. The protagonist, Anya, finds herself involved with Knight, a man with a mysterious and possibly dangerous background. The story involves control and protection, bordering on the edge of a kidnapping scenario.
5 Books About Kidnapping For Young Adults
"Girl, Stolen" by April Henry – This novel follows the story of Cheyenne, a blind 16-year-old who unintentionally gets kidnapped when someone steals her stepmother's car while she's inside it. The plot unfolds as she tries to escape, and the kidnapper realizes her father is the president of a powerful corporation.
"The Face on the Milk Carton" by Caroline B. Cooney – This book is the first in a series about Janie Johnson, who recognizes her face on a milk carton under the heading "Missing Child." The discovery leads her to uncover the truth about her kidnapping and the family she thought was hers.
"Stolen: A Letter to My Captor" by Lucy Christopher – This is a unique and emotional story about a young woman named Gemma who is kidnapped by a man named Ty and taken to the remote Australian outback. The narrative explores the complex psychological dynamics between Gemma and her captor.
"Living Dead Girl" by Elizabeth Scott – This is a darker, more intense read, following the story of "Alice," a 15-year-old girl who was kidnapped at the age of 10. The novel follows the harrowing psychological and physical abuse she endures while being held captive.
"The Cellar" by Natasha Preston – This novel tells the story of Summer, who is kidnapped and kept in a cellar with several other girls, all renamed after flowers by their captor. The story alternates between Summer's perspective and her family and boyfriend, who are desperate to find her.
5 Books About Kidnapping And Abuse
"Room" by Emma Donoghue – This novel is narrated by a five-year-old boy named Jack, who lives in a single room with his mother. The mother, having been kidnapped as a teenager, has been held captive for years. The story explores their life in captivity and their eventual plan to escape.
"Living Dead Girl" by Elizabeth Scott – This novel tells the harrowing story of a girl nicknamed "Alice," who was kidnapped at the age of ten. The narrative focuses on the psychological and physical abuse she suffers during her captivity and the impact it has on her identity and perception of the world.
"The Lovely Bones" by Alice Sebold – This novel explores the aftermath of the abduction and murder of a young girl named Susie Salmon. Told from Susie's perspective in the afterlife, it describes the impact of her loss on her family and the pursuit of her killer.
"Stolen: A Letter to My Captor" by Lucy Christopher – This book is about a 16-year-old girl named Gemma who is kidnapped by a man named Ty and taken to the Australian Outback. It explores the complex psychological dynamics between kidnapper and victim, including elements of Stockholm Syndrome.
"3096 Days" by Natascha Kampusch – This is a non-fiction tale of Natascha Kampusch's eight-year-long ordeal after being kidnapped at the age of ten. The book details the psychological and physical abuse she endured and her ultimate escape.
5 Dark Romance Books With Kidnapping
"Captive in the Dark" by CJ Roberts – This is the first book in the "Dark Duet" series. It narrates the story of Olivia, whom Caleb, a man with a vengeful plan, kidnaps. The book features captivity, Stockholm Syndrome, and the blurred lines between captor and captive in a dark, romantic context.
"Comfort Food" by Kitty Thomas – This novel explores the psychological aspects of a kidnapping scenario. The protagonist, a successful self-help author, finds herself captured and at the mercy of her captor. The story covers the complexities of their evolving relationship, fraught with power dynamics and dark desires.
"Twist Me" by Anna Zaires – The book follows the story of Nora, who is kidnapped by a dangerous man named Julian. The narrative explores the dark attraction and complex relationship between them within the confines of a twisted romantic scenario.
"Tears of Tess" by Pepper Winters – Tess is kidnapped and sold into slavery, marking the beginning of a story filled with pain, pleasure, and complicated emotional entanglements with her captor. It's a tale of survival, resilience, and the complex dynamics of power and desire.
"Penelope Sky's Buttons series – Starting with "Buttons and Lace," this series involves the kidnapping of the protagonist, who becomes involved in a complex relationship with her captor. The story navigates through themes of revenge, domination, and unexpected emotional connections.
---
These books represent darker themes, including power imbalances, psychological manipulation, and non-consensual situations. They provide insights into the workings of law enforcement and the criminal investigation process, which can be intriguing for those interested in these fields. Also, they are intended for readers who are comfortable with such content and should be approached with an understanding of the sensitive and potentially disturbing material they contain. Happy Reading!
Read More Captor Books: 10 Books Like 365 Days