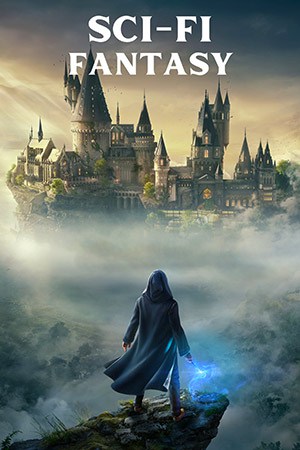 The Host by Stephenie Meyer falls somewhere in the middle of the sci-fi and the apocalyptic fiction genre. Aliens have invaded the Earth, but not in the way you might expect. These aliens insert themselves into human bodies, take over the body, and use it as a host. They go from planet to planet to experience a different world.
Once they take over someone's body, the personality of that body is supposed to go away. These aliens call themselves souls, and you can see if a body is inhabited by a soul from this reflective ring in their eyes. Melanie is in love with Jared, and initially, Wanderer feels the same because she is stuck in this body. But eventually, when she's with the rebels, she starts developing feelings for someone else, which, as you might imagine, creates a bit of a difficult situation.
The first hundred pages are a description of Wanderer's life on Earth. She teaches at university because she has been to many planets more than any of the souls on Earth. She goes to therapy sessions to deal with her new life on Earth. There are a lot of descriptions of how the world works now. So if you want to read novels like The Host, keep following me.
5 Books Like The Host (Science Fiction Fantasy)
The Host starts at a point where the invasion has been successful. There's a tiny group of rebels left, and one of these is Melanie. One day she is captured by the souls, and a new soul is put into her body because Melanie was a rebel. This new soul has to have dive into her memories and give all the information to the seeker, who will then chase after the rebels.
After seeing the initial memories, the presence of Melanie is supposed to go away, but Wanderer can't quite get rid of her, and she's too afraid to admit that she's not adapting properly. So at this point, this body is being shared between Melanie and Wanderer.
Wanderer has constant access to Melanie's memories. She starts forming an attachment to the people that Melanie used to love. Meanwhile, the seeker is constantly bothering her and getting more information. One day Wanderer can't handle it anymore, and she goes in search of the rebels. The characters are whiny, and this was very refreshing. Stephanie Meyer is an excellent storyteller, and she does a good job of creating these exciting characters that are very easy to distinguish from each other.
I will review 5 sci-fi fantasy books like The Host to give you the same vibe and feel. Let's go!
1. Shiver (The Wolves of Mercy Falls)
This book is about a girl named Grace, and when she was little, she got bitten by a wolf. Then she starts this fascination with wolves. She has this reputation of being like the wolf girl. A kid named Jack decides he's going to go into the woods and hunt these wolves, but they end up attacking him. So the community is all up in an uproar, and they decide to go into the woods and act like crazy hunter people and shoot at wolves.
Grace gets to meet her wolf, the wolf that saved her when she was younger. His name is Sam, and she gets to meet him in human form because he gets shot and turns into a human. Nobody knows why he turned into a human. The whole book is like her helping him not turn into a werewolf again and trying to keep him warm. Like The Host, the werewolves turn into wolves when it's cold outside.
Author: Maggie Stiefvater
Average Customer Review: (4.4 out of 5, on Amazon)
Category: Paranormal, Occult & Supernatural
Available: Audiobook | Paperback | Hardcover | Kindle | Audio CD
---
2. Fallen
Fallen is about Lucinda Price, who is moved to another school. It is a reformed school called 'Sword and Cross', and she's going there because of a crazy incident with her crush. Luce and Trevor were hanging out of the party. They went into a cabin, and something horrible happened. A fire started in the cabin and killed Trevor on its way. Now her parents are horrified by her. They're terrified that she's going to do something. Because of that, they sent her to reform school with other insane kids that have committed crimes.
There Lucinda meets this insanely attractive boy who feels like she's already met him in her life. She has familiarity with him, and his name is Daniel. But Daniel is distant and cold with her, and she doesn't get why another guy called Cam. He invites her on a bunch of dates, and he's outgoing. So Lucinda is torn between these two guys. There is a time-traveling aspect similar to The Host. So you get to go to all different areas of the world and all different periods.
Author: Lauren Kate
Average Customer Review: (4.4 out of 5, on Amazon)
Category: Paranormal & Supernatural Fantasy
Available: Audiobook | Paperback | Hardcover | Kindle | Audio CD
---
3. Beautiful Creatures
Our main character is named Ethan Wate. He lives in this small southern town, and Lena Duquesne is the new girl who has moved in with her uncle, Mr. Ravenwood. When it's her first day of school, everyone's repelled by her because she's related to the town shut-in. That's not very good for social status, but Ethan wait is a little curious about her.
This book has a rich southern atmosphere, which is good because that's where the book is set. It keeps you wanting to know what will happen at the end and enjoy beautiful creatures. Lena was a combination of two characters that you will enjoy very much as The Host.
Author: Kami Garcia
Average Customer Review: (4.4 out of 5, on Amazon)
Category: Mystery, Thriller & Suspense, Fantasy
Available: Audiobook | Paperback | Library Binding | Kindle | Mass Market Paperback
---
4. Hush, Hush
This book is about a girl named Nora Grey, who is an average high school girl. One day in biology class, her teacher decides to put the new kid. His name is Patch, and the teacher decides to set them next. So they have to be partners and everything for the rest of the school year. Nora finds herself getting drawn to Patch. When she gets more involved with him, she is confused because she doesn't know whether he is there to protect her or if he's there to hurt her. She doesn't understand if he's good or if he's bad.
It does surround fallen angels and things of that mystical stuff. It's one of those books where it's very cringy the way the romance is presented in a cringy way. Then it was also to the point where the female character in the book doesn't care about the guy's creepiness. She cares about it for two seconds. It's also one of those books where the main character crosses the line on possessive. You get to see many science elements similarities with The Host.
Author: Becca Fitzpatrick
Average Customer Review: (4.5 out of 5, on Amazon)
Category: Mystery & Detective Fiction, Paranormal Romance
Available: Audiobook | Paperback | Hardcover | Kindle | Audio CD
---
5. Evermore
Like The Host, Evermore is a supernatural young adult book from the 2000s. The protagonist is Ever Bloom. She's a high school student. She has a special power to see people's aura, which means she can see their thoughts and feelings if she gets close enough. Despite her softness and isolation, she winds up falling for the new guy at school. His name is Damen Auguste.
Damen Auguste shall now be known as Greg, and Ever Bloom shall now be known as Mary Sue. Her parents died in the same car crash that gave her reading powers. So Mary has a dead family and is cursed with the power of knowing way too much about people, although her sister does come back as a ghost and seems pretty good with it. She lives in a nice mansion under the care of Sabine, a woman who lets her do what she wants for the most part.
She was very popular before her parents' death. Even after she still has a small circle of friends despite isolating herself for some reason, Barry can't read Greg. She can't read his mind. It's the allure of mystery and the idea of hanging around with the person she can't figure out, which leads Mary to pursue a romance with him.
Author: Sara Holland
Average Customer Review: (4.4 out of 5, on Amazon)
Category: Epic Fantasy, Contemporary Romance
Available: Audiobook | Paperback | Hardcover | Kindle | Audio CD
---
More Sci-Fi Fantasy Books: 5 Books Like I Am Number Four