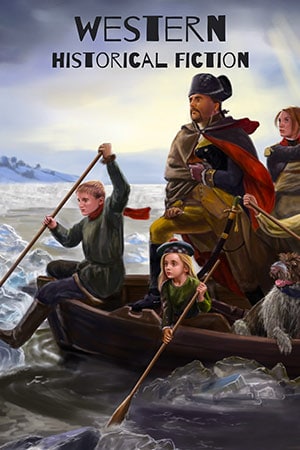 Lonesome Dove by Larry McMurtry is the third book chronologically in order of events of the series. But this is the first book in the series that Larry wrote and published. This book follows the Hat Creek Cattle Company and their three thousand-mile treks from Texas to Montana. They decided to go on this trek because their old ranger buddy Jake Spoon showed up in Lonesome Dove one day. They haven't seen him in years.
So when he presented this opportunity to the cattle company, they were hesitant at first. But after thinking about it for a while, they agree. This book is practically a western Lord of the Rings because you follow these characters on long, tedious quests. You get to learn about them throughout as they face trials and tribulations, whether it be Indians or the weather or wildlife or whatever may be happening sickness. If you want to read books like Lonesome Dove, keep reading.
5 Books Like Lonesome Dove (Western Historical Fiction)
Lonesome Dove is about the two characters and their chemistry. Gus is social. He talks nonstop, and he's a goofball overall. In contrast, Carl is very calm and reserved. He values hard work, and he practically thinks that all there is to life is working. There are many touching moments, and overall, it's filled with emotion. You have all these interconnected love triangles throughout the book.
So throughout the book, their relationship was well done, and they taught each other quite a bit about themselves, which I enjoyed. Now I will review 5 books similar to Lonesome Dove. Let's go!
1. All The Pretty Horses
The book starts with John Grady Cole. He is a cowboy who lives in Texas and the late Nineteen Forties. He wishes that he was born in an earlier era. There aren't too many cowboys left, and he wishes that he grew up when his grandfather passed away, and the ranch that his grandfather owned will be put up for sale.
Both of John's parents are pretty much failures. His father went to the war and came back. They don't have the father-son relationship that many people do have. So he decides that he wants to leave. He wants to find something better for him and his best friend named Lacy Rawlins.
John goes over and talks to his friend Lacy. The two end up traveling to Mexico on their horses. Other people have cars, but they want to ride their horses. They end up crossing the border, and they run into a kid named Jimmie Blevins, and they let him tag along. He's the 13-year-old kid. So they let him tag along as the story progresses.
The ranch owner has a beautiful daughter that John falls in love with. But people tell him, don't get with this girl, and he continues to progress. Then the book gets very dark after that. This story is a bit of a romance, but it is an adventure buddy story similar to Lonesome Dove. The chemistry you feel between Rollins and John is so strong, like they are best friends.
Author: Cormac McCarthy
Average Customer Review: (4.5 out of 5, on Amazon)
Category: Western Fiction, Fiction Sagas
Available: Audiobook | Paperback | Hardcover | Kindle
---
2. True Grit
This book is about a 14-year-old girl whose father is an outlaw. He murdered someone, so he runs away to Indian territory, where he's outside of the law. So, Mattie, the girl, decides to find a U.S. marshal who has the jurisdiction to get him and avenge her father.
Texan comes along because this guy has murdered other people. Texan is after him for murdering a different person. So it's not hard to describe the genre. Like Western adventure, many of the reviews in this light called it a comedy and thought it was hilarious.
Mattie is a spinster now. She gives life advice and scripture verses to back things up while talking about a chase in Indian territory. So her voice is compelling and makes the book short read. This lady has an afterword: her great grandmother, her mother, and she loved it so much that they loaned out their copy. The person doesn't give it back. They checked the library property and pretended to lose it to have their copy. If you like Lonesome Dove, you must read it.
Author: Charles Portis
Average Customer Review: (4.5 out of 5, on Amazon)
Category: Western Fiction, Mysteries
Available: Audiobook | Paperback | Hardcover | Kindle
---
3. Blood Meridian
Blood Meridian was published in 1985. You could refer to it as a Western or as an anti-Western. Both would probably be accurate. It takes place around the eighteen fifties, weaving a gritty, hallucinatory narrative about a young kid from Tennesseean referred to only as of the kid who gets caught up in a marauding band of scalpers across the Texas-Mexico border.
The Glanton gang was a real-life gang that did scalp Apaches. They were getting paid for it. So they moved on from simply Apaches to the peaceful rural Indians and Mexican citizens. It eventually led the state of Chihuahua to declare them outlaws. They were finally killed and broken up. Glanton appears in the book, so the kid is recruited throughout this gang.
You meet a whole host of characters as they travel along with this very grim, barren land of death and violence. The historical cycle of man's inhumanity to man is beautifully illustrated in the personification of evil in the form of the antagonist. Judge Holden is affectionately referred to simply as the Judge, a hairless man with an omnipresent ability and a penchant for cruelty and pedophilia. Is he God or Satan or Woody Harrelson as a gang of scalpers travels through the desert? The Judge sketches species of animals at that time.
There are some incredible literary references in this desolate southern backdrop. When Apaches chase the gang of scalpers to a volcano's smoking summit mouth, they can see the Apaches coming up. They're out of gunpowder, but the Judge knows that the chemical composition of the volcanic soil with sulfur will react with urine and create a crude but usable dirty gunpowder.
So you have this army of scalpers pissing on the soil of this volcano commanded by this laughing, maniacal Woody Harrelson about to be slaughtered by furious Apaches.
Author: Cormac McCarthy
Average Customer Review: (4.5 out of 5, on Amazon)
Category: Historical Fiction
Available: Audiobook | Paperback | Hardcover | Kindle
---
4. The Thorn Birds
The Thorn Birds was published in 1977, and it was so popular that by 1983. A TV adaptation had already been made of it. It's about 700 pages long, and the book's title comes from this supposedly Celtic legend that tells of a bird that spends its whole life searching for a thorn tree. Once it finds it, it sinks its first and only song while impelling itself upon a sharp fawn. The song that it's singing is supposedly so beautiful that the whole world steals to listen and gets in his heaven smiles, and the bird doesn't know that it is dying as its singing.
It's a metaphor because human beings usually know they will suffer while pursuing their ambitions or dreams. But we still don't care if we're going to suffer or pay for it dearly. We're still going to go and pursue it. So, It's about the Cleary family, and it tells the story of three of its generations. There is a beautiful, cool, unique love story in each generation.
Like Lonesome Dove, the real story is the forbidden love and ambitious, handsome priest and Maggie Cleary. Colleen McCullough takes care of nourishing their love affair so it can develop at a right, unbelievable speed. The other also goes on to present us with some memorable characters.
The narrator also learned a lot about Australia, how it was, and what life was like in the last century. We learned about its traditions and culture, about living at a station in New South Wales and was the life of a drover, and we even learned about cutting. Cutting came in Queensland, but we also visited London, Rome, Sydney, and Greece. So, all in all, we get a lot of cool elements that make up these fascinating novels that are not one bit dull.
Author: Colleen McCullough
Average Customer Review: (4.7 out of 5, on Amazon)
Category: Historical Australian & Oceanian Fiction
Available: Audiobook | Paperback | Hardcover | Kindle | Audio CD
---
5. The Son
This book is about five hundred and sixty pages, and it's also a challenge in reading stamina. If you are a fan of American history in particular and Western American history, then this is a great book for you. It deals with relations with Native Americans, particularly several of the characters.
The key character in this book, Eli, is kidnapped by a Native American tribe and held hostage. Ultimately, it turns out that it has a significant impact on Eli's character in dealing with survival and relating to others.
So the story is told from alternating points of view. The author also moves around in time and expects you to keep up with him as he moves around in time. That's challenging as well. It is well written, so I have two reasons for recommending it: the significant insights about American history.
There are so many things in this book. The author has researched the heck out of the storyline in this book which is very similar to Lonesome Dove. He gives you the real characters in this book, and he doesn't hold back.
Author: Philipp Meyer
Average Customer Review: (4.2 out of 5, on Amazon)
Category: Western Fiction, Historical Fiction
Available: Audiobook | Paperback | Hardcover | Kindle
---
More Historical Fiction Books:
10 Cowboy Romance Novels With Western Plot