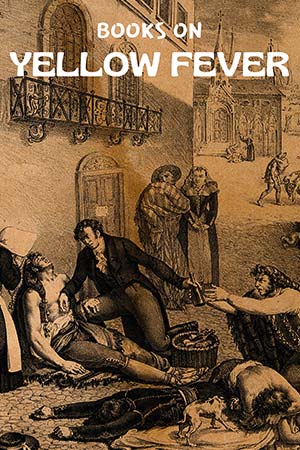 Yellow fever is a viral hemorrhagic disease like dengue fever and Ebola. It's caused by a virus transmitted by the Aedes mosquito, but only infected females can transmit the disease it bites, mainly during the day. Yellow fever occurs in tropical regions of the Americas and Africa in around 80 percent of cases.
In around 20 percent of cases, the disease is far more severe, and other symptoms develop jaundice, hence the name yellow fever, kidney disorders, bleeding, convulsions, and even coma. Between 25 and 50 percent of severely affected patients die. According to the World Health Organization, An estimated 30 to 60000 people die of yellow fever yearly.
Books about yellow fever explore the scientific aspects of the disease, including its causes, transmission dynamics, and ongoing research efforts. They can expand your knowledge, foster empathy, and provide valuable insights into this infectious disease's historical, scientific, and social dimensions.
7 Books About Yellow Fever (Epidemic History)
Ships docked daily at Philadelphia's wharf with rare tropical delights such as spices, fruits, and coffee. One of these ships, newly arrived from Haiti, brought food and a deadly disease. The mosquitoes on board first went to work on anyone who boarded the boat.
Then those who lived near the water collected data on how many people died of yellow fever. No one knew how it was spread or how to stop it. I will talk about seven books about Yellow Fever to know the pandemic history here. These books offer insights into yellow fever's history, impact, and scientific understanding. Let's go!
1. Fever 1793
Fever 1793 tells a story about a teenage girl named Mattie Cook, who lives with her mother and grandfather in Philadelphia. They run a small coffee shop. Mattie is a typical teenager who loves to daydream, socialize, and help in the coffeehouse while listening to Grandpa and his friends argue about different issues. She spends lots of time with Eliza, the coffeehouse cook, a free black woman. There is Nathaniel Benson, the painter's apprentice.
One day, one of the coffeehouse cooks (Polly) doesn't show up for work. She had a terrible fever, and the next thing Mattie knew, Polly was buried the next day. It began happening all over Philadelphia, and more and more people are getting this terrible epidemic called Yellow Fever.
Yellow fever breaks out and turns Mattie's world upside down. The whole life in Philadelphia becomes a real nightmare that seems to last forever. Mattie and the other characters try to avoid being sick and cope with the Yellow Fever's horrible consequences.
Mattie watches in shock as her city falls apart, with people's eye's turning a putrid yellow, spewing black liquid, and suffering in pain. Yellow ribbons which signal death are hanging in the town, and there are only getting to be more. Houses are being abandoned, and people are thrown into the streets. There is a reek of rotting bodies in the air, and people are wrapped in a white sheet and thrown into the ground. The town's liveliness is fading, and it is fading very fast.
The next person to get ill, though, is Mattie's mother. Lucille tries to be strong for her daughter, but the sickness overtakes her and forces her to bed. As Lucille gets worse, she demands that Mattie and her Grandfather journey away from the ill city. Mattie goes with her Grandfather through the woods as far as they can get to escape. Will Mattie and her grandfather survive the fever? This novel is an enduring read that keeps you on the edge of your seat and touches your heart.
All of the other characters are purely credulous, so you won't be lost among those who survived and those who perished. This book is almost based on true events. There is an exciting and captivating appendix at the end of the book. In case you want to know more details about those tough times. If you like books about disastrous people based on true events, you will love reading this book. Moreover, it is the best book about Yellow fever, I must say.
Author: Laurie Halse Anderson
Average Rating: 4.6/5
Category: Action-Adventure, Colonial & Revolutionary Period Historical Fiction (Best Seller)
Available: Audiobook | Paperback | Hardcover | Kindle
2. An American Plague: The True and Terrifying Story of the Yellow Fever Epidemic of 1793
During the Revolutionary War, Philadelphia was a central hub where the founding fathers were together. Both a Declaration of Independence and a constitution were signed right in Philadelphia. History is an essential part of the city in seventeen ninety-three. The president was George Washington.
Philadelphia was a temporary capital and center of the federal government. During Washington's presidency in Philadelphia, he signed a proclamation of neutrality. This prevented the U.S. from helping France attack Britain because of insufficient men and military strength. What Washington did not expect was an invisible attack on the people of Philadelphia that began with a French sailor.
The invisible natural attack was Yellow Fever. It is a true story of the yellow fever epidemic. This silent attack began on August 3rd, 1793, when a French sailor who stayed in a boarding house in Philadelphia was extremely sick with a fever. That fever got worse, and he began having seizures, and days later, he died. Eight people died, and church bells tolled signal death. The numbers increased within weeks. More than a dozen people died.
This fever was fast-moving and dangerous, even if you live next to a sick patient. Within days, you would be sick to people. The town began leaving and went to the countryside, and a few states wrote out the plague. Doctors finally labeled this attack as yellow fever. The once-busy city of Philadelphia became deserted.
How does the town of Philadelphia rise from a silent attack of yellow fever? How did the people who stayed survive? Was there a cure? An American Plague had historical facts, portraits of people, and newspaper clippings. Children interested in history, medicine, and suspense will enjoy this book.
Author: Jim Murphy
Average Rating: 4.4/5
Category: American Revolution History, Survival Adventure
Available: Audiobook | Paperback | Hardcover | Kindle | Audio CD
3. Plague
Plague follows Caine and Diana over on this secluded island. In the previous book of the series, We lost Mother Mary and most of the children when she committed suicide and led them off a cliff. Also, we got some interesting tidbits about the darkness and how there's something more going on there. A plague (Yellow Fever) and two things are happening.
Some people are coughing so hard that they are snapping their necks and coughing their lungs out. Other people are getting infected by greenies, which grow more bugs inside the body. We stayed more with our main cast this time instead of branching off and telling the story from many different perspectives. A lot is going on, and sometimes having little moments from other characters helps build the world overall.
Author: Michael Grant
Average Rating: 4.7/5
Category: Science Fiction Action & Adventure, Superhero Fiction
Available: Audiobook | Paperback | Hardcover | Kindle | Audio CD
4. The American Plague: The Untold Story of Yellow Fever, The Epidemic That Shaped Our History by Molly Caldwell Crosby
The American Plague explores the devastating yellow fever outbreaks in the United States, particularly in the 19th century. It focuses on the disease's social, political, and medical aspects, shedding light on its impact on American society.
5. The Fever: How Malaria Has Ruled Humankind for 500,000 Years by Sonia Shah
The Fever provides a broader perspective on mosquito-borne diseases, including yellow fever. It traces the history of malaria and other related diseases and their influence on human civilization.
6. American Tropics: The Caribbean Roots of Biodiversity Science by Megan Raby
American Tropics explores the history of yellow fever research and the scientific understanding of the disease. It represents the work of scientists who studied yellow fever in the Caribbean and their contributions to tropical medicine.
7. Yellow Fever and the South by Margaret Humphreys
This book examines the disease's influence on the region's social, economic, and political aspects. It focuses on the impact of yellow fever in the southern United States and provides a complete story of the outbreaks and their long-term consequences.
Romance Books About Yellow Fever
Finding romance books centered around yellow fever may be challenging as it is a serious disease with historical and medical implications. However, I can suggest historical romance novels set in the backdrop of yellow fever outbreaks or epidemics, where the disease may play a part in the storyline. Here are a few examples:
Fever Season by Barbara Hambly: This book is set in New Orleans during the 1833 yellow fever epidemic. It tells the story of a young French doctor who falls in love with a woman caught amid the outbreak.
Out of the Ruins by Karen Barnett: This book is set in San Francisco in 1906, during both the devastating earthquake and a yellow fever outbreak. The romance unfolds between a nurse and a doctor who work together to save lives amidst the chaos.
Love in the Time of Cholera by Gabriel García Márquez: This renowned novel explores love, passion, and endurance in the face of a cholera epidemic in the Caribbean region.
---
These books provide varying perspectives on yellow fever, including its historical significance, the scientific quest to understand it, and social and cultural impact. They offer readers a chance to explore this infectious disease's complex history and implications.
More Survival Historical Books:
Medical Bio Books About Bellevue Hospital