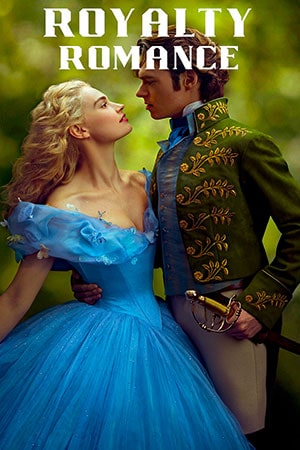 Royalty romance is a genre of literature that centers around romantic relationships involving royalty or aristocracy. These books typically feature characters like princes, princesses, kings, queens, dukes, duchesses, and other nobility members in settings ranging from historical to contemporary and sometimes even in fantastical realms.
The core of these stories is the romantic relationship between the main characters, involving themes like forbidden love, arranged marriages, or Cinderella-like stories where a commoner falls in love with a royal. The lavish settings include palaces, castles, and other wealthy environments. These settings heighten the drama and provide a backdrop for the story.
Many of these novels include political intrigue, power struggles, and social dynamics of the ruling classes. While many royalty romance books are set in historical periods, others are set in contemporary times, alternate worlds, or fantasy settings.
Popular examples in this genre include novels like "The Selection" by Kiera Cass, "Red, White & Royal Blue" by Casey McQuiston, and "A Royal Affair" by Nora Roberts.
15 Books About Royalty Romance (Regency Love Story)
Historical royalty romance novels offer insights into past eras' customs, fashion, politics, and social norms. Even contemporary or fantasy settings draw on historical elements, providing a blend of reality and imagination that can be educational and entertaining. These books typically offer intense and passionate love stories if you enjoy romance. The stakes are high due to royal relationships' social and political implications, which add depth and intensity to the romance.
Although books on royalty are about the kingdom, king-queen, and rules, there is also romance, thrill, action, adventure, and fantasy. Most of the authors choose royalty as a romance and fantasy trope. Present readers love to read it because of the classic vibe mixed with a contemporary mix. I have a big list to talk about 15 books about royalty romance for you. They offer a variety of sub-genres to suit different tastes – from historical fiction and contemporary rom-coms to fantasy and even paranormal romance. Let's start!
| Name | Storyline | Tropes |
| --- | --- | --- |
| A Nordic King by Karina Halle | A forbidden romance between a commoner and a Nordic king. | Forbidden love, royal romance, commoner and royalty, political intrigue, secret relationship, power dynamics, cultural clash. |
| Aries by Gemma James | The story of a young queen subjected to an arranged marriage with twelve men from the Zodiac Brotherhood, each representing a different astrological sign. | Power struggles, arranged marriage, a heroine in a patriarchal society, dark romance. |
| King Sized by Jessa Kane | A palace guard who has sworn to protect and secretly love the young queen, Britta of Downsriver​​. | Bodyguard, HEA, fantasy erotica, historical, age-gap, Beauty & Beast, insta-love. |
| Theirs for the Night by Katee Robert | A story of two friends who while on a trip to Monte Carlo, decide to indulge in a one-night stand with a stranger. | Menage (threesome), friends-to-lovers, steamy romance, spontaneous adventure, and exploring new desires. |
| The King's Spinster Bride by Ruby Dixon | A reluctant spinster finds unexpected love and adventure with a king. | Marriage of convenience, reluctant bride, historical setting, fish out of water, forbidden love, arranged marriage, slow burn romance. |
| The King's Horrible Bride by Kati Wilde | A king who inherits a kingdom and is bound to marry Victoria, a billionaire's daughter, as part of a legacy and duty. | Arranged marriage, royalty, duty versus love, obligation, complexities​​. |
| The Midwinter Mail-Order Bride by Kati Wilde | A historical romance novel set in the American West during the mail-order bride era where a young woman and a rugged cowboy make a deal. | Mail-order bride, arranged marriage, cowboy romance, historical setting, opposites attract, overcoming past trauma, and finding love in unexpected circumstances. |
| Heart of the Fae by Emma Hamm | A story of a mortal girl who finds herself trapped in the dangerous and mystical land of the Fae. | Fantasy romance, forbidden love, Fae realm, magical world, mortal and immortal love, mysterious prince, bargains and secrets, and a strong heroine navigating a perilous environment. |
| Royally Bad by Lee Savino | A contemporary romance novel featuring a royal prince and a woman from a small-town background. | Fish out of water, small-town sheriff, opposites attract, secret identity, romantic comedy, and a clash between royal responsibilities and personal desires. |
| The Playboy Prince by Lili Valente | A contemporary romance novel featuring a charming prince and a woman who unexpectedly finds herself in a royal scenario. | Fake relationship, royal romance, opposites attract, unexpected love, hidden identity, and navigating the challenges of public perception and personal desires. |
| The Grumpy Prince by Lili Valente | The story of Prince Jeffrey, and his relationship with a woman who is hesitant to lose her virginity to him due to concerns about duty and obligation. | Protection, royalty, forbidden love, challenges, arc. |
| The Royal Trade by Erin Hayes | A math nerd is engaged to Philip, a crown prince. | Forbidden love, betrayal, love triangles, and royal drama. |
| The Aristocrat by Penelope Ward | A slow burn romance with a beautiful lady. | Humor, arc, second-chance, angsty. |
| The Royally Series Collection by Emma Chase | The lives, romances, and challenges faced by the royal family of Wessco, blending romance, humor, and the complexities of royal life. | Royal bodyguard, secretive relationship, fun, forbidden romance, commoner and royalty, unexpected heirs, reality show romance. |
| Stealing Cinderella by A. Zavarelli | A retelling of the Cinderella story. | Dark, BDSM, abuse, fairy tales, amnesia, dual-pov. |
Books About Royalty Romance List
1. A Nordic King (Nordic Royals)
Our hero, King Aksel, is the king of Norway and a widower. His wife died a couple of years ago, and he has two daughters. So he's looking for a nanny for them. When Aurora (heroine) walks into the interviewing room, Aksel is attracted.
But his daughters end up seeing and meeting her and fall in love with her. He can't do anything else but hire her because his daughters love her so much. So it is an age gap forbidden romance between the King of Norway and his children's nanny.
Author: Karina Halle
Average Rating: 4.4/5
Category: Billionaire Romance
Available: Audiobook | Paperback | Hardcover | Kindle | Audio CD
2. Aries (The Zodiac Queen)
This series is dark, taboo, and not everybody's cup of tea, but it has an exciting royalty aspect. Novalee is a princess of neighboring land, and she gets put in a contract by her uncle when she's young. She will be put on the Zodiac Island when she turns of age. Also, she has to do this thing once a month, where she will go to the leader of that specific Zodiac once a month.
The leader of that Zodiac owns Novalee and can do whatever he wants to her. So, for a month, she belongs to the leader of this island, where each one is based on a zodiac sign. There are consent and non-consent things in here. It's pretty wild, but she is a princess, which plays a part in the story.
Author: Gemma James
Average Rating: 4.3/5
Category: Women's Psychological Fiction
Available: Kindle
3. King Sized
This is a little novella and part of the Bigger Men series. Also, it is a medieval fantasy romance that starts with Queen Britta. She is only 18, and her parents died. So she is the queen overnight, and Rex is one of her many bodyguards standing outside her room to ensure she is safe. Rex is white and older than her. So there's an age-gap romance here, and our hero didn't use a bodyguard for the princess.
One day, Rex sees Britta in a parade, and she looks beautiful and unique. Then he enlists to be a guard, a God bodyguard for her. He's never spoken to her. She does not notice him. Then, on the day that her parents die, he hears her crying. Nobody's there to console her, and she has no friends. Is nobody going to comfort this woman who's breaking down in tears?
So Rex goes in there and comforts her. Then Britta starts to notice him, realizes who this man is, and falls for her guard. The royalty romance is amazing and swoon-worthy, and nobody knows about it.
Author: Jessa Kane
Average Rating: 4.4/5
Category: Historical Romance
Available: Kindle
4. Theirs for the Night (Twisted Hearts)
This is the first book of the Twister Hearts series. The heroine, Meg Sanders, goes to a bar one night with her friends, and she comes across the two guys. They're both interested in her, and all three get together. Little does she know that one of those men is royalty.
The rest of the series gets more into the royalty aspect and how they will figure everything out, with one being royalty and her not being royalty. There is also erotic and LGBT romance, where you feel a reverse harem vibe.
Author: Katee Robert
Average Rating: 4.1/5
Category: Erotica Fiction
Available: Kindle
5. The King's Spinster Bride (Aspect and Anchor)
This is a royalty romance set in a fantasy land. Halla was the princess of this land when she was young. At the beginning of the book, her father ends up kidnapping the son of the Cyclops. They look like humans but don't have one eye because they offer their eyes to the gods. So they're called Cyclops.
In retaliation, the king of the Cyclops comes to conquer his land and get his son back. While the country's land is being ransacked and taken over by the Cyclops, Halla protects Mathior. She has defended him throughout all of this and ensures that nobody kills him. Once he kills her father and conquers the land, he tells her that he won't kill her. But she cannot come back here.
So she has lived in this convent for the rest of her life. After many years, Mathior needs to find a wife. His advisers are telling him to find a wife and get married. So he finds her in this convent and tries to convince her to marry him. They go through the wedding ritual ceremony because they're barbarians. You have to do three rituals to get married; they are so steamy.
Author: Ruby Dixon
Average Rating: 4.4/5
Category: Science Fiction Romance
Available: Audiobook | Paperback | Kindle | Audio CD
6. The King's Horrible Bride
This book takes place in another pretend country like Wesco. It is about Kapria's throne with Victoria and Maximilian. Maximilian is going to be inheriting the throne. In this land, there is a big scientist who is a billionaire. He tells Maximilian about his invention that can save the country's economy. In return, he wants him to marry one of his daughters. So he agrees to this.
It's 12 years after he's agreed to this bargain, and finally, it's time for him to get Victoria. Victoria is the woman he has been promised to marry. Also, nobody knows about this agreement that they've had. But she is convinced he doesn't want to since it's been 12 years and he still hasn't come to marry her.
So, Victoria feels hesitant and doesn't know why he wants to marry her. Her father has died at this point, and she's thinking, why does he want to marry me? Is this all out of obligation? Maximilian tries to convince this woman that this is a part of his father's deal. But he has real feelings for her. So, this is a Regency romance. He's a prince or a future king, and they have to be put in the spotlight because they will announce their engagement.
Author: Kati Wilde
Average Rating: 4.4/5
Category: Contemporary Women Fiction
Available: Paperback | Kindle
7. The Midwinter Mail-Order Bride (The Dead Lands)
The story is about a king (Kael) and a princess (Anja) of a different land. Kael conquered this land because the king was evil and abused his people. So he came and conquered it. He's quite scary, but he's a huge softy inside. Also, he's ultimately saved these people from a cruel, evil man. His advisers send letters to the land that he is looking for a bride, even though Kael is not looking for one. But his advisers did that anyway.
So Princess Anja is trying to find a country of her own. Her parents are quite controlling. She goes to go to this land to marry the Conqueror. But on her way there, she gets drunk and tells all of her horrible secrets. She wants to marry Kael and kill him to have the country all to herself.
So this is the story about them, like traveling back to her homeland, where she's the princess of it as a romance between them. It is a road trip romance, where it's in fantasy land. On their trip back to this land, they slowly start having feelings for one another and falling for one another.
Author: Kati Wilde
Average Rating: 4.4/5
Category: Fantasy & Futuristic Romance
Available: Paperback | Kindle
8. Heart of the Fae (The Otherworld)
This is a fantasy, royalty romance book in a Beauty and the Beast retelling. Sorcha is a midwife, and her father is dying from the plague that has ridden their fantasy land. She's trying to find the cure for it. She goes to a witch of the river and asks about the cure. The witch makes a deal where Sorcha has to go to an island and bring the exiled prince of this island.
So Sorcha goes to this island to find his exiled prince (Eamonn). He is a fay, so it's a fae romance also. Eamonn was a cast-out prince on this misfit island where many others were cast out. He used to be the prince of the Fae, and then he fought with his brother. His brother ends up cutting him with a sword. So, he doesn't look perfect and handsome and gets cast out and rejected by his people. But Sorcha changed his fortune forever.
Author: Emma Hamm
Average Rating: 4.4/5
Category: Scottish Historical Romance
Available: Audiobook | Paperback | Hardcover | Kindle
9. Royally Bad (Royally Wrong)
The book is about a prince (Theo Kensington) who is a playboy. He does not care about his royal duties and parties a lot. Also, he has many girlfriends, and he's a womanizer. But the royal family needs him to clean up his act and his image so that he can be prepared to take on the throne. Our heroine, Vesper Smith, is hired as a PR specialist, and she manages all these celebrities who have gotten themselves into trouble.
So, Vesper is hired by the royal family to do so. The last thing she expects is to fall in love with Theo, who is very misunderstood. That is not showing one side of him to the public eye. So overall, this romance is a very short novella. It was so cute to see our black sheep hero fall in love with the good girl and learn he is worthy of the throne.
Author: Lee Savino
Average Rating: 4.3/5
Category: Billionaire Romance
Available: Audiobook | Paperback | Kindle
10. The Playboy Prince (Rugged and Royal)
This one involves our hero (Andrew) being betrothed to our heroine's sister since they were children. The royal duties require that they plan their marriage very soon. Andrew doesn't like his fiance because he thinks that his fiancee is a loser. Lizzy is Rapunzel, who has been kept in a tower for a long time. She likes to design her lingerie, and that's all she wants to do. But our hero is very bored by it.
Andrew goes to the country where she lives and meets someone else completely different in personality. They look the same, but they certainly don't act the same. The girl he meets is very aggressive, speaks their mind, and is very outgoing, and he always thinks about it. They're doing a twin-switch situation. His fiance is a twin, and the person that he's falling in love with is his fiancee's sister, who is our heroine. I loved how it had such an enemy to lovers and when they soon fell for each other.
Author: Lili Valente
Average Rating: 4.3/5
Category: General Humorous Fiction
Available: Audiobook | Kindle
11. The Grumpy Prince (Rugged and Royal)
The second book in the series is called The Grumpy Prince. Andrew falls in love with the sister, described as Rapunzel being locked up in the tower. So our heroine is the sister that the hero was supposed to marry in book one, and now she's in book two. This is her love story with the hero's brother (Jeffrey).
Lizzy is invested in her work. She's very creative and has no time to manage anything, including her relationships and health. So what happens is that she gets sick, and Jeffrey steps in and forces her back into bed. He takes care of her and ensures she fully recovers because he has that protective instinct inside him whenever he sees her. He doesn't know why, but he will stay by her side.
Author: Lili Valente
Average Rating: 4.5/5
Category: Saga Fiction
Available: Audiobook | Paperback | Kindle
12. The Royal Trade (A Billionaire Prince Romance)
This one involves Cara, a very happy relationship with a prince on a Mediterranean island. She is getting married, or she is already planning her royal wedding. Also, she's excited about it until one day, she's eating breakfast, and she sees on the TV broadcasting station that her fiance is walking out of a hotel room with another female linked to his arm. So she's heartbroken by it because this is public humiliation.
Cara's been cheated on, and everybody is feeling sorry for her. Then, she decides to run off and return to her home country. But now, our fiance's younger brother (Eric) has been secretly in love with her throughout the years she has been dating him. Eric initially fell for her, but then he thought it would be of brotherly love for him to like his brother's fiance. So he's been keeping it on low. But he feels it's his time to confess, and he goes chasing her. Also, he tries to convince her that he is the right brother.
Author: Erin Hayes
Average Rating: 4.0/5
Category: Romantic Comedy
Available: Audiobook | Paperback | Kindle
13. The Aristocrat
Felicity is vacationing, and she spies a good-looking guy. She's intrigued by Leo and knows that they would only have a summer fling if they ever got together. Leo is also on the same page where he knows he can't get into serious relationships. He has his duties, and his family is very judgmental. He can't be seen dating someone not in the same financial class as him and can't be helped.
So they end up having a brief summer fling. It felt like seventy-five percent of the book had the slow-burn romance. But it wasn't even slow burn because they're stupid for not kissing quickly enough. They were always walking around each other and walking around in circles.
Author: Penelope Ward
Average Rating: 4.5/5
Category: Contemporary Romance Fiction
Available: Audiobook | Paperback | Hardcover | Kindle
14. The Royally Series Collection
This includes Royally Screwed, Royally Matched, and Royally Endowed. The first one in the series has the typical drama you see in a royalty romance. It's about a prince and a poor American girl. But the second one is a royal bachelor situation. The third one is about the sister of the American and a bodyguard for the prince. So technically, there's nobody royal in that one.
The main two characters are Prince Nicholas and the beautiful waitress, Olivia. Prince Nicholas was trying to find his brother, Henry Prince Harry. At that time, he met Olivia, and feelings developed from there. The next book is Royally Matched, which is Prince Harry's story. Henry was a mystery story character that you want to know more about.
Author: Emma Chase
Average Rating: 4.6/5
Category: Romance Collections & Anthologies
Available: Kindle
15. Stealing Cinderella
This is a dark romance and a part of the twisted fairy tale series. Prince Thorsen kidnaps Ella and keeps her as a love-enslaved person for a little while. He should marry someone else when she gets away and returns to her life. But he keeps thinking about her and will be the king someday.
So, he needs to have an excellent political match. But he keeps being drawn to this girl that he has liked and's very sexually excited about for a little while. It was a fun twist on a Cinderella retelling.
Author: A. Zavarelli
Average Rating: 4.3/5
Category: Fantasy & Futuristic Romance
Available: Audiobook | Paperback | Kindle
Modern Royal Romance Books
Modern royalty romance books are perfect for those who want a taste of the regal life with a contemporary twist. These books feature strong, independent heroines entangled in a whirlwind romance with a royal prince or princess. One such book is "The Royal We" by Heather Cocks and Jessica Morgan. This delightful novel follows the story of an American girl who falls in love with the heir to the British throne.
Another must-read in this category is "The Selection" by Kiera Cass. Set in a dystopian future where a young girl is chosen to compete for the heart of a prince, this book is filled with romance, drama, and political intrigue. It's a perfect blend of royalty and romance that will keep you hooked from the first page to the last.
If you're looking for a modern royal romance with a twist of mystery, then "Red, White & Royal Blue" by Casey McQuiston is the book for you. This LGBTQ+ romance follows the story of the First Son of the United States and the Prince of Wales as they face their secret relationship amidst political pressures and public scrutiny.
Forbidden Royalty Romance Books
Forbidden royalty romance books are all about the thrill of forbidden love. These stories feature star-crossed lovers from different social classes or rival kingdoms. One book perfectly captures the essence of forbidden love is "The Wrath and the Dawn" by Renée Ahdieh. Set in a fantasy world inspired by Arabian Nights, this book tells the story of a young king who takes a new bride each night only to have her executed at dawn. When a brave young woman volunteers to marry him, she discovers more to the king than meets the eye.
Another forbidden royalty romance that will leave you breathless is "Graceling" by Kristin Cashore. In a world where specific individuals are born with extraordinary abilities, Katsa, a young princess, possesses the skill of killing. As she struggles with the treacherous world of court politics, she finds herself drawn to a prince from a rival kingdom. Together, they must uncover a dark secret that threatens the peace of their realms.
If you're a fan of historical fiction, then "The Other Boleyn Girl" by Philippa Gregory is a must-read. This gripping novel chronicles the lives of the Boleyn sisters, Mary and Anne, as they become entangled in a dangerous love triangle with King Henry VIII. Filled with political intrigue, betrayal, and forbidden passion, this book will transport you to the scandalous court of Tudor England.
Historical Royalty Romance Books
If you're a history buff who loves romance, then historical royalty romance books are the perfect choice. These novels transport you to different periods and allow you to experience the love stories of kings and queens from the past. One such book is "The Queen's Fool" by Philippa Gregory. Set during the reign of Queen Mary I, this novel follows the story of a young girl who becomes a pawn in the political games of the Tudor court.
Another historical royalty romance that will sweep you off your feet is "The Bronze Horseman" by Paullina Simons. Set against the backdrop of World War II, this epic love story follows the journey of a young Russian woman who falls in love with a soldier from the enemy camp. Filled with passion, heartache, and the horrors of war, this book is a must-read for historical romance fans.
For those who prefer a lighter read, "The Royal Diaries" series is perfect. Each book in the series is written as the diary of a different royal princess from history, allowing readers to step into the shoes of these young women and experience their lives and loves firsthand. From Cleopatra of Egypt to Elizabeth I of England, these books are a delightful blend of history and romance.
5 Fantasy Royal Romance Books
Fantasy royal romance books uniquely blend magic, adventure, and love. These books transport you to fantastical worlds filled with mythical creatures, epic quests, and of course, royal romance. One book that perfectly embodies this genre is "Throne of Glass" by Sarah J. Maas. This thrilling series follows the journey of an assassin as she competes to become the champion of a tyrannical king. She finds herself caught in a web of intrigue and romance along the way.
If you're a fan of fairy tales, then "Cinder" by Marissa Meyer is a must-read. This futuristic retelling of Cinderella features a cyborg mechanic who catches the eye of the prince. But as their love blossoms, she discovers a dark secret that threatens to tear them apart. This book is a fresh take on a classic tale filled with action, romance, and a dash of steampunk.
For those who love a good enemies-to-lovers romance, "The Cruel Prince" by Holly Black is the perfect choice. This dark and enchanting book follows the story of a mortal girl forced to live among the faeries, including the wickedly handsome prince. As she goes through the treacherous world of the fae, she finds herself drawn to the prince in ways she never expected.
Steamy Royal Romance Novels
If you're looking for a royal romance that will make your heart race and your cheeks flush, then steamy royal romance novels are for you. These books are filled with passion, desire, and steamy scenes. One such book is "A Court of Thorns and Roses" by Sarah J. Maas. This intoxicating series follows the story of a young woman who is taken captive by a powerful faerie lord. As she uncovers the secrets of his world, she falls in love with him despite the dangers that lurk at every turn.
"The Duke and I" by Julia Quinn is a must-read for a steamy royal romance with a historical twist. Set in Regency England, this book tells the story of a young woman who enters into a fake engagement with a duke to avoid the marriage market. But as their charade turns into something more, they must face their feelings and the scandalous secrets of the aristocracy.
Another steamy royal romance that will leave you breathless is "The Kingmaker" by Kennedy Ryan. This emotionally charged novel follows the story of a powerful king who falls for a woman from a rival kingdom. They must fight for their love against all odds.
Why We Love Royalty Romance: Readers' Perspectives
Royal romance has a special place in the hearts of readers worldwide. But what is it about this genre that makes it so irresistible? I reached out to some avid readers to get their perspectives on why they love royalty romance.
"I love royalty romance because it allows me to escape into a world of opulence and grandeur. There's something magical about the idea of falling in love with a prince or princess and living a life of luxury."

Jane, a 28-year-old reader from London
"I'm drawn to royalty romance because it often explores themes of power, duty, and sacrifice. It's fascinating to see how love can conquer all, even in the face of political intrigue and societal expectations."

Sarah, a 32-year-old reader from New York
"For me, royalty romance is all about the forbidden love aspect. There's something thrilling about the idea of star-crossed lovers from different worlds coming together against all odds."

David, a 35-year-old reader from Sydney
Conclusion: The Everlasting Charm of Royalty Romance
In conclusion, royalty romance is a genre that continues to captivate readers with its tales of love, power, and forbidden passion. Whether you're into modern, historical, or fantasy settings, a book on this list will transport you to a world of kings and queens, princes and princesses. From modern classics like "The Royal We" to steamy novels like "A Court of Thorns and Roses," the options are endless.
So, grab a cup of tea, find a cozy spot, and lose yourself in the enchanting world of royalty romance. It's a genre that will make your heart race and cheeks flush, leaving you yearning for more. Happy reading!
---
Read More Similar Books:
20 Best Steamy Historical Romance Novels
15 Historical Romance Books Of All Time
Writing Tip: 15 Tips To Write Regency Romance