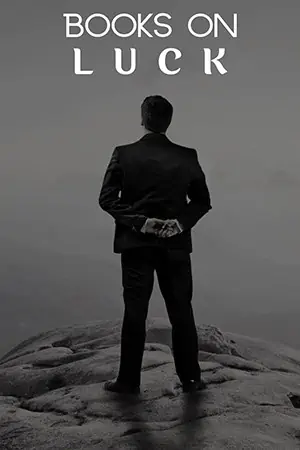 Luck is not an emotion, and it is a probability. Because of this, the idea of luck philosophically is far beyond our control. This probability that we consider luck is known as cause and effect. Existence, life, the way we live, the way we are raised, the things we do, and the things that occur on this planet are all cause and effect. It is part of the chaos theory.
Have you ever won something when you didn't expect to? Maybe you've been in a situation where you dropped your phone and caught up with your foot or other things that seem unlikely. Then we tend to describe it as lucky. Yet when we drop our phone, we call that being unlucky.
What does all this mean when odd things happen? Is it luck, or is there something else in control of these situations and control these occurrences? Does luck even exist at all? Let's find out luck by books.
5 Books About Luck
When we define luck conventionally, we attribute it to fortune as an occurrence in our favor. Lucky things happen, unlucky things happen, and we tend to accept this. By considering good and bad luck occurrences, we tend to view them as personality traits.
We can see this with how we describe some people as lucky or some as unlucky, except that the real essence of luck is not what we think. Many authors believe in luck, and many reject it. I will review my favorite 5 books about luck. Let's discover your luck by reading them.
| Name | Key Focus | Reviews (Goodreads) |
| --- | --- | --- |
| The Luck Factor | The author focuses on some principles of psychological trees to unlock luck. | 3.8 |
| Thirteen Steps to Bloody Good Luck | The book breaks down the myth about luck and helps to make luck by following 13 steps. | 3.8 |
| Success and Luck | The author describes 3 principles of a lucky person. | 3.6 |
| Great by Choice | A book of research on several companies to become an effective leader. | 4.0 |
| Hard Luck | A boy is trying to change his luck in many circumstances. | 4.2 |
Books About Luck
1. The Luck Factor: Changing Your Luck, Changing Your Life – The Four Essential Principles
The general idea behind this book is that luck is not some random event that happens to some people and not to others. Luck is a psychological construct. That's something that we do have a certain amount of influence over. Most people believe that luck is something we don't have any control over. But author Richard Wiseman disagrees with that.
Richard believes that luck has some principles or certain psychological trees. You can become a much more lucky person by understanding these principles and using specific techniques. Principle number one is about maximizing chance opportunities.
So this is the idea that lucky people have more opportunities, but they're also very good at seizing those opportunities.
The book is efficient. Each of the different principles has a range of very simple exercises you can practice immediately. There are some case studies, and then it's mixed with techniques and exercises. So it's a very balanced book, making it accessible to know more about luck.
Author: Richard Wiseman
Publisher: Miramax Books
Average Customer Review: (4.2 out of 5, on Amazon)
Tropes: Self-Help, Leadership, Entrepreneurship, Philosophy, Spirituality, Science
Number Of Pages: 238
Item Weight: 8 ounces
Dimensions: 5.75 x 0.5 x 9 inches
Available: Audiobook | Paperback | Kindle | Audio CD
---
2. Thirteen Steps to Bloody Good Luck
The book tries to tell us that luck is not a superficial thing and is not predetermined. Some people are born lucky! The author tries to know that this is a wrong notion, and it tries to tell people that you can get lucky through your actions. Luck has got a bad rap due to superstitions associated with superstitions. But it is possible that you can get lucky by working towards it.
I particularly love this book because it tells us the difference between the people we think got lucky and us. We see a lot of people around us who are successful. What was the difference between their approach to life and your life? Which led them to success?
The author tells 13 things that successful people do differently or not successful people do, which ordinary people who are not successful do not. The best thing is that these points are backed by reason and logic.
Often, we come across motivational quotes that inspire us, but it does not have a strong reason to support them. As a famous self-help book, it gives you 13 things that you can do to attract your luck. Also, you can learn about the logic behind that and why you should be doing that. Overall, you'll get a clear vision about luck that can remove your superstation and make you self-confident.
Author: Ashwin Sanghi
Publisher: Westland
Average Customer Review: (4.1 out of 5, on Amazon)
Tropes: Success, Motivation, Personal Development, Management
Number Of Pages: 184
Item Weight: 4.6 ounces
Dimensions: 5.08 x 0.46 x 7.8 inches
Available: Paperback | Mass Market Paperback
---
3. Success and Luck: Good Fortune and the Myth of Meritocracy
This book was published on 19th April 2006. Author Frank discusses how vital the role of luck is in someone's successful career. He uses examples from many successful people, businesses, and brands with some experience to justify his points.
So it is essential as it shows that success in careers comes from hard work, but it also depends on luck. Therefore, people need to be more grateful for what they have and if they're lucky enough to succeed.
There are three central ideas that I would like to highlight from this book. The first one is The Winner Takes All. Interestingly, Frank explained this idea a lot in this book, and he had written a book about this in 1995. The examples of this theory are people who have similar skills and put the similar effort in a workplace can have a huge salary gap.
The second idea that I want to highlight is to pay taxes. According to Frank, people who resist paying taxes are people who do not acknowledge the role of luck in their success. So the government can invest the money from tax for better infrastructure and technology. As an improvement, successful people tend to have more responsibility.
You might be lucky when you take some opportunities, but you don't know. So for the third one, learn from your failure and be successful. After you take the possibilities, if you fail, that's okay. But you need to learn from the failure and try to be successful. Overall, the book is illuminating, even if it fails some steam towards the end.
Author: Robert H. Frank
Publisher: Princeton University Press
Average Customer Review: (4.0 out of 5, on Amazon)
Tropes: Political Science, Politics, Psychology, Philosophy
Number Of Pages: 200
Available: Audiobook | Paperback | Hardcover | Kindle | Audio CD
---
4. Great by Choice: Uncertainty, Chaos, and Luck
Author James Collins has over 25 years of experience in leadership. He had authored two previous books before Grape by Choice. Another author, Morten Hansen, is a management professor at the University of California and the Center for Corporate Transformation founder.
The book's purpose is to show the principles of what it takes to build a great enterprise in a time of uncertainty. It focuses on leadership in extreme environments, luck, and what separates them from other companies.
This book is written for those looking to build a lasting enterprise. The authors conducted extensive research on several companies that they call 10X. They did achieve their objectives by giving specific examples of the companies they researched and information about their stock and profit growth.
I would recommend this book to those who want to know how to become effective leaders and different leadership styles. The paperback is not good enough in quality, but the hardcover is best for color combination, font size, and cover.
Author/Narrator: Jim Collins
Publisher: HarperAudio
Average Customer Review: (4.6 out of 5, on Amazon)
Tropes: Entrepreneurship, Personal Development, Business, Economics
Number Of Pages: 183
Available: Audiobook | Hardcover | Kindle | Audio CD
---
5. Hard Luck
Hard Luck is the eighth book in the Diary of a Wimpy Kid series. The USA Today, Publishers Weekly, Wall Street Journal, and number-one New York Times have labeled this a best seller. We follow Greg Heffley, who finds new friends in middle school, proving a challenging task to change his fortunes. He decides to leap of faith and turn his decisions over to chance.
Is Greg's life destined to be another hard-luck story? In this book, we get a picture of Greg using an umbrella to avoid the magic eight-ball storm. You get an orange cover and a little belt drawing when you open the book, which is an essential part of the story. I would recommend it to all gendered pre-teens and teenagers.
Author: Jeff Kinney
Narrator: Ramon De Ocampo
Publisher: Recorded Books
Average Customer Review: (4.8 out of 5, on Amazon)
Tropes: Comics & Graphic Novels, Comedy
Number Of Pages: 217
Available: Audiobook | Paperback | Hardcover | Kindle | Mass Market Paperback
---
Read more similar books:
7 Self-help Books Like Can't Hurt Me
5 Self-help Books Like The Four Agreements