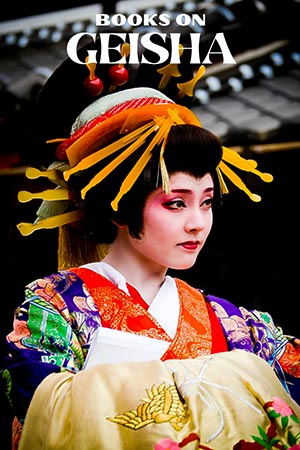 Geisha are traditional Japanese female entertainers skilled in various forms of Japanese art, such as classical music, dance, games, and conversation. The term "geisha" literally means "person of the arts" or "artist." Geisha are known for their distinctive appearance, including wearing elaborate kimonos, applying white makeup on their faces, and styling their hair in intricate hairstyles adorned with decorative hairpieces. Becoming a Geisha takes a lot of training.
Books about Geisha allow you to gain a deeper understanding of their traditions, customs, and the historical context in which they exist. By exploring their lives and experiences, you can appreciate the rich cultural heritage that Geisha embody.
5 Books About Geisha (Memoirs)
Geishas have a story of a girl called Chiyo, who decided to tell her stories before she passed away. She shared her memories, stories, and whole life when she was a geisha and how she was raised. So these struggles will also encourage you.
You used a few words to help her through these challenging times, or that sometimes we get through adversity only by imagining what the world would be like if our dreams were. I will discuss five books about Geisha to learn more about her life. Let's go!
1. Memoirs of a Geisha
Memoirs of a Geisha is a flashback story of a woman who works as a geisha in Japan. She gets her struggles from her childhood. She attained what she had learned from five years old till her age. The book has a heavily twisted romantic subplot. It is the story of an impoverished girl whose mother dies, and her elderly father sells her and her sister into prostitution.
The sister is pretty plain, and she gets the short end of the stick when she gets kicked over to the common whorehouse. These are the girls from the Tanaka sisters. The protagonist, Chiyo, has a very striking and unique eye color. It gets her in the door to become a geisha.
Chiyo gets the opportunity to spend many years studying to become a geisha. Through her eyes, the book explores the Japanese culture surrounding the Geisha. It also describes its ramifications and how that is supported within society. They're treated because they are highly respected as Geisha within their society. At the same time, their individuality and individual personhood are not respected. We do not become Geisha to pursue our destinies.
The Geisha are somewhat expected to be interchangeable, although there is a hierarchy of Geisha, as it were, and they figure that out on their own. It's an exciting way that this little subculture figures itself out and its own rules. This book has a lot of controversies because it was written by an American who had done a lot of research into Japanese culture. The main point for that he overemphasized some things or under-emphasized other things. It is one of the best books about Geisha I have ever read.
Author: Arthur Golden
Average Rating: 4.7/5
Category: Biographical Literary Fiction, Japanese Historical Fiction
Available: Audiobook | Paperback | Hardcover | Kindle
2. Geisha of Gion: The True Story of Japan's Foremost Geisha
Geisha of Gion is a true story of a Geisha who was chosen. She was three years old to become the heir as the proprietor of a formal geisha house. It's about her experience of growing up in that environment and the Geisha house. It dispels a lot of the myths of the Geisha. The dresses for the Geisha are always men.
They will ensure perfect attention to detail regarding their clothing, makeup, hairstyle, ability to converse with almost anyone, and hospitality. The book does a good job and shows the rigorous training of Michael as a young geisha.
The book has a couple of comments because it deals with her early life. But it was Monica's childhood, from three years old onwards and growing up, and that was fine. She recounts conversations in great detail that she was supposed to have had when she was three.
She seemed to put it across in the book that she remembered. It was certainly incredible the amount of detail she remembered from such an early age. There were some very good parts of the book about the whole lifestyle of Japanese culture that ended up being brilliant.
Author: Mineko Iwasaki
Average Rating: 4.5/5
Category: Asian & Asian Americans Biographies, Memoirs
Available: Paperback | Hardcover
3. Geisha, a Life
Geisha A Life is a historical novel and the first-person perspective about a fictional Geisha living in Kyoto, Japan, before, during, and after World War Two. Her name is Chiyo. She will later be known as Sayuri from Austria when she was around nine years old, living with her family in a poor little house by the sea in this fishing village. She is unusual because, unlike everyone else, she knows she has blue-gray eyes. So because of that and other reasons, she is sold to a geisha house in Kyoto, and when she gets there, she has difficulty adjusting to her new life.
One of her troubles is a famous geisha who lives in the same house called Hard to Momo. She delights in nurturing cheer because she recognizes her future rival. One day she is sad, and she meets this man in the street who is nice to her, and these firms have a strong infatuation for this man that she will develop through the years. Also, she promises to become a successful geisha, nurturing his heart one day.
Over the years, she will work hard to get the man she wants, but many obstacles will stand in her way. Among them, Geisha is supposed to love, and many men also want Chiyo, now called Sayuri animals. This World War breaks out, so now everyone's lives are in danger. Toward the end of the novel, we glimpse what it was like to have American soldiers occupying Japan after the war. The book has a simple vocabulary but a very poetic style.
Author: Mineko Iwasaki
Average Rating: 4.6/5
Category: Biographies of Celebrities & Entertainment Professionals
Available: Audiobook | Paperback | Hardcover | Kindle
4. Geisha: Beyond the Painted Smile by Peabody Essex Museum
Geisha is a beautifully illustrated book that accompanies an exhibition. The stunning photographs, insightful essays, and historical context make it an exciting read. It showcases the craftsmanship in creating geisha attire, the intricacies of their performances, and the symbolism of their makeup and accessories. The book also focuses on the artistic pursuits of Geisha, including dance, music, and the tea ceremony. It serves as a comprehensive visual guide, offering readers a deeper appreciation for the artistry and grace of Geisha.
5. The Life of a Geisha by Eleanor Underwood
This well-researched and comprehensive exploration of geisha culture provides readers with a holistic understanding, covering their historical origins, training process, performances, and significance in Japanese society. Underwood's writing is informative and accessible, making it an ideal choice for those seeking an introduction to Geisha. The Life of a Geisha is accompanied by many photographs and illustrations that enhance the reading experience.
---
These books explore Geisha's lives and shed light on the broader historical and social contexts in which they operate. They touch on topics such as the impact of war, shifting societal norms, and the challenges Geisha faces as their profession adapts to modern times. This historical and social backdrop adds depth and relevance to the stories.
More Cultural Books:
Cultural Anthropology Books About Hippies
Japanese Literature Books Like No Longer Human