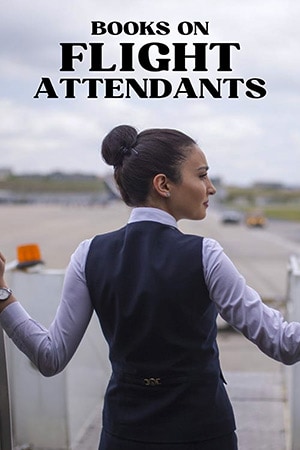 The training to become a flight attendant Airline can be very intense, and at times, it can be very challenging. It is an exciting lifestyle. You get to travel across the country every single week.
The flight attendants are also known as cabin crew or air hostesses. They maintain all flight passengers and make travel easy and safe. If you want to read books about flight attendants, stay with me.
5 Books About Flight Attendants (Travel & Aviation)
There are many books and movies based on flight attendants. You will find them in romantic, comedy, and fiction novels. Here I am going to review 5 books about flight attendants. Let's fly!
1. The Flight Attendant
This book is about a flight attendant who is a party girl. She loves to fly drunk and have casual hookups with people she meets when she's traveling. In this particular case, when she's flying to Dubai, she goes home with the wrong man. When she wakes up in the morning, he's dead in bed next to her.
She has no idea what happened because she was drunk. She doesn't think she killed him, but she can't completely rule it out. In Dubai, you can get arrested for sleeping with someone not your husband. So she essentially flees, and the rest of the book is trying to find out if she will get pinned for this murder. Is she going to get arrested? If she didn't do it, who did? If you enjoy literary fiction with thrillers, you will enjoy this one.
Author: Chris Bohjalian
Average Customer Review: (4.2 out of 5, on Amazon)
Category: Mystery, Thriller & Suspense
Available: Audiobook | Paperback | Hardcover | Kindle | MP3 CD
---
2. Mile High
This is the second book in the sequel of Up In The Air by RK Lily. Bianca was in the hospital, and she was actively trying to push James away and skips a couple of weeks to where she's not working again. She is still distant from James, and he tries to contact her all the time. Bianca starts to overcome some of her old demons and fears, and she is willingly submissive on a different level than before.
So we get to see where the relationship goes and how each of their past plays into their relationship. Mr. Cavendish is a very persuasive man and very persuasive. He spent a lot of time on the fourth floor. Bianca deals with his exes in this book, but he isn't with his heart. It is one of the best books about flight attendants I have ever read.
Author: R.K. Lilley
Average Customer Review: (4.5 out of 5, on Amazon)
Category: Romantic Erotica
Available: Audiobook | Paperback | Kindle
---
3. Come Fly the World: The Jet-Age Story of the Women of Pan Am
Julia Cook has interviewed several former Pan Am flight attendants, and she's taken their stories and woven them into a story of America and the nineteen sixties. So we get stories about their flights, their adventures, the Pan Am school, and the things these women all the hoops they had to jump through to become a Pan Am stewardesses. It allowed them a sense of independence that not many women could have at the time.
So this was an incredible thing for many people. We also find out how Pan Am is connected with Vietnam, all of the different flights they were doing for the military, and other things happening in America at the same time. So if you like history, Pan Am, or flight, you will love this one.
Author: Julia Cooke
Average Customer Review: (4.2 out of 5, on Amazon)
Category: Transportation Industry, Aviation History
Available: Audiobook | Paperback | Hardcover | Kindle | MP3 CD
---
4. Playboy Pilot
Carter is the most adorable and hot boyfriend. Kendall Sparks is our heroine. She's twenty-five years old, and she's found herself in a bit of a pickle. She's going to lose her entire lifestyle. Her alcoholic mother will lose everything as well, so she's got not only her life but her mother's life in the palm of her hands. Also, she's trying to figure out what to do, and she finds a loophole.
In the airport bar, she meets Carter Clynes, and he immediately gives her the name perky because she's not wearing a bra. Then before he walks away, he says, if you don't choose, Brazil has a wonderful life. This piques Kendall's interest, so she ends up taking that flight. Carter is the pilot. Once they get off the airplane, Carter convinces Kendall to let him be her tour guide. While she's in Brazil, they're only there for a couple of days.
Kendall still has no idea what she's doing. She wants to kick back and relax and show her hottie pilot. They begin to connect over a couple of days in Brazil. Kendall starts to see that there's so much more to Carter than the man, her playboy pilot. But Kendall is still very closed off. She has a lot on her mind, and she doesn't want to get involved in any with anybody.
They end up sharing the stories of their lives. They're not ready for the trip to Brazil to be over yet, so they hang out for a bit longer and go on a couple of other trips. There's a lot of dialogue involved there, and especially Penelope is amazing in terms of dialogue.
Author: Penelope Ward
Average Customer Review: (4.6 out of 5, on Amazon)
Category: Contemporary Romance Fiction
Available: Audiobook | Paperback | Hardcover | Kindle | Audio CD
---
5. Shadows in Flight
It is a very popular science fiction novel. The first three in the series were made into a movie starring Harrison Ford. The story is about one of the major characters from Ender's Game, and he has fled Earth on a ship traveling at near-light speeds.
The reason he's done this is that he's a gene-engineered child, and he's exceedingly intelligent. But part of the problem with the genetic engineering that they did on him is they gave him gigantism, and he is dying in and of itself. That's tragic enough. It turns out that he has three children, six years old, who had the same problem.
They're brilliant kids, but he knows that they will suffer from gigantism and die at around the age of twenty-three. So what he's decided to do is travel at near light speed. So as time on Earth travels to four or five generations of scientists who he's paying to try to solve this disease for his kids, he's traveling at the light near light speed, and therefore his time is slower. That's the relative idea of time.
However, they have not solved the genetic issue back on Earth, and he knows that he's dying, so something has to give. That's the basic plot of the story. Now what happens is that they find a derelict, multigenerational formic colony ship, so the form of grace with the race that they were fighting in Ender's Game.
Author: Orson Scott Card
Average Customer Review: (4.1 out of 5, on Amazon)
Category: Space Opera Science Fiction
Available: Audiobook | Mass Market Paperback | Hardcover | Kindle
---
More Travel Books: 5 Books Similar To My Side Of The Mountain