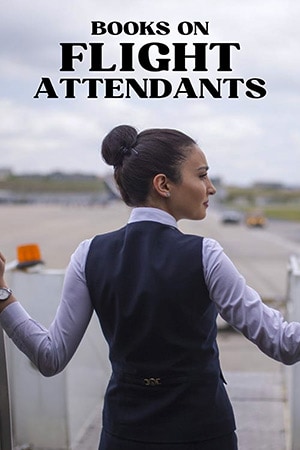 Flight attendants, also known as cabin crew or air hostesses/hosts responsible for ensuring passengers' safety, comfort, and well-being during flights. They work on commercial airlines and play a vital role in the aviation industry. The training to become a flight attendant Airline can be very intense, and at times, it can be very challenging. It is an exciting lifestyle. You get to travel across the country every single week.
The flight attendants are also known as cabin crew or air hostesses. They maintain all flight passengers and make travel easy and safe. Books about flight attendants offer a unique behind-the-scenes look into the aviation industry. They provide insights into the experiences, challenges, and daily lives of those working in this profession, giving you a glimpse into a world typically unseen by passengers.
10 Books About Flight Attendants (Travel & Aviation)
There are many books and movies based on flight attendants. You will find them in romantic, comedy, and fiction novels. Here I am going to talk about ten books about flight attendants. They offer romance, passion, and the challenges that arise when love intersects with the demands of an aviation career. Let's fly!
1. The Flight Attendant
The Flight Attendant is a mystery novel about a flight attendant who is a party girl. She loves to fly drunk and have casual hookups with people she meets while traveling. In this case, when she's flying to Dubai, she goes home with the wrong man. When she wakes up, he's dead in bed next to her.
She has no idea what happened because she was drunk. She doesn't think she killed him, but she can't completely rule it out. In Dubai, you can get arrested for sleeping with someone, not your husband. So she flees, and the rest of the book tries to find out if she will get pinned for this murder. Is she going to get arrested? If she didn't do it, who did? If you enjoy literary fiction with thrillers, you will enjoy this one.
Author: Chris Bohjalian
Average Rating: 4.2/5
Category: Mystery, Thriller & Suspense
Available: Audiobook | Paperback | Hardcover | Kindle | MP3 CD
2. Mile High
Mile High is the second book in the sequel of Up In The Air by RK Lily. Bianca was in the hospital, actively trying to push James away, and skipped a couple of weeks to where she was not working again. She is still distant from James, and he always tries to contact her. Bianca starts to overcome some of her old demons and fears, and she is willingly submissive on a different level than before.
So we get to see where the relationship goes and how each of their past plays into their relationship. Mr. Cavendish is a very persuasive man and very compelling. He spent a lot of time on the fourth floor. In this book, Bianca deals with his exes, but he isn't with his heart. It is one of the best books about flight attendants ever.
Author: R.K. Lilley
Average Rating: 4.5/5
Category: Romantic Erotica
Available: Audiobook | Paperback | Kindle
3. Come Fly the World: The Jet-Age Story of the Women of Pan Am
Come Fly the World explores the experiences and sheds light on an era when air travel symbolized excitement and freedom. Julia Cook has interviewed several former Pan Am flight attendants, and she's taken their stories and woven them into a story of America and the nineteen sixties.
So we get stories about their flights, their adventures, the Pan Am school, and the things these women all the hoops they had to jump through to become Pan Am stewardesses. It gave them a sense of independence that not many women could have.
So this was an incredible thing for many people. We also find out how Pan Am is connected with Vietnam, the different flights they were doing for the military, and other things happening in America simultaneously. So if you like history, Pan Am, or flight, you will love this one.
Author: Julia Cooke
Average Rating: 4.2/5
Category: Transportation Industry, Aviation History
Available: Audiobook | Paperback | Hardcover | Kindle | MP3 CD
4. Playboy Pilot
Playboy Pilot is a steamy, emotionally charged romance novel combining travel, adventure, and self-discovery. Carter is the most adorable and hot boyfriend. Kendall Sparks is our heroine. She's twenty-five years old and found herself in a bit of a pickle. She's going to lose her entire lifestyle. Her alcoholic mother will lose everything as well, so she's got her life and her mother's life in the palm of her hands. Also, she's trying to figure out what to do, and she finds a loophole.
In the airport bar, she meets Carter Clynes, and he immediately gives her the name Perky because she's not wearing a bra. Then before he walks away, he says, if you don't choose, Brazil has a beautiful life. This piques Kendall's interest, so she ends up taking that flight. Carter is the pilot. Once they get off the airplane, Carter convinces Kendall to let him be her tour guide. While she's in Brazil, they're only there for a few days.
Kendall still has no idea what she's doing. She wants to kick back and relax and show her hottie pilot. They begin to connect over a couple of days in Brazil. Kendall starts to see that there's so much more to Carter than the man, her playboy pilot. But Kendall is still very closed off. She has a lot on her mind and doesn't want to get involved with anybody.
They share the stories of their lives. They're not ready for the trip to Brazil to be over yet, so they hang out for a bit longer and go on a couple of other trips. There's a lot of dialogue involved there, and especially Penelope is excellent in terms of dialogue.
Author: Penelope Ward
Average Rating: 4.6/5
Category: Contemporary Romance Fiction
Available: Audiobook | Paperback | Hardcover | Kindle | Audio CD
5. Shadows in Flight
Shadows in Flight is a very popular science fiction novel. The first three in the series were made into a movie starring Harrison Ford. The story is about one of the significant characters from Ender's Game, and he has fled Earth on a ship traveling at near-light speeds.
The reason he's done this is that he's a gene-engineered child, and he's exceedingly intelligent. But part of the problem with the genetic engineering they did on him is that they gave him gigantism, and he is dying in and of itself. That's tragic enough. It turns out that he has three children, six years old, who had the same problem.
They're brilliant kids, but he knows they will suffer from gigantism and die at around twenty-three. So what he's decided to do is travel at near-light speed. So as time on Earth travels to four or five generations of scientists who he's paying to try to solve this disease for his kids, he's traveling at light near light speed, and therefore his time is slower. That's the relative idea of time.
However, they have not solved the genetic issue back on Earth, and he knows that he's dying, so something has to give. That's the basic plot of the story. Now, they find a derelict, multigenerational formic colony ship, so the form of grace with the race that they were fighting in Ender's Game.
Author: Orson Scott Card
Average Rating: 4.1/5
Category: Space Opera Science Fiction
Available: Audiobook | Mass Market Paperback | Hardcover | Kindle
6. The Jetsetters by Amanda Eyre Ward
This novel follows a retired schoolteacher turned aspiring flight attendant. She goes on a Mediterranean cruise with her adult children, and old secrets resurface, leading to personal revelations and family reconciliation.
7. Coffee, Tea, or Me? By Trudy Baker and Rachel Jones
This memoir, published in the 1960s, offers a lighthearted and humorous story of the author's experiences as a flight attendant during the golden age of air travel. It provides insights into the glamorous and exciting aspects of the profession.
8. The Airline Chronicles by Jerry Lawler
This book focuses on the author's experiences as a flight attendant, providing an entertaining and humorous look into the daily life, challenges, and unexpected situations encountered in the aviation industry.
9. Diary of a Pissed-Off Flight Attendant by Sydney Pearl
This book offers a behind-the-scenes glimpse into the highs and lows of the profession. It includes humorous anecdotes, passenger stories, and the author's personal experiences.
10. Skyfaring: A Journey with a Pilot by Mark Vanhoenacker
This book provides a captivating exploration of the aviation industry from a pilot's perspective. It focuses on the awe-inspiring aspects of flying and the unique experiences shared by those who work in the skies.
Romance Books About Flight Attendants
Mile High by R.K. Lilley: This steamy romance novel follows the story of flight attendant Bianca Karlsson and billionaire hotel owner James Cavendish. Their intense connection leads to a passionate affair, but they face the challenges of their different lifestyles.
Flight Patterns by Karen White: This contemporary romance novel features a successful businesswoman and former flight attendant. She returns to her Southern hometown to help her eccentric mother. She reconnects with her childhood friend and airline pilot, who holds a deep secret.
Love Unscripted by Tina Reber: This romance novel features Ryan Christensen (movie star) and Taryn Mitchell (flight attendant). Their paths cross when Ryan's private jet requires the services of Taryn's airline, leading to a love story filled with obstacles and intense emotions.
Fiction Books About Flight Attendants
Pan Am at War by Robert Gandt: This historical fiction novel, set during World War II, focuses on the lives of flight attendants working for Pan American Airways. It explores their war experiences, dedication to their work, and challenges they face in a turbulent time.
The Air You Breathe by Frances de Pontes Peebles: This novel tells the story of a poor Brazilian girl who becomes a singer and her lifelong friendship with a flight attendant. Their bond takes them from poverty to fame, exploring themes of ambition, love, and the power of music.
Glamour by Kaye Ballard: In this romantic comedy, a flight attendant takes on the role of a secret matchmaker, orchestrating romantic encounters among her colleagues. However, her love life becomes complicated when she falls for a pilot who seems oblivious to her feelings.
Fly Me by Daniel Riley: This coming-of-age novel follows a flight attendant for a fledgling airline in California. The book explores the hedonistic lifestyle of the era, love, drugs, and the challenges of her unconventional career.
---
These books offer entertainment, cultural exploration, and insight into the lives of those working in the aviation industry. It allows you to experience their journeys, emotions, and personal growth, creating an engaging and immersive reading experience.
More Travel Books:
Books Similar To My Side Of The Mountain
Adventure Books Like Into Thin Air