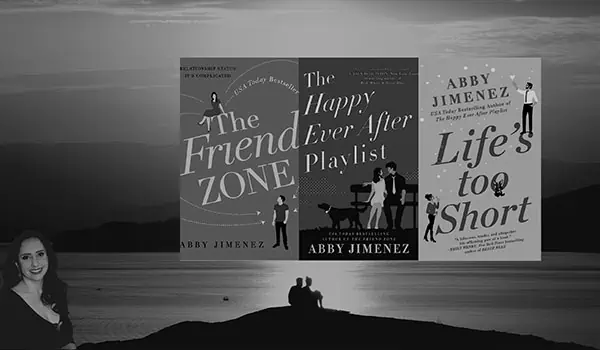 Abby Jimenez is a USA Today bestselling contemporary romance author from Minnesota, USA. Her debut novel, "The Friend Zone," was a Goodreads Choice Award finalist in the Romance category. She has since published several bestselling romance novels, including "The Happy Ever After Playlist" and "Life's Too Short." Her writing features emotionally complex and humorous stories that deal with grief, family, and self-discovery. If you are waiting for Abby Jimenez books in order, then follow me!
Abby Jimenez Books In Order (Reading Guide)
While Abby Jimenez's books are connected, they can be read as standalone novels. However, if you prefer to read them in order, you can start with "The Friend Zone," followed by "The Happy Ever After Playlist," and then "Life's Too Short." Each book features different main characters and their individual love stories, but some supporting characters appear in each book. Ultimately, whether to read them in order or not is up to personal preference.
Here is the order of Abby Jimenez's books and series:
The Friend Zone series:
The Friend Zone (2019).
The Happy Ever After Playlist (2020).
Life's Too Short (2021).
Standalone novels:
Part of Your World (2022).
Yours Truly (2023).
Checkout my list: Abby Jimenez Books List
1. The Friend Zone
This touching and emotional romance novel tells the story of a woman named Kristin. She has sworn off love after experiencing heartbreak but falls for a man named Josh, who is dealing with his struggles. The book is a great opener of the series and has an outstanding balance of humor, romance, and heart-wrenching moments.
2. The Happy Ever After Playlist
This book focuses on the relationship between a woman named Sloan and a musician named Jason. After finding his lost dog, Sloan begins to exchange messages with Jason, and the two begin to form a bond that turns into a romance. The book is full of playful banter and steamy and tender moments that will leave readers feeling warm and fuzzy.
3. Life's Too Short
This book tells the story of a woman named Vanessa who has been diagnosed with a terminal illness. Vanessa decides to live life to the fullest and takes a chance on love with a man named Adrian while also repairing her relationship with her estranged sister. The book deals with heavy themes like grief, loss, and mortality but also has moments of humor and lightness that make it a compelling read.
4. Part of Your World
The story is about Alexis Montgomery, who is expected to carry on her family's legacy of being a renowned surgeon. But her brother Derek bails out, leaving her as the only choice. Her parents want her to marry the head of surgery, Neil, have the right friends and fulfill her destiny, but she doesn't want any of it. One night, after a car accident, she meets Daniel Grant, who is very different from her but with whom she has undeniable chemistry.
The story is told from alternating perspectives of Alexis and Daniel, and with the help of her friend Bri, Alexis questions if she dares to live on her terms. After reading The Friend Zone series, you will enjoy this book too!
5. Yours Truly
The story follows Briana Ortiz, an ER physician soon to be divorced and dealing with her brother's end-stage renal disease. She meets Jacob Maddox, another ER physician with social anxiety. Both have had past relationship issues, and the story digs into their struggles and how they face their growing relationship. The book includes details such as letters, getting-to-know questions, and their families, which I enjoyed most.
---
Abby Jimenez's books deal with heavy themes such as grief, loss, infertility, and illness while balancing them with heartwarming moments, humor, and steamy romance. Ultimately, you should read them if you are looking for an emotionally compelling romance novel that will satisfy and uplift you.
Read more similar:
Christina Lauren Books In Order