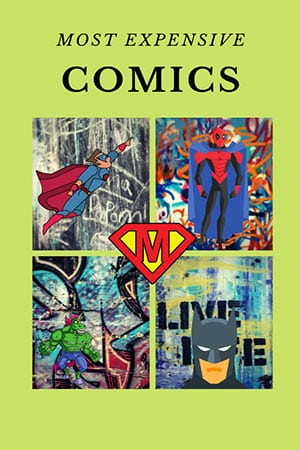 Comic books, in general, are described in as simple as two words, sequential art. Sequential art is a series of images that tell a story, particularly in this case, something that's been illustrated. The first sequential art series could be traced to cave paintings where hunters told the glorious stories of their fantastic conquests.
However, comic books started with Action Comics number one in 1938 with the introduction of Superman as a character. This was the golden age of comic books. So if you refer to comic books of various ages, this is the beginning. It is what is considered the genesis of what we consider comic books today.
The generation of the Marvel Universe gave the comic book industry a shot in the arm that is greatly needed. Comic book-based movies have become the highest Box-Office earners. If you want to read the most expensive comic books in the world, follow me.
20 Most Expensive Comic Books In The World
We're going to take a look at the three most expensive comic books ever sold. It's a bit of a shock, even for a comic book lover such as myself. The comic book collection, which is big business and the rare comic books in mint condition, is worth millions. So let's find out the highest valued comic books in history.
1. Action Comics
If you're a true comic book lover, the comic that has landed in our number one most expensive spot shouldn't come as too much shock. A 9.0-grade copy of Action sold through eBay of all places, by Darren Adams, owner of Pristine Comics, for a whopping $3,207,852! No individual comic book sale has even come close to this one. You could buy a private island, a private jet, or a mansion for that price.
This copy is the first to cross the 3 million dollar mark. It's been on quite a journey to sell for that price, purchased originally from a newsstand in 1938 for what would be the equivalent of 2 dollars today. It was first printed in 1938 with a limited 200,000 copies, sporting a cover price of just 10¢, compiles a telling of multiple stories.
Why pick any of those when you could purchase the first introduction of Superman in near Mint Condition? Action Comics number one is widely regarded as the story that started the superhero genre. What a way to begin. It is currently believed that only 50 to 100 original copies exist today. That means those who have managed to hold onto a copy are sitting on a goldmine. At the same time, four of the copies have sold for over one million.
---
2. Amazing fantasy
Amazing Fantasy, written and penciled by Stan Lee, and Jack Kirby in 1962, introduced us to the ever-popular Spider-Man. Its issue number 15, coming in at a whopping 1.1 million dollars released in June 1962. This comic marks the introduction of Spider-Man and many other familiar faces, seeing as how he's become such a staple in the Marvel Universe.
A 9.6 graded copy of it would be sold through CommicConnec, then became the largest sale of a comic book, a deal worth a spectacular $1,100,000. This near-pristine copy is the "Silver Age equivalent of the Golden Age Action. It has become a vital and key issue in the defining factor of comic book value by era. It's hard to imagine there was a time when Spider-Man wasn't swinging through New York City, saving the day.
This comic serves as an origin story for Peter Parker and Spider-Man. It starts with his identity as a nerd, progresses to his radioactive spider encounter, and finally ends with the tragic death.
This comic did a fantastic job telling the world who Spider-Man would be and what kind of story. After realizing the man who killed his uncle was a thief, he had the chance to stop earlier. Peter is confronted with a horrible revelation that carries many of his storylines.
With great power comes great responsibility, with all that packed into a single comic. It's a bit of a given that he's made it into one of our most expensive comic lists. In addition to being one of the most sought-after issues, this comic was rated a 9.6. The highest grade is ever given to an amazing fantasy comic.
---
3. Marvel Comics
The first Marvel creation sold for 1.26 million dollars. You can do anything nowadays without seeing something from the Marvel Cinematic Universe. That's certainly not a bad thing. It's truly incredible to think all these blockbusters, posters, and action figures lining up with this single comic. Even more surprising, this single comic was released way back in 1939, the very year that World War Two started.
While people in Europe were beginning preparations for the long war. Children in America were dipping into a comic that would one day be worth millions. The Marvel comic was created by Timely Publications, a company that would eventually become known as Marvel Comics. In 1961, this issue introduced the Human Torch, a wildly popular superhero, up until the 1950s.
Unfortunately, the Human Torch hasn't quite been so popular since then unless you count his appearance in the 2015 Fantastic Four movie. It earned itself quite a few Razzie Awards at any rate. It's good to see issues with his face on it still going for millions of dollars. That is one more comic that's sold for more than double the price of this one.
---
4. The Avengers
The Avengers (Issue 1) is written by Stan Lee and penciled by Jack Kirby. He put a list of Marvel's favorite characters, Ant-Man, Wasp, Hulk, Iron Man, and Thor, together as The Avengers for the first time. The first edition prints of The Avengers first sold on September 10th, 1963, for 12¢. It wasn't for some years after the "silver age" of comics had come and gone that the issue would bring in the money to place it on the list. On July 26th, 2012, a grade 9.6 copy sold for an astounding $275,000 through Heritage Auctions.
---
5. Fantastic Four
Stan Lee and Jack Kirby would create one of the most important comics ever created. This story is about four scientists traveling into space, then meeting with cosmic radiation, turning them into the Fantastic Four.
With an original cover price of 10¢, it is worth a small fortune today. A 9.4-grade copy would get its record sale through Metropolis Collectibles in 2011 for an outstanding sum of $300,000. This issue is one of four known copies of a 9.4 grade. That made it a highly sought-after valuable amongst collectors.
---
6. The Incredible Hulk
The Hulk is the strongest man alive. Is he a man or monster or both? This book was first published in 1962 and fetched 326,000 dollars at an auction in 2014. Even when vintage comics frequently garner high value, very few of them will reach hundreds of thousands.
A 9.2-grade copy sold through ComicConnect, an online vintage comic auction house. This sale places the first appearance of the Hulk up near the upper echelon of the silver age comic values.
---
7. Captain America
The comic introduces the most iconic World War to legends in the Marvel Universe. In 2011, it was bought for a value of 343,000 dollars. The title character's first appearance is created by the combined talents of Jack Kirby and Joe Simon. It was published originally on March 1st, 1941, holding an original cover price of a mere 10¢. This issue came from a private collection; he took good care of it. It obtained the 2nd highest known grade for this comic.
---
8. Tales of Suspense
Tales of Suspense with an original cover price of 12¢, setting its record sale in 2012 with a 9.6-grade copy. It sold for $375,000 through ComicLink. This comic is of great value to any marvel comic collector, marking the first appearance of Iron-Man. The beloved character now immortalized by Rober Downy Jr. The new record for this comic takes leaps and strides from its previous record sale price of $147,000 for a 9.4-grade copy.
---
9. X-Men
X-Men was the first-ever comic book to introduce the idea of mutants. It's the X-Men First Day of class, and Magneto wants to make it memorable. As one of Marvel Comics' most iconic teams ever, it comes an as little surprise that a 9.8 graded copy of X-Men would sell shy of $500,000, making its 12¢ original cover price. It's pretty heartbreaking for all those old folk out there who thought comics were stupid in the 1960s.
It is one of just two copies so far with a 9.8 grade. Heritage Comics online auctions sold a copy for $492,000 in 2012, surpassing the previous record of $200,000 for a 9.6-grade copy. The 1963 comic by the ever famous Stan Lee and Jack Kirby would start one of the world's most successful comic book titles. It begins with the original team's first appearances of Professor Xavier, Marvel Girl, Beast, Cyclops, Iceman, and Angel, against Magneto.
---
10. Batman
It introduces Batman as an anti-social, wealthy billionaire, which also iterates how he lost his parents when he was young. The highest-graded copy of the 1940s was Batman. It features the first appearances of Catwoman and the Clown Prince of terror, the Joker. This comic was graded at 9.2 and sold through Heritage Comics on behalf of the Tadano America Corporation for $567,000.
However, this comic comes with one of the more interesting stories. The comic originally sold for an astounding $850,000 in a private sale in 2012. But the "purchaser" at the time, Anthony Chiofalo, would be found guilty of embezzling funds to purchase his high-cost collectibles. A little under $300,000 later, this comic by Bill Finger would finally go on and set a new precedence for the value of vintage comics.
---
11. Detective Comics
Another comic by Bob Kane and Bill Finger, 1939's is Detective Comics. Through Heritage Auctions, it would reach record numbers, turning over one of the largest sales for a Golden Age comic, selling for an astounding $1,000,000. On February 25th, 2010, the 8.0 graded comic, which first appeared Batman, became one of the most expensive comic books.
The comic was targeted to reach a much smaller sum of $100,000, but a bidding war ensued. It was finally ending when an anonymous buyer would pay $1,075,000 after a buyer's premium had factored in. Some argue that it could be a more valuable comic book than Action Comics due to its high sale price.
---
12. Suspense
In 2015 this comic sold for around 173,000 dollars. It is the only non-superhero comic on this list. It is on the list, rare for collectors because this was a limited collector edition. Most of the family did not want to carry because of the offensive nature of the cover. So most people did not want to stir the pot, making it one of the rarer comic books of the era.
---
13. Showcase
In 2009 it sold for around 179,250 dollars. It is an influential comic book because it started the Silver Age of comics and initiated the superhero revival.
---
14. Ghost Rider
Ghost Rider was super popular in the 90s. Later in the series, Ghost Rider number one, 8.0 White Pages. This one is currently valued at 550 dollars.
---
15. Thor
This one came out in 1983. A lot of talk of beta ray bills coming into the MCU. It might have been a few Easter eggs in some movies where people thought they saw him. But it's always been a very cool character, and currently, a 9.8 is valued at 575 dollars.
---
16. Strange tales
This one came out in 1975 and featured the first appearance of Gomorra. This 9.6 with White Pages is currently valued at 575 dollars.
---
17. Silver Surfer
Silver Surfer featured the first appearance of the Infinity Gauntlet. We've got this cool run-them cover, Thanos, holding The Silver Surfer and Dirac's in his hand. The direct additions include Tiger Electronics Insert. So this is a 9.8 white page currently valued at 575 dollars.
---
18. Eternals
This book came out in 1976 features the origin and first appearance of the Turtles, written by Jack Kirby. You will be getting the Eternals movie looks very promising. This comic in a 9.6 is valued at 775 dollars.
---
19. Submariner
It's a story from Iron Man and submarine number one. The origin of some mariner is retold. This one is graded at an 8.5 with cream to off-white pages due to its high sale price and poorer condition, currently valued at 775 dollars.
---
20. Teen Titans
This one is the first full appearance of the Batman who laughs. So this one came out less than four years ago. It's a little surprising to see this on the top list. But it is a very hot character and very hot comic book. This one is a 9.8 with White Pages, and this one is also currently valued at 775 dollars.
---
Read more: 10 Most Powerful Books In The World