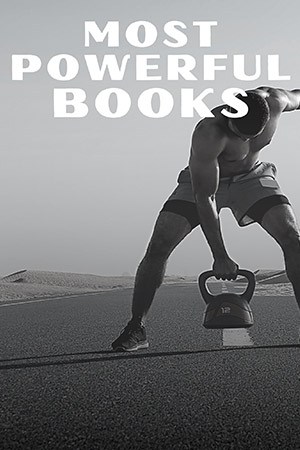 Everybody knows that knowledge is power. Books are always influential because carrying of huge knowledge. But some books are listed as most powerful by the reader's demand and choice. These books are always trending, and people talk about them every time on social media or Goodreads. Some of the books remain on the bestseller list.
Powerful books contain a wealth of knowledge and information. They can provide insights into different subjects, cultures, and perspectives, expanding your understanding of the world. Whether reading non-fiction or fiction, books can teach you new concepts, historical events, scientific discoveries, or philosophical ideas. They can make you laugh, cry, feel empathy, or experience a sense of wonder.
10 Most Powerful Books In The World
Powerful books can inspire personal growth and development. I will discuss the world's most powerful books by their international hype, reviews, sales, quantity, and effectiveness. All of these books are on my favorite book lists. After reading them, you will also love to add your favorite list. Let's talk about the 10 most powerful books in the world.
1. Animal Farm
This book was first published in 1945 and satirized the Russian Revolution. The story talks about a group of animals on the Maner Farm. They are unhappy with how their owner, Mr. Jones, is treated. So they decide to rebel against humanity and take over the farm called Animal Farm. It shows how ignorant animals are easily manipulated and how ignorance is dangerous for society. Also, It teaches you to question everything and look critically at things.
Animal Farm is simple and was written to be understood and translated into different languages. It can be adapted to many political landscapes, even in the modern era. Our knowledge can be powerful and apply to every country, even though we have different political systems from politicians. So it has many potentials that help you to understand many complex issues.
Author: George Orwell
Average Rating: (4.7/5)
Category: Politics & Government
2. Meditations
Meditations describe what it is in reality and who Marcus Aurelius is. He was a Roman emperor around the time 120-180 AD. He is a historical figure who would write and journal to himself. Also, he did not write this for an audience. It somehow got preserved and put into circulation in the publication.
It has been co-opted a lot recently by popular self-help and business-style books because of those aspects of stoic leadership. It's not a super complex philosophical treatise like some other philosophers, or it's not super dense. Many good parts here are about death, like thinking of yourself as dead.
You have lived your life. Now take what's left and live it properly. Reflections on death also about what's the point of being famous. For example, you'll die one day, and everybody who thought you were famous will die eventually. Marcus is doing pretty well there. He's still very popular and has much to do with acceptance and dealing with life.
Author: Marcus Aurelius
Average Rating: (4.8/5)
Category: History of Philosophy, Humanities
3. The Alchemist
The Alchemist was written in 1988 by the Brazilian author Paulo Coelho. So it was written in Portuguese and translated into over 60 languages. The book is about a young shepherd boy from southern Spain called Santiago. One night he dreams about trying to find treasure in the pyramids of Egypt. Then he has it again and goes to a fortune teller to find out what's there. He goes on this massive adventure to Egypt. It reads like a fairy tale.
Although the book is a literal dream, it gives general advice about following your dreams and what you want to achieve. If that makes sense, this book is about transforming your thoughts and actions into gold. A part says, listen to your heart, and your heart will show you the way, which sounds poncy.
Author: Paulo Coelho
Average Rating: (4.7/5)
Category: Metaphysical & Visionary Fiction, Fantasy Action & Adventure
4. A Gentleman in Moscow
In Moscow is a story about a Russian aristocrat named Count Alexander Ilyich Rostov. At the novel's beginning, he faces charges for writing a revolutionary poem in college. The Bolsheviks spare him from that, and instead, his punishment is to be placed under house arrest in the luxurious Metropole Hotel, where he lives for the next 30 years.
That's a testament to what a masterful storyteller the author is. He makes his unlikely protagonist so endearing and lovable and vividly brings to life the world within the Metropol Hotel such that you never feel bored. A Gentleman in Moscow reminds you of the simple superpower we all possess: the power of observation. No matter where you are and how small it is, your world is only limited by your curiosity and your imagination. Also woven into these beautifully written passages are these poignant reminders of what it means to have dignity.
The author takes serious subject matter. In this case, the turbulent times after the Bolshevik Revolution infuses these universal truths about life. There are heroes, villains, memorable, supporting characters, adventure, history, suspense, and even love stories. So it is the most powerful book in the world.
Author: Amor Towles
Average Rating: (4.6/5)
Category: Political Fiction
5. The Little Prince
The Little Prince is an absolute fantasy children's book classic. This children's book packages basic philosophical ideas so that anyone as young as probably four and up can understand the message incredibly effectively. It does it with charming humor and is one of the most adorable stories. It is funny and deep at times and has various emotions packaged so that a child can understand. There's a series of scenarios the little prince goes through. At the same time, adults would probably take something away from the message here.
While reading the story, you will feel various things about who you are. I get why this is one of the best-selling books of all time. The writing is meticulous, and tight while also being creative and unpredictable, which is a rare combination. The worlds are never overly explainable. You feel like you're in a mystical place from the little detail it's given to you. This absurdism allows you to provide a whole vision of what's there.
Author: Antoine de Saint-Exupéry
Average Rating: (4.6/5)
Category: Literature & Fiction, Classics
6. Ikigai
The mysterious word 'Ikigai' is derived from 'Iki,' meaning life, and 'gai' means realizing hopes and expectations. In other words, it means a reason for a sense of purpose in life and overall well-being. Everybody has an Ikigai. The question is to find it, which many people struggle with. Finding your Ikigai is supposed to bring satisfaction and meaning to your life. The authors go on to learn the secret to longevity.
Ikigai mainly tries to tell you the importance of Ikigai in your life and what you can get to bring more meaning of purpose. The authors compared local therapy and psychotherapy, which is exciting and powerful.
Author: Héctor García
Average Rating: (4.6/5)
Category: Consciousness & Thought, Health, Fitness & Dieting
7. The Richest Man in Babylon
This book is an all-time financial management classic and one of the most powerful books in the world. It is a must-read for anybody who wants to improve their financial situation and budget and do things that they find inspirational. There are such cool stories. The Richest Man in Babylon was written in 1926, but it's based in two thousand B.C. in Babylon, one of the world's richest cities.
I love this book's parable and the emotional story style. It essentially takes you through this person's journey. It's quite poor and frustrating in his life. He meets one of the wealthiest people in Babylon, and they share their stories and mindset for improving their wealth.
There are tons of different ways to help people. The biggest moment from this book is the money management system. This envelope system shows you budgeting and putting your income in buckets. It allows you to save quickly and structure income on time.
Author: George S. Clason
Average Rating: (4.7/5)
Category: Management & Leadership, Business & Money
8. Moby Dick
Moby Dick is an 1851 novel narrated by Ishmael. He is a sailor who goes on a whaling voyage Led by Captain Ahab, who is obsessed with getting revenge on a particular white whale called Moby Dick. It took his leg on a previous voyage. It is probably a book to read more than once. I haven't picked up so much symbolism and so many allegories the first time around.
It slowly makes you feel a part of this old journey, positively and negatively. If you plan to read it, this book gives you time. Don't take stress about finishing it straight away. It doesn't matter if you think it takes two months, even a year. Take it slowly, and be sure you are concentrated while reading it. You will enjoy it way more.
Author: Herman Melville
Average Rating: (4.4/5)
Category: Sea Adventure Fiction
9. Sapiens: A Brief History of Humankind
Sapiens is a brief history of humankind. It's written for audiences who know little about anthropology or history. But with that said, you're getting information on every page. It could be a little bit touchy. This is where it gets opinionated. Sapience takes a very anti-religion standpoint.
As a powerful book, it is highly informative, but the writing style differs from anything. Harari often has conversations with you. Also, he'll put a lot of what could have been complicated information into the analogy. It is an extremely great way to engage readers who might not necessarily be interested in this, like some facet of history. He has a conversation with you. This is the place to go if you're looking for something brief about evolution.
Author: Yuval Noah Harari
Average Rating: (4.6/5)
Category: Evolution & Genetics, General Anthropology
10. War and Peace
War and Peace is a historical fiction book written in 1869, first published a couple of years before a book about the French invasion of Russia in 1845. So this is the war and the peace of that particular time. At this time, this was the most influential book in the world. It follows the aristocratic family during that time.
That family has about 20 or 30 main characters and many side characters. So it is a very dense and very confusing book. This book is this particular book is the original version. So there has been a lot of discussion and debate about the original version of war and peace.
There are a lot of great descriptions. It's very poetic and very well written. The author discussed the battles, strategies, events, and historical analysis. A couple of servants were included to be a part of the family. There will be moments when you will have no idea what's going on, whether it's philosophy or war. So this book will take a long time because you need to analyze and think about the story.
Author: Leo Tolstoy
Average Rating: (4.5/5)
Category: Literature & Fiction
---
More powerful books lists
Pride and Prejudice, Jane Austen.
In Search of Lost Time, Marcel Proust.
Ulysses, James Joyce.
Don Quixote, Miguel de Cervantes.
Hamlet, William Shakespeare.
One Hundred Years of Solitude, Gabriel Garcia Marquez.
The Great Gatsby, F. Scott Fitzgerald.
Madame Bovary, Gustave Flaubert.
The Brothers Karamazov, Fyodor Dostoyevsky.
The Divine Comedy, Dante Alighieri.
Lolita, Vladimir Nabokov.
Crime and Punishment, Fyodor Dostoyevsky.
The Catcher in the Rye, J. D. Salinger.
To the Lighthouse, Virginia Woolf.
The Adventures of Huckleberry Finn, Mark Twain.
Anna Karenina, Leo Tolstoy.
Alice's Adventures in Wonderland, Lewis Carroll.
The Iliad, Homer.
Catch-22, Joseph Heller.
Heart of Darkness, Joseph Conrad.
Great Expectations, Charles Dickens.
Invisible Man, Ralph Ellison.
To Kill a Mockingbird, Harper Lee.
The Red and the Black, Stendhal.
Most powerful books for success
Numerous books provide valuable insights and advice for personal and professional success. Some of the most highly regarded books in this category include:
Think and Grow Rich by Napoleon Hill: This classic book outlines the principles of personal achievement and financial success based on interviews with successful individuals.
How to Win Friends and Influence People by Dale Carnegie: This influential book teaches readers the art of communication, building relationships, and influencing others.
The 7 Habits of Highly Effective People by Stephen R. Covey: Covey's book presents a holistic approach to personal and professional success through developing key habits.
Rich Dad Poor Dad by Robert Kiyosaki: This book shares personal finance lessons and encourages readers to think differently about money and wealth creation.
The Power of Habit by Charles Duhigg: This book explores the science behind habits and how they can be harnessed for personal and professional success.
The One Thing by Gary Keller and Jay Papasan: This book emphasizes the importance of focusing on a single goal to achieve extraordinary results.
Mindset – The New Psychology of Success by Carol S. Dweck: Dweck's research on growth mindset helps readers understand the power of believing in one's ability to grow and improve.
Atomic Habits by James Clear: Clear's book offers practical strategies for building good habits and breaking bad ones to achieve long-term success.
Outliers – The Story of Success by Malcolm Gladwell: This book examines the factors that contribute to high levels of success, debunking the myth of the "self-made" individual.
The Four Agreements by Don Miguel Ruiz: This book presents a code of conduct for personal freedom and success based on ancient Toltec wisdom.
These books cover various aspects of personal and professional success, such as mindset, habits, communication, and financial management. You can achieve your goals by reading and applying the principles from these books.
Powerful books for young adults
Many powerful books for young adults can inspire, educate, and entertain. Here are ten books that have made a significant impact on young readers:
The Harry Potter series by J.K. Rowling: This beloved fantasy series follows the adventures of a young wizard and his friends as they navigate a magical world full of challenges, friendship, and love.
The Hunger Games trilogy by Suzanne Collins: This dystopian series explores themes of survival, power, and resistance in a world where young people are forced to participate in a brutal televised competition.
The Perks of Being a Wallflower by Stephen Chbosky: This coming-of-age novel delves into the emotional struggles and joys of adolescence through the eyes of a socially awkward high school student.
To Kill a Mockingbird by Harper Lee: This classic novel explores themes of racism, morality, and social injustice in the American South during the 1930s.
The Fault in Our Stars by John Green: This heartfelt novel follows the love story of two teenagers with terminal illnesses. It shows a perspective on life, love, and loss.
The Book Thief by Markus Zusak: This powerful novel is set during World War II. It tells the story of a young girl who finds solace in stealing books and sharing them with others during the horrors of war.
The Hate U Give by Angie Thomas: Inspired by the Black Lives Matter movement, this novel follows a young girl who becomes an activist after witnessing the police shooting of her unarmed friend.
Eleanor & Park by Rainbow Rowell: This tender, bittersweet love story highlights the challenges and joys of first love and the impact of bullying and family dysfunction.
The Giver by Lois Lowry: This dystopian novel explores themes of freedom and the power of memory in a seemingly perfect but ultimately flawed society.
A Wrinkle in Time by Madeleine L'Engle: This science fiction classic takes readers on a fantastical journey through space and time. You can explore love, courage, and the power of the individual.
These books offer young adults various experiences, perspectives, and lessons that can shape their understanding of the world and themselves.
Top 10 most influential books in the world
The most influential books in the world are challenging and dependent on various factors. However, here is a list of ten books that have had a significant impact on society, culture, and politics throughout history:
The Bible: As the holy scripture of Christianity, the Bible has had an enormous impact on religion, art, culture, and politics for centuries.
The Quran: The holy book of Islam, the Quran has shaped the lives and beliefs of billions of Muslims throughout history and continues to be a major influence on global culture and politics.
The Bhagavad Gita: A key text in Hinduism, the Bhagavad Gita has influenced spiritual thought and philosophy for thousands of years.
The Republic by Plato: This foundational work of Western philosophy discusses justice, governance, and the ideal society and has had a lasting impact on political thought.
The Prince by Niccolò Machiavelli: The Prince has influenced political leaders and thinkers for centuries by exploring power and statecraft.
The Wealth of Nations by Adam Smith: This seminal work on economics laid the foundation for modern capitalism and free-market economic theory.
On the Origin of Species by Charles Darwin: Darwin's groundbreaking book introduced the concept of evolution through natural selection, which has profoundly impacted scientific understanding and how humans view their place in the world.
Das Kapital by Karl Marx: This foundational work of Marxist theory has significantly influenced political thought, social movements, and economic systems worldwide.
The Communist Manifesto by Karl Marx and Friedrich Engels: This influential political pamphlet has shaped history by inspiring revolutions and developing communist and socialist ideologies.
1984 by George Orwell: This dystopian novel has had a lasting impact on culture and political thought, exploring themes of totalitarianism, surveillance, and individual freedom.
These books have shaped history by challenging existing beliefs, introducing new ideas, or inspiring social and political movements.
Powerful Books to change life
Books can change lives by providing new perspectives, insights, and inspiration. Here are ten books that are considered life-changing for many readers:
Man's Search for Meaning by Viktor E. Frankl: This powerful memoir and psychological study show the importance of finding purpose and meaning in life, even in the most difficult circumstances.
The Alchemist by Paulo Coelho: This allegorical novel follows the journey of a young shepherd seeking his legend and teaches valuable lessons about self-discovery, personal growth, and following one's dreams.
The Power of Now by Eckhart Tolle: This spiritual guidebook helps readers cultivate mindfulness and live in the present moment. It can lead to a more fulfilling and peaceful life.
The Four Agreements by Don Miguel Ruiz: Based on ancient Toltec wisdom, it presents a simple yet powerful code of conduct for personal freedom and self-improvement.
Atomic Habits by James Clear: This practical guide offers strategies for building good and breaking bad habits, which can lead to lasting change and personal growth.
The Miracle Morning by Hal Elrod: This book presents a daily routine designed to help readers create transformative change and achieve their goals through personal development practices.
The 7 Habits of Highly Effective People by Stephen R. Covey: Covey's classic book provides a holistic approach to personal and professional success by developing key habits.
The Untethered Soul by Michael A. Singer: This spiritual guidebook helps readers explore their inner lives, release emotional baggage, and cultivate inner peace and freedom.
Mindset – The New Psychology of Success by Carol S. Dweck: Dweck's research on growth mindset can help readers change their beliefs about their abilities, leading to greater success and personal fulfillment.
The Gifts of Imperfection by Brené Brown: This self-help book encourages readers to embrace their authentic selves, cultivate self-compassion, and live wholeheartedly.
These books cover various aspects of personal growth, such as mindfulness, habit formation, purpose, and self-acceptance. By reading and applying the principles from these books, you can create meaningful and lasting changes in your lives.
The most powerful spiritual books in the world
Many spiritual books have influenced and inspired people across the world. Here are ten of the most powerful and widely recognized spiritual texts:
The Bhagavad Gita: A central text in Hinduism, the Bhagavad Gita presents a dialogue between the prince Arjuna and the God Krishna. It explores the nature of reality, duty, and the path to spiritual liberation.
The Bible: The sacred scripture of Christianity, the Bible consists of the Old and New Testaments and provides the foundation for Christian beliefs, teachings, and spirituality.
The Quran: The holy book of Islam, the Quran is believed to be the word of God which reveals to the Prophet Muhammad and provides guidance on spiritual, moral, and social issues for Muslims.
The Tao Te Ching by Lao Tzu: This foundational text of Taoism offers wisdom on the nature of the Tao (the Way) and explores themes of harmony, balance, and simplicity in life.
The Dhammapada: A collection of sayings attributed to the Buddha, the Dhammapada is an essential text in the Theravada Buddhist tradition and provides practical guidance on ethical living and spiritual growth.
The Upanishads: These ancient Indian texts form the basis of many Hindu philosophical concepts, exploring the nature of reality, the self, and the path to spiritual enlightenment.
The I Ching (Book of Changes): An ancient Chinese divination text, the I Ching provides wisdom on change, balance, and the natural order of the universe and is considered a cornerstone of Chinese philosophy.
The Book of Mormon: This sacred text of the Church of Jesus Christ of Latter-day Saints (Mormonism) is believed by its followers to be an additional volume of scripture alongside the Bible. It offers spiritual guidance and teachings.
The Tibetan Book of the Dead (Bardo Thodol): This important text in Tibetan Buddhism guides navigating the intermediate state (bardo) between death and rebirth. The book offers insights into the nature of consciousness and the journey toward enlightenment.
A Course in Miracles by Helen Schucman: This modern spiritual text, said to be channeled from a divine source, offers a curriculum for spiritual transformation based on the principles of forgiveness, love, and inner peace.
---
These spiritual books offer wisdom, insights, and teachings from various religious and philosophical traditions, helping people worldwide find guidance, inspiration, and solace in their spiritual journeys.
Read more similar:
Best Selling Fiction Books All Time To Read
Most Difficult Philosophy Books
Most Dangerous Books In The World