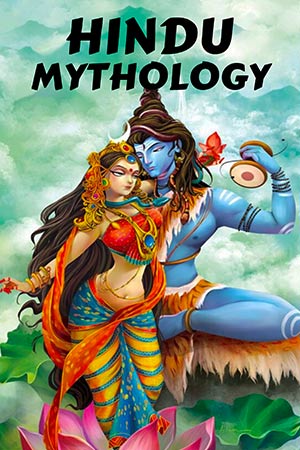 According to Hindu mythology, Hindus believed Ganga flowed in the heavens in the beginning. Still, God Brahma held captive, and then Brahma decided to send the River Ganga down to Earth. But there is one problem that Gunga has got such mighty force. If she comes on the Earth, the Earth will drown.
So the God Shiva blocked Ganga, fall gathering her waters and the locks of his hair so that she would open one lock of his hair and the Gunga Fluid. She's the mother because she gives birth to everything. This holy river came from the river in heaven that we call the Milky Way.
Hinduism does not believe in one creation. They say that these are cycles of creation, and the primordial creation could be something like 8.6 billion years ago. This creation myth is complicated because gods like Prometheus created the universe. But then they ask a question who created Brahma?
There's always the question, then creation happened, and then the gods happened. Do you see that when they were in their trance, the sages got that revelation of how the creation happened? But since it isn't that level of consciousness, we commoners will not understand it. So we enjoy this mythical story or follow by religion. If you want to read books about Hindu Mythology, follow me!
10 Books On Hindu Mythology (Hinduism & Indian Literature)
India is amazing because you think Greek mythology has a lot of material. There is tons of literature that comes from India. We have the oldest literature, the Vedas. Then there are these two fantastic epics that are called Mahabharat and Ramayana.
The Mahabharat itself is 100000 stanzas, and it runs into multiple volumes. The Ramayana is about a quarter as long. I'm going to help you walk through this myriad of myths about gods and demons and monsters and heroes that come from India. I will review 10 books about Hindu mythology. Let's start!
1. Dharmayoddha Kalki: Avatar of Vishnu
The book is a fictional tale about the 10th Avatar of Vishnu called Kalki. According to mythology, this Kalki would be born in Kaliyug. But in this book, there's a fictional land where Kalki is born as a mere villager, but he has superpowers. Then the tale of conspiracies, betrayal, revenge, beauty, and love begins. It is set in this amazing, elaborate, big world where two subplots come together to make this fantastic book. The boy building in this book is super awesome. The way the author puts together logic and science with mythology and the supernatural is beyond amazing.
The explanations and reactions of the characters to the out-of-ordinary things have been put together so nicely. You can connect to this book much better than normal mythological fiction. However, there are some elements in the book that you may have seen before. I'm talking about the action scenes here where you can point out some similarities, but when the book is so good, who cares about that?
There are subtle differences between the Ramayana and Mahabharat in this book. There is an element of mystery throughout the book that makes it good to read. You will find a lot of politics in this plot. A lot of characters in this book are superhuman. All you can say is different, but they are easily relatable. The balancing of the characters is effortless. Another fantastic thing about the characters in this book is the diversity of the characters. Many characters have been taken from them in mythology and how they have been represented.
That brings so much diversity in such a nice and fresh viewpoint to all the characters. The book has every element that it takes to be a good book. Overall, considering this the first part of the series, I am very interested in continuing and seeing what happens to Kalki next.
Author: Kevin Misal
Average Customer Review: (4.2 out of 5, on Amazon)
Category: Indian Literature, Mythology
Available: Paperback
---
2. The Rig Veda
You can check out the English translation of portions of the Rigveda. It was written originally in Sanskrit, which is the ancient language of India. It's what Hindi is based on, an Indo-European language. It is the oldest book from India, and it might be the oldest Indo-European book. Wendy Doniger translates the book. She's a very well-known Sanskrit scholar.
This ancient book is about many stories in here have to do with the early gods there today. Modern Hindus talk about Brahma, Vishnu, and Shiva, but before they rose in popularity, there were the gods and here, such as Indra, the rain god, who was a king of everything during the time that this book was was written today.
Indra is the strong God, and he's fighting with the dragon retro, and by destroying retrial, his weapon is the Thunderbolts. It is an Indo-European myth that we're talking about here, but Indian style has to destroy the serpent or the dragon to release the water.
Author: Wendy Doniger
Average Customer Review: (4.4 out of 5, on Amazon)
Category: Ancient & Classical Literature, Inspirational & Religious Poetry
Available: Paperback | Kindle
---
3. The Ramayana: A Shortened Modern Prose Version of the Indian Epic
Ramayana is the story of Rama and how he's an incarnation of the God Vishnu, and he incarnated himself. His inclinations are called avatars. The term avatars are used for other things today, but the original meaning of Avatar is earthly incarnations of the God Vishnu the preserver. God wants something evil's going on.
In this form, he comes as Rama, the hero, and comes down to defeat the demon Ravana. So he starts as a prince and is exiled, and he and his wife are with him. His brothers with him and his wife are stolen because she's so beautiful by Ravana. The Demon and Rama have to save her. To help him in his quest to save her, he enlists an army of monks. It is one of the best books on Hindu mythology.
Author: R. K. Narayan
Average Customer Review: (4.6 out of 5, on Amazon)
Category: Sacred Hindu Writings, Ancient & Classical Poetry
Available: Paperback | Hardcover | Kindle | Mass Market Paperback
---
4. Mahabharata
Mahabharata and Ramayana are short of the two epics. They're the same because they're the same publishing group and author. The author retold these two stories in segments, and his original language was Tamil. Then they translated them into English. The Mahabharat is a much longer story and more complicated. But the funny thing about Mahabharata and Ramayana, the kernel of the stories is pretty simple.
What happens is that in Indian storytelling, there's a lot of meandering and a lot of side stories. But the kernel of the stories is pretty straightforward. It's a group of brothers who have evil cousins, and they're swindled out of their inheritance on a gamble due to a gambling match.
They go into exile. But after the exercise is over, they come back. There's this great war between the pound of us who are the good guys and the carnivores or the bad guys. The guerrillas have the advantage, but the Pandev has a secret weapon. They have Krishna on their sides. Also, Krishna is another avatar of Vishnu and Rama's one. So this book represents a vast history of Hindu mythology.
Author: C. Rajagopalachari
Average Customer Review: (4.5 out of 5, on Amazon)
Category: Ancient Indian History
Available: Paperback | Hardcover | Kindle
---
5. Hindu Myths: A Sourcebook Translated from the Sanskrit
Penguin puts up this book, and it's the same translator as the Rigveda. Although over here, she's not known as Wendy Doniger O'Flaherty. She's known as Wendy O'Flaherty. This book is better than the Rigveda because the word gives you stories from the word failure.
It gives you stories from the Rigveda and many other things, a well-rounded view of the gods and what they stood for, and their stories. So this is a very well-rounded book, scholarly English translation, and a simple little book.
Author: Matt Clayton
Translator: Wendy Doniger
Average Customer Review: (4.2 out of 5, on Amazon)
Category: History of Hinduism, Vedas
Available: Paperback | Kindle
---
6. Daughter from a Wishing Tree
This book is a collection of short stories that focuses on the women in Indian mythology and talks about remarkable things. The men are the heroes, and the men are the ones that go to war and fight and do remarkable things. The men are the ones that are showing up with a lot of strength, whereas the women are always in the background.
There are women in Indian mythology who have had strong roles to play, but they always seem to be in the background. This book brings these women out into the foreground, tells their stories, and talks about the great things they have done.
Author: Sudha Murty
Average Customer Review: (4.7 out of 5, on Amazon)
Category: Children's Folk Tales & Myths
Available: Paperback | Kindle
---
7. The Palace of Illusions
It's a Mahabharat retelling from the point of view of properly. The way every character in this book has been portrayed was so amazing. Nick didn't like making any one person a hero and anyone person a villain like he gave both the bond of us and the God of us, their good points and bad points. Also, he did highlight each of their flaws. That's what you thought energy has done in the Palace of illusions. Each character portrayed in this book is not black or white, but they all have a gray morality. Because of this, she's highlighted their flaws and shortcomings.
Also, this entire portrayal of them feels very realistic and relatable, especially when the main character drops a beat or likes to call herself fun Charlie. Everyone knows that the Draupadi was a vengeful character. But that's not the only Draupadi that we see in this book. We see her other sides as well. But she's a woman who craved love. So it's fantastic because you will also go through the roller coaster of emotions that Draupadi feels in this book. But of course, the unique take is that we get to see it from Draupadi from these points of view. It is because Draupadi is the strong, feisty, vengeful woman.
Author: Chitra Banerjee Divakaruni
Average Customer Review: (4.4 out of 5, on Amazon)
Category: Asian Myth & Legend, Mythology & Folk Tales, Contemporary Literature & Fiction
Available: Paperback | Hardcover | Kindle | Audiobook
---
8. The Krishna Key
This book author is one of the best in retelling Indian history and mythology in a contemporary context. Krishna's key is a thriller that opens with the murder. The main accused of the murder is Ravi Mohan. He is also accused of stealing the secret of Krishna's most prized possession. That can be Lord Krishna's DNA or a stone with the power of immortality.
To prove his innocence against the murder charge, Ravi takes deep into the story to uncover that the murderer believes himself to be Kalki Avatar. To find the powerful legacy left behind by Lord Krishna and stop the killer from murdering his friend Ravi starts upon the journey from the Sacred City Dwarka to Somnath Temple to Mount Kailash. Finally, he reveals the secret of Krishna. The story follows two timelines. One timeline shows the journey of Lord Krishna from his birth. The other timeline revolves around Ravi Mohan, the protagonist accused of the murder of his childhood friend.
The author has put a lot of research and brought out various astounding facts and explanations. His research reveals that the City of Dwaraka may have been built on the reclaimed land from the sea. It also explained that Lord Krishna did exist. Not merely as a mythological character, but as a historical one, and Mahabharata did happen. It's also explained that mount Kailash may be a massive artificial pyramid. His theories about the history of the world we live in are not merely based on the history books but rather on sideway excavations, scientific research, and Vedas, which are very informative.
The Story begins with the murder scene, grabbing the reader by the throat on the very first page. It catches up its peak from hair and gives the reader a heightened feeling of excitement, suspense, and anxiety. I can say that it succeeds in keeping the reader flipping, clicking, and swiping the pages as the plot builds towards the climax.
Author: Ashwin Sanghi
Average Customer Review: (4.1 out of 5, on Amazon)
Category: Indian Literature, Crime Fiction
Available: Paperback | Audiobook | Kindle
---
9. Asura: Tale of the Vanquished: The Story of Ravana and His People
This author is fantastic in the plot's structure and the twist. The protagonist of this book, Ravana, has been my favorite character throughout the journey. Ravana is a normal human being.
Vadra is the best friend of Ravana throughout the story. There are Ram and Sita, but the main focus in this storyline is on Ravana. So you have a lot of surprises in store if you are going through this. The main things tell us that it is in the wrong people in the situation. The situation makes them feel like you might have to do some things out of desperation. That is the best thing about this book that I came across. The second best thing about this book is that it teaches us how to react in moments of power. Whatever we do in moments of power is what our future depends upon.
Your future is doomed if you are misusing your power like Ravana was. It is what the author wants to depict through this storyline. The third best thing about this book is that this book tells you one mistake break all of your good deeds.
Author: Anand Neelakantan
Narrator: Denzil Smith
Average Customer Review: (4.2 out of 5, on Amazon)
Category: Hinduism, Asian Myth & Legend
Available: Paperback | Hardcover | Kindle | Audio CD
---
10. Jaya
This book is divided into a hundred and eight chapters or stories. We get a small author's note at the end of each story or chapter. We get the author's perspective of the story. The story means what he feels is the actual model behind it. We also get historical facts about the era in which the Mahabharata was supposed to be set and Folk Tales from India. It gives us an idea of how this epic story is ingrained in the culture and still significant in our lives today.
This book is completely fantasizing about all the characters, including the Pandavas. But it didn't wholly raise some characters and put them on a pedestal. It showed us the good and bad sides of all of the characters because that's how the world is, and that's how human beings are. We all have a dark and a light side inside us. That is what made this interpretation of the Mahabharat.
Everything about this book, from the simple writing to the beautiful illustrations inside, makes it perfect. I highly recommend this book to all who have never read them up harder. This book will give you a completely fresh perspective on one of the most mythologically rich stories in the world. So definitely check this out because if you love mythology and if you love Indian culture, then you're going to enjoy this book.
Author: Devdutt Pattanaik
Average Customer Review: (4.5 out of 5, on Amazon)
Category: Ancient & Classical Literature, Religion & Spirituality
Available: Hardcover | Kindle
---
4 Indian Historical Fiction Books
1. The Devourers
The story follows a man named Alok, a professor, and one night, he meets a man who claims to be a shapeshifter. This shapeshifter gives him the task of transcribing an ancient text written by another shapeshifter that devours humans.
Through the writing of this ancient text, our Lord comes to know about this entire world of shapeshifters, and it is like he discovers a world beyond anything that he's ever imagined or dreamed of. It is another fantasy book that was intriguing because it talks about the concept of werewolves. So to see how it's given an Indian spin and how it's incorporated into an Indian context is something that I'm very excited to read about.
Author: Indra Das
Average Customer Review: (4.2 out of 5, on Amazon)
Category: Nordic Myth & Legend Fantasy, Asian Myth & Legend
Available: Paperback | Hardcover | Kindle | Audiobook
---
2. Hunted by the Sky
The Ember in the Ashes series is popular and most reading. This book is a fantasy, and it seems to have quite a cool magic system within it. The main character is Gul. The story follows this main character as a ruthless ruler who has murdered her entire family.
Because of this, she runs away and joins a band of rebel women. These women teach her to hone her magic to get her vengeance against this ruler. This book seems like it has all the things that are perfect vinyl world should have, like a strong female protagonist of a magic system that seems quite interesting and a bad autocratic ruler.
Author: Tanaz Bhathena
Average Customer Review: (4.4 out of 5, on Amazon)
Category: Science Fiction & Dystopian Romance, Literature & Fiction
Available: Paperback | Hardcover | Kindle | Audiobook
---
3. The Taj Trilogy
The next one that I want to talk about is a series of books, the Taj Mahal trilogy. By endorsing the reason, this trilogy consists of three books the 20th wife, the Feast of Roses, and Shadow Princess. All of these books are about the Mughal in India. Now it focuses on the reign of three Mughal emperors, namely Akbar Jahangir and Shah Johar. But all the books are from the perspective of their wives rather than the actual mythical emperor.
The crux of the story is the life of Maharani, who is Jahangir s 20th wife, hence the name of the first book. But the story follows Maharani. She's a child when she grows up and marries Emperor Jahangir and their real love story. In that sense, we get to have an insight into the Mughal Empire, how things were ruled back then, the lives of these women, like the wives of the emperors.
Author: Indu Sundaresan
Average Customer Review: (4.5 out of 5, on Amazon)
Category: Ancient Historical Fiction, Biographical Literary Fiction
Available: Paperback | Hardcover | Kindle | Audiobook
---
4. Empire
This book revolves around the Chawla Dynasty in India. The main character in this book is Aramis, a Greek girl. She has surrendered to the Indian Army commando named Ananta because the Indian Jola Army has destroyed the Greek army. They've taken captives, and Aramis is one of them because the Chawla army captures her. She likes to learn things like archery how to fight. It is a historical fiction book set during the Troller Dynasty, and it sounds exciting.
Author: Devi Yesodharan
Average Customer Review: (3.8 out of 5, on Amazon)
Category: Ancient Historical Fiction
Available: Paperback | Hardcover | Kindle
---
Read More:
10 Books On Egyptian Mythology