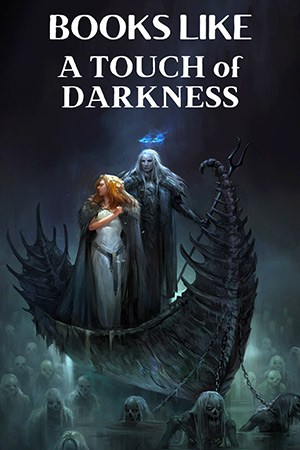 A Touch of Darkness by Scarlett St. Clair is a contemporary fantasy novel that has gained popularity for its unique take on Greek mythology, particularly the story of Hades and Persephone. It's the first book in a series that reimagines these classic mythological characters in a modern setting.
Have you recently fallen under the spell of "A Touch of Darkness"? If you, like many others, found yourself enchanted by its modern twist on the classic tale of Hades and Persephone, mixed with just the right amount of romance and mythology, then you're in for a treat! I know that feeling of finishing a great book and craving more – it's like saying goodbye to a friend but not being ready to let go.
So, I've got some exciting news for you: more magical worlds are waiting to be explored, books that dance along the same lines as "A Touch of Darkness." Let's dive into a realm where ancient myths meet the modern world, where love stories are anything but ordinary, and where every page brings a new adventure. Ready to find your next reading obsession? Let's go!
10 Books Like A Touch Of Darkness (Hades & Persephone Retellings)
"A Touch of Darkness" particularly appeals to fantasy romance fans and those who enjoy seeing a more empowered and active version of mythological figures, especially in a modern context. This modern-day retelling is well-loved for its romantic and sensual portrayal of the Hades and Persephone myth, bringing a fresh perspective to these age-old characters. The modern-day setting intertwined with fantasy adds a unique flavor to the story. Want more?
I will discuss 10 Books similar to A Touch Of Darkness. If you enjoy the blend of ancient mythology with contemporary settings, these books offer a unique twist on familiar tales. They bring gods and goddesses into the modern world, creating intriguing scenarios and conflicts. Here we go!
| Name | Storyline | Tropes |
| --- | --- | --- |
| A Court of Mist and Fury by Sarah J. Maas | An epic fantasy tale of a young woman's transformative journey, discovering her true strength and love in a magical realm filled with danger and intrigue. | High fantasy, fae mythology, enemies-to-lovers, strong female protagonist, magical powers, emotional healing, court politics, dark and brooding male lead, complex world-building, forbidden love, personal growth and empowerment. |
| Neon Gods by Katee Robert | A modern, erotic retelling of the Hades and Persephone myth set in a glamorous underworld, exploring power dynamics and forbidden romance. | Mythological retelling, dark romance, forbidden love, dominant male lead, strong female character, erotic themes, underworld setting, contemporary fantasy, power play, political intrigue, sensual tension. |
| Hot as Hades by Alisha Rai | A sizzling and humorous reimagining of the Hades and Persephone myth, blending mythological elements with modern romance and wit. | Mythological retelling, romantic comedy, paranormal elements, steamy romance, playful banter, strong character chemistry, modern twist on classic mythology, underworld setting, playful power dynamics, lighthearted and sensual narrative. |
| A Rogue by Any Other Name by Sarah MacLean | A historical romance where a disreputable Marquess desperate to regain his lost fortune wagers on love with a virtuous and strong-willed woman. | Regency romance, marriage of convenience, redemption arc, rake and innocent lady dynamic, high society, enemies-to-lovers, character-driven plot, witty banter, emotional depth, personal transformation, gambling and risk-taking. |
| Drag Me Up by R.M. Virtues | A captivating romance set in a mythological underworld casino, where a mortal woman and the god of the underworld navigate love, power, and destiny. | Paranormal romance, mythological elements, underworld setting, casino backdrop, gods and mortals, forbidden love, power dynamics, strong female lead, mystery and intrigue, fate and destiny, supernatural elements. |
| The Devil's Daughter by Katee Robert | A thrilling and seductive romance between an FBI agent and the daughter of a notorious crime family, entangled in danger and forbidden attraction. | Romantic suspense, forbidden love, crime family drama, law enforcement meets criminal world, strong and independent female lead, alpha male protagonist, moral ambiguity, family loyalty versus love, intense attraction, undercover intrigue. |
| Lore Olympus by Rachel Smythe | A modern and stylish reimagining of Greek mythology, focusing on the complex and emotional relationship between Hades and Persephone. | Mythological retelling, gods and goddesses in a contemporary setting, forbidden romance, coming-of-age narrative, power dynamics, emotional vulnerability, dark and brooding male lead, innocent yet strong female protagonist, personal growth, underworld intrigue. |
| The Bromance Book Club by Lyssa Kay Adams | A unique and heartwarming story of a baseball player who joins a secret book club with his friends to save his marriage, discovering love and understanding through romance novels. | Contemporary romance, second-chance love, marriage in trouble, male bonding over books, romantic comedy, unconventional solutions to relationship problems, sports backdrop, humorous dynamics, emotional growth, strong character development. |
| A Kingdom of Flesh and Fire by Jennifer L. Armentrout | An enthralling fantasy romance that continues the saga of a young woman caught in a world of intrigue and a marriage of convenience with a powerful and enigmatic Atlantian. | Fantasy romance, marriage of convenience, enemies-to-lovers, supernatural elements, powerful male lead, strong female protagonist, intricate world-building, political intrigue, emotional turmoil, forbidden love, mythical creatures. |
| The Bridge Kingdom by Danielle L Jensen | An intense fantasy romance where a princess trained as a spy marries a king of an enemy kingdom, uncovering secrets and unexpected feelings. | Fantasy romance, enemies-to-lovers, political intrigue, arranged marriage, spy and espionage elements, strong female lead, secretive male protagonist, kingdom politics, betrayal and loyalty, emotional growth, world-building with mystical elements. |
Books Like A Touch Of Darkness List
1. A Court of Mist and Fury (A Court of Thorns and Roses)
This is about Feyre, who kills a Fae in her realm in stag form. So, the punishment is that she needs to leave her family and live in the free world as recompense. Many things happened in that first book that led up to this book, where she finds herself indebted to spending time in the Night Court with Lord Rhysand.
You have that aspect that she has to divide her time between two places and two men. The Hades character, Rhysand, is depicted as everyone believing him dark. You discover that there is a lot more going on beneath the surface. Feyre and Persephone have similar captor situations and romance that A Touch of Darkness represents.
Author: Sarah J. Maas
Average Rating: 4.9/5
Category: Action & Adventure Romance
Available: Audiobook | Paperback | Hardcover | Kindle | Audio CD
2. Neon Gods (Dark Olympus)
If you want a darker or slightly more taboo Hades and Persephone retelling, you want to pick up this book. Though it is not super dark or taboo, it does lean into some of those elements. It is traditionally published and doesn't have the same depth as Robert's other books. Persephone is the daughter of Demeter, and she is weeks away from her birthday, escaping her family for good and leaving Olympus. But at a party, it is announced that Persephone will be the next hair off and marry Zeus.
So, in this story, there is no magic. It is a mafia-style world where the gods are called the 13. Some are elected to their office, and Zeus, Hades, and Poseidon are legacy titles passed down through family lines. But Persephone is not particularly thrilled with being betrothed to Zeus because most of Zeus's wives have either gone missing or turned dead.
As a result, she runs away from Olympus and crosses the River Styx into Hade's territory. Hades is a member of the 13 that everyone believes has been lost and that he's no longer spoken about. But she discovers he is real, and together, they hatch a plan to bring down Zeus. There are fantastic steamy scenes in here, similar to A Touch of Darkness.
Author: Katee Robert
Average Rating: 4.3/5
Category: Romantic Erotica
Available: Audiobook | Paperback | Kindle | Audio CD
3. Hot as Hades
If you want a short and steamy Hades-Persephone retelling, I recommend Hot as Hades. A naked Persephone is dropped in Hade's lap, and Hades doesn't want to borrow the rest of the world. He hides away and likes his solitude, but this naked goddess lands in his lap, and he is told that he has to keep her safe.
Although he's been told this, it's not high on his priority list. He's an arrogant God. Persephone is a stubborn goddess, and when they get together, the sparks fly. Slowly, Hades gives her priority and takes care very frequently. Also, he protects her from other gods and struggles to keep her safe. The life cycle and character development are very relatable to A Touch of Darkness.
Author: Alisha Rai
Average Rating: 4.2/5
Category: Paranormal Romance
Available: Paperback | Kindle
4. A Rogue by Any Other Name (The Rules of Scoundrels)
If you want a historical romance, I would suggest this book. This one features the Marquess of Bourne, an outcast from London High Society. Now, he co-runs an exclusive gaming hell in London to gain his inheritance. He finds himself having to marry Lady Penelope Marbury. Also, he tries to keep her untainted by what he does. Yet she finds herself drawn into his world and its wickedness.
Despite his best efforts, and as she uncovers more, she finds herself being lured in, and it's great. The theme and characters are very similar to A Touch of Darkness. Bourne is struggling so much as Hades and Penelope always fall into bad situations, like Persephone. But both of them never give up.
Author: Sarah MacLean
Average Rating: 4.4/5
Category: American Historical Romance
Available: Audiobook | Paperback | Hardcover | Kindle | Mass Market Paperback
5. Drag Me Up (Gods of Hunger)
This is Hades and Persephone retelling with diverse characters, where Persephone is trans. She is also a circus performer and has a lead role in Calliope's Cirque production. It is currently being hosted at one of Hades's venues, so he owns a casino called Asphodel. The performance is taking place there, where he stumbles across her.
We find out that Persephone is largely in debt to Zeus, and he is tightening the reins on her, whereas she wants freedom, and Hades wants to be the one that frees her. This one differed slightly from some of the other books on this list. It is quite dark and the first book in a series. I enjoyed how Persephone and Hades meet like A Touch of Darkness.
Author: R.M. Virtues
Average Rating: 4.5/5
Category: Fantasy Erotic Thrillers
Available: Paperback | Kindle
6. The Devil's Daughter (Hidden Sins)
If you like romantic suspense, then I would suggest this one. It is about Eden Collins, who grew up the daughter of a cult leader in a small town in Montana. The cult is a Persephone cult, and she escaped as a child. Now, she works for the FBI. However, she finds that bodies turn up in this town bearing a tattoo that identifies them as her mother's cult members.
So, she returns to the town to try and sort out what's happening. There, she meets Sheriff Zach, who is reluctant to draw her back into the world of her mother and her past. Yet he knows she is the best place to find out what's going on. I did not go into this book expecting it to be Hades and Persephone retelling, but it was.
Author: Katee Robert
Average Rating: 4/5
Category: Mystery Romance
Available: Audiobook | Paperback | Kindle | Audio CD
7. Lore Olympus
Lore Olympus is about what the gods do after dark, and it is stunning. There are some heavy themes here, with the Hades and Persephone myths that thread their way through the books. Hades lives in the underworld, and there are many parties' political intrigue vibes. We follow Persephone as she has come to the city. Her mom, Demeter, lives on Earth, where it is ancient Greek times. But the gods and goddesses had a more civilized lifestyle where they already had cities.
In the story, they meet at parties he must go to, and Persephone is there with her chaperone. She lives with Artemus, who is the goddess of the hunt. Demeter wants perception to be one of these goddesses that swear off men and physical relationships. So she's living in the city with ornaments. You learn about that political lifestyle and realize living on Earth with her mom is better.
The art style is fantastic as it uses all the colors to signify different situations, and people like Hades and Persephone are purple in blue or pink-blue. So it is like the web tune in paper form as a graphic novel. If you are a fan of A Touch of Darkness, you must try it.
Author: Rachel Smythe
Average Rating: 4.9/5
Category: Mythology & Folk Tales, Graphic Novel (Best Seller)
Available: Paperback | Hardcover
8. The Bromance Book Club
Gavin is a major league baseball player who has trouble with his wife, Thea. He discovered she's been faking it for the last three years of their marriage, and he's hurt. His pride is wounded, and their marriage is already very strained, and this was pretty much the last straw. So Thea asks him for a divorce, and Gavin is desperate. He's discovered that his teammates have formed the Bromance Book Club, where they read books together, try to take some wisdom, and improve their relationships.
Like A Touch of Darkness, the story did have a parallel story quoting the Countess and Gavin's story. Both of these men are having trouble wooing their wives. This story is told between Gavin and Thea, and when we are in Gavin's point of view, we get to listen to some of the men chat. Also, it's funny to listen to their insights about what they think of women. As for Gavin and Thea, their love and chemistry didn't move me. They had a lot of challenges to overcome, like Hades and Persephone.
Author: Lyssa Kay Adams
Average Rating: 4.3/5
Category: Women's Humorous Fiction
Available: Audiobook | Paperback | Library Binding | Kindle
9. A Kingdom of Flesh and Fire (Blood and Ash)
This book starts where From Blood And Ash left off, with Casteel proposing to Poppy. So Poppy is still trying to decide if Casteel loves her or is doing this to save his brother. That's what's going on throughout the majority of this story. They're traveling together on their way to where the other Atlantians are. So he's getting ready to marry her, and she's trying to decide what's happening in his head.
This one has a lot more magic that feels like a pretty different story. It has much more to do with the gods, like A Touch of Darkness, and you get more history from Atlantis. We get a lot more info and learn more about Kieran's personality. Also, Kieran's sister, Vinita, is great. In this book, you get a good feeling of Atlanta's different magic systems.
Author: Jennifer L. Armentrout
Average Rating: 4.8/5
Category: Paranormal Vampire Romance
Available: Audiobook | Paperback | Hardcover | Kindle | Audio CD
10. The Bridge Kingdom
This is about a warrior princess, Lara. She was raised with twenty siblings, and her father is a king. He has many wives, raising those daughters since they were five. They are now 20. It was training them to take down the king of another kingdom. So, about 15 years ago, he took them in to start training. The kingdoms made a treaty, which said that one of his daughters would be married to the future king (Ithicana), his enemy kingdom.
This thing called the Bridge is a way to transport and export goods. King of Ithicana is the person in charge of the Bridge. So, it is a forced marriage. But it is an enemy-to-lovers trope. So you can guess what will happen. However, the daughter was trained to be a warrior, So Lara is an assassin. She is a seductress because they want the marriage to look real so she can take it down from the inside.
She and her sisters were taught that if the canyons were savages, they were feral for her whole life. They killed people for sport, and she needed to be the one to bring the kingdom to its knees. So Lara is caught between the Witch Kingdom she wants to save and which one she wants to destroy. It's a great duality like A Touch of Darkness.
Author: Danielle L Jensen
Average Rating: 4.4/5
Category: Action & Adventure Romance
Available: Audiobook | Paperback | Hardcover | Kindle | Audio CD
---
And there you have it – a treasure trove of reads that will keep the magic alive long after you've turned the last page of "A Touch of Darkness." Each book we've explored is a doorway to a new adventure, blending the allure of mythology with the complexities and excitement of modern-day romance. Diving into these stories is more than just reading; it's about experiencing love, challenges, and transformations in ways you never imagined.
Whether you're a die-hard mythology enthusiast or just dipping your toes into these mystical waters, these books are ready to welcome you with open arms. So grab your favorite reading snack, find a cozy spot, and prepare to lose yourself in worlds where legends come alive in the most unexpected ways. Happy reading – I can't wait to hear which book captures your heart next!
Read More Similar Mythological Books:
Magical Greek Mythology Romance Books