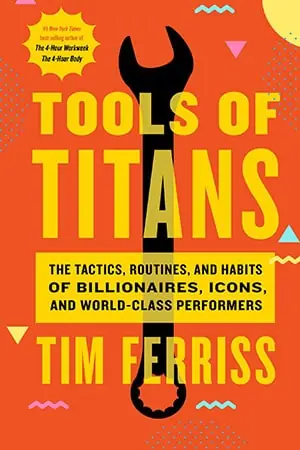 Tools of Titans by Timothy Ferriss contains tactics, routines, and habits of billionaires, icons, and world-class performers. It's filled with helpful information, and every page is useful. There are also some helpful quotes in there.
Tools of the Titans is a book where you can find some of the finest minds in the world. You'll see what makes them different, what works for them, and their routines. Five Hundred Journal is also included in this book, which is pretty incredible. This book has many valuable things to help you live a better life.
About Author
Tim Ferriss is an American author, entrepreneur, podcaster, investor, and lifestyle guru. He's the author of The 4-Hour Workweek, The 4-Hour Body, and The 4-Hour Chef.
Tim Ferris interviewed more than 200 people, like Arnold Schwarzenegger, Jason Silva, billionaires Peter Thiel, and Krosoczka. This is all the distilled nuggets and wisdom from those interviews. So he took the best from those interviews because he interviewed those people for himself. He learns that he can integrate into his own life from these successful people.
Tools of Titans Summary
Tim Ferriss has gathered from interviewing around 200 high-profile guests on his podcast. The book itself is called Tools of Titans. It falls into the category of self-improvement. The book is divided into three main sections healthy, wealthy, and wise. Each chapter is different vital takeaways as well as recommendations.
This book is like a summary of interviews. So there are parts of interviews that temporaries did with many people, plus some extra bits and pieces. They all represent different meanings and opinions on those three main topics. There's a lot of entrepreneurial stuff in there. The entrepreneurial advice is that if you can't be first in a category, set up a new category where you can be first.
The second point comes under health. A good rule of thumb is your age at the rate you produce insulin. Insulin is released when you eat carbohydrates, a large dose of protein. Constantly eating sugary foods will create these insulin spikes that could prematurely age you. There's a lot in the book about anti-aging and life extension. One of the doctors he interviewed recommended requesting your HBA1.
When you get a blood test, it's seen as a rolling average of the last three months of your insulin levels. It's a good reflection of the quality of your diet. If you're eating sugary foods and snacking all day, your biological age may be much older than your chronological age. So you could be 35 years old with the body of a forty-five-year-old.
No matter who you are and what you do, health comes first if you succeed. Here we should note that this includes physical and mental health. There are many tactics on what to do about physical health and how to do it from AcroYoga. It requires a partner to do simple jogging every day. For mental health, most people in the book are doing meditation.
The author talks about morning routine and book reading in the wise section. From Bill Gates to Tim Ferriss and all successful people wake up early. Every single person has a unique morning routine that works for him. Most of them have some common things when it comes to these routines. But you must find what works for you in the book. A lot of people are revealing their secrets. You must know that to be successful, you must own the morning. In the book, you'll see five things that help Tim win the day.
Another common thing in almost everyone in the book is reading many books. One book can change your life. But for this to happen, you must read it. From the book, you can make great reading lists for future years. If you're not reading, you're not learning anything new if you're not learning anything new, you're lagging. No matter the obstacle, you need to keep trying and moving forward.
Book Specification
This book has like 736 pages! Tim Ferris decided to compile all of the essential information he learned throughout his hundreds of hours of conducting podcasts. He compiled it into this book. There are over a hundred different experts in this book. This book covers everything that you need to know. Any questions that you possibly could have in terms of self-development?
Author: Tim Ferriss
Average Rating: (4.0 out of 5, on Goodreads)
Category: Business & Money, Management & Leadership, Quality Control, Self-improvement.
Best Seller in Total Quality Management Category.
Position 3, in Medical Developmental Psychology.
Position 6, in Popular Developmental Psychology.
Narrator: Tim Ferriss, Ray Porter, Kaleo Griffith, Therese Plummer, Ryan Holiday, Kevin Rose, Jocko Willink.
Tools of Titans Book Review
The path to success will be different for everyone with this book. You'll get much inspiration and highly actionable advice from the Titans of our world. The success stories of the people in this book will show you that you can achieve whatever you want.
Chapter: Healthy
We look at Tools of Titans by Tim Ferriss. It's a collection of his life's recipes, meaning he's one of those guys who records every workout and is constantly figuring out how to improve. Now he's letting us in on a secret world. Take all those ideas he's been working on since he was a kid, this compendium, this magnificent collection of ideas, and throw it all into this super toolkit. That's how it's to be read. You flip through it, flip to this book, and get good ideas.
In this section, Ferris talks with the best minds in the world, and they have a lot of ideas. Peter Thiel, the billionaire, likes to ask himself and others. If you have a ten-year plan for getting somewhere, you should ask, why can't you do this in six months? For purposes of illustration, Tim Reward's this too.
What might you do to accomplish your tenure goals in the next six months if you are a gun against your head? That changes everything. What would you do to achieve your 10-year goals in the next six months if you had a gun against your head?
The next point is patterns of the successful. About 80 percent of the successful have some form of daily mindfulness or meditation practice. Many successful types listen to single songs on Repeat for Focus.
Page 22 goes over the ketogenic diet, a high-fat diet that mimics fasting physiology. This is the diet where your brain and body use ketones for energy instead of blood sugar to arrive at ketosis. It is achieved through fasting, diet, ketones, or a combination. Tim says a Precision Extra device is the most reliable way to determine if you're in ketosis. It can measure both glucose and blood levels. Once you reach 0.5 million dollars, you can consider yourself lightly in ketosis.
Chapter: Wealthy
James Cameron said if you set your goals ridiculously high and it's a failure, you will fail above everyone else's success. If you are in a fair fight, you didn't plan your mission properly. It's so true. Those are two quotes that start the book. Chris Sacca from Shark Tank is a super investor and says that if you're in a startup, go to all the meetings you can, even if you're not invited to them. If people wonder why you're there, start taking notes. It's an excellent way to get in.
He also says to be weird. Weird is why we adore our friends. Weirdness is what sets us apart and gets us hired, Sakka says. Neal Gabler's biography of Walt Disney read it says Mark Andriessen. Arnold Schwarzenegger said I wasn't there to compete but to win. He would also say to his competitors, Did you hurt your knee? Because it would throw them off. They would throw out the other bodybuilders. Did you take any salty foods lately? Because it looks like you're a dead chicken and would throw them off. They'd be looking at themselves in the mirror.
Arnold also meditates on his biceps. When he lifts weights and gets into the muscle, he becomes one. One of Tim's favorite negotiating maxims is who carries the least wins. Derek Seaver, the creator baby, says, When you do a business, you're making a little world where you control the lives. It doesn't matter how things are done everywhere else in your little world; you can make it as it should be.
Warren Buffett told Tony Robbins, Investing yourself is the most important investment you'll ever make. So maybe you should do that. Never go to sleep without a request from your subconscious.
Chapter: Wise
We're looking at the third section of the book. Here Tim talks about the most genius people in the world. He's put them and their secrets in this book. For example, JoCo Willink was one of the scariest human beings imaginable. But he spent 20 years in the US Navy and commanded SEAL Team. Tim has many stock questions that get great answers, and in this case, he asks, What would you put on a billboard?
Jacko responded, " My mantra is straightforward, and discipline equals freedom. He also says that it is simple to be tougher mentally. Be more challenging, don't meditate on it.
You can tell the true character by how his dog and kids react to him. It's vulnerable to inquiry, and that inquiry can take many forms. Tim has this quote on his coffee table on a piece of driftwood. It says Life shrinks or expands in proportion to one's courage.
The next point is multitasking. Kevin Kelly, the co-founder of Wired magazine, says you shouldn't multitask. That's his absolute priority. Don't you hate those people who have you talking and then get on their phone and start another conversation? If Kevin goes to a play or movie, he's at that player movie, and he's in 100 percent and will listen.
Comedia Whitney says that for art to imitate life, you must have a life. Start with I love you. Whitney also says that her trauma therapist said every time you meet someone in your head, say, I love you before you have the conversation with them. That conversation is going to get better.
You'll have a lot of ups and downs in your life. One of the greatest writers, Paulo Colo, twists books translated into more than 70 languages. He's procrastinating when writing his books, which may sound like a shock to us. Since he's such a brilliant writer. Many people in the book have had journeys with many ups and downs, and we can learn a lot from them.
It is one of the phrases that remained in my mind after reading this book. What does it mean? If you want to achieve some freedom in your life, be that financial or more free time. You must be disciplined.
10 Main Points From Tools of Titans
Tools of Titans by Tim Ferriss is a compilation of lessons, habits, and insights from various high-performing individuals across different fields. Here are 10 main points from the book:
Morning routines: Many successful people have a consistent morning routine to start their day positively, including meditation, journaling, exercise, or a healthy breakfast.
Meditation: Many top performers practice meditation or mindfulness to improve focus, reduce stress, and boost mental clarity.
Journaling: Journaling helps in self-reflection, goal-setting, and tracking progress, leading to improved decision-making and personal growth.
The 80/20 rule (Pareto Principle): Focus on the 20% of tasks that yield 80% of the results to maximize productivity and effectiveness.
Outsourcing and delegation: Successful people understand the importance of delegating tasks and outsourcing non-core activities to save time for higher-value work.
Continuous learning: Titans prioritize lifelong learning by reading, attending courses, or learning from mentors, which helps them stay ahead in their fields.
Embracing failure: Failure is essential to growth and success, and the ability to learn from and adapt to loss is common among high achievers.
Networking: Building and nurturing relationships with like-minded individuals is crucial for personal and professional growth and creating opportunities.
Exercise and health: Prioritizing physical fitness through regular exercise, proper nutrition, and sleep directly impacts mental performance and overall well-being.
Fear-setting: Instead of goal-setting, Tim Ferriss advocates for "fear-setting," which involves identifying and confronting fears to minimize their potential impact and enable personal growth.
Personal Opinion
If you are one of those people with issues with adding successful people into your circle, this book is for you. This book is, in my opinion, the best investment you can make this year. The great thing about what Tim Ferris does is that he doesn't copy and paste facts like a Wikipedia page.
He includes the exact words some of these people used during their interviews. So it feels like you're talking to them in real life. You're adding them to the five people in your circle.
Personal rating: 4.7/5
It is very nice because it gives views of successful people in their respective domains on how to get. I found most of the stories fascinating. There's a heap of knowledge in this. This book is undoubtedly one of the most incredible things I've encountered this year.
It's contradictory because that is also what makes this book brilliant. So what I recommend in this book, and yes, I definitely would, especially if you are a business owner, entrepreneur, or interested in personal development.
---
Learn more: 10 Best Lessons From Tools Of Titans
---
Download pdf collection